Science
The loss of strength. Scientists explained the reasons for constant fatigue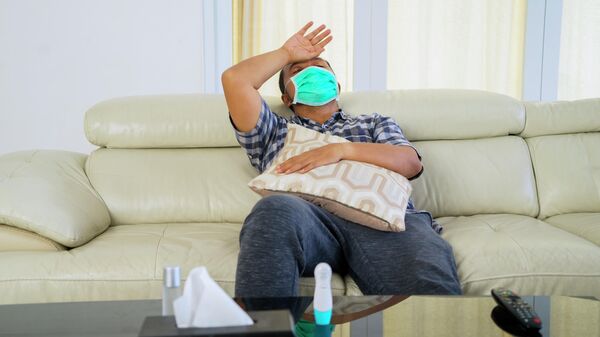 Alfia Enikeeva. Novel coronavirus infection was sick for about four million people. Nearly three hundred thousand died. In many countries second month in a continuing mode of self-isolation. Although the physical and General work load has significantly decreased, locked in the homes of people complain that the tire is much stronger than before. There's a scientific explanation.
Tired one who is afraid
According to estimates by Chinese scientists, serious stress due to the rapid spread of SARS-CoV-2 experience 35 percent of the citizens of the PRC. More likely it affects people at the age from 18 to 30 years old, and women more often than men. The fact that young people spend more time in social networks and are faced with a huge amount of information about the current pandemic.
With regard to gender distribution, it is knownthat women are inferior to cope with nervous tension due to the physiological reasons.
Another important factor is the measures introduced in the epidemic and forced the population to worry about stability of income.
All this could have a negative impact not only on psychological but also on physical condition of the people. It is proved that stress caused by sudden unpleasant changes in the surrounding world affects cognitive ability, behavior and memory.
In addition, according to German scientists, people in a depressed state of the tire stronger. Experts have interviewed more than two thousand people and found that almost all complained of overwork in the last six months were under severe pressure of circumstances.
However, anxiety due to pandemic COVID-19 can benefit. As shown by the British study, under stressful conditions it is negative information, which is neglected in a relaxed atmosphere. So, it is hoped that people will wear masks, gloves and keep your distance in half-meter.
It is not easy to adapt
The feeling of fatigue and exhaustion can be associated with the need to adapt to a new reality — the regime of self-isolation. First, the abrupt change of habits and schedules as moving to another city or country, in itself a serious test.
Second, any adaptation requires time and, as a rule, is divided into three phases. The first is the most severe and short — just is characterized by fatigue and bad mood. It is estimated that it takes about three weeks. On the other two account for about two months.
The video makes strain
Fatigue causes and need to work from home, or rather to constantly communicate with colleagues via video.
In 2014 the German researchers noticed that the slightest delay in sound or image — love it amounts to little more than a second — is the reason to consider the source less friendly and not involved in the conversation.
Through the screen difficult to perceive intonation, facial expressions and body language of colleagues. Therefore, to correctly read signals for your video, all participants have to be very careful. Hence the tiredness and feeling of discomfort.
Who eats less, he is less tired
According to experts from Germany and the UK, the fatigue can be the result of an unbalanced diet, especially if it is dominated by carbohydrates.
The fact is that under stress animals, including humans, consume more foods that are high in fat and sugars. And this, in turn, affect fluctuations in the level of glucose in the blood, with the result that the person becomes lethargic and suffers a breakdown.
Apparently, in such moments, significantly increases the amount of insulin in the blood, which, as found by Australian scientists, increases the activity of a particular neuropeptide in the amygdala, which regulates appetite and at the same time, reduces the body's ability to burn energy. That is why the consumption of large quantities of high-calorie food in these circumstances leads to faster weight gain than under normal conditions.
However, to completely abandon carbs in this time of crisis is not worth it. The brain is powered by glucose, without the mediation of insulin. Therefore, a moderate increase in blood sugar levels (and for this you need to eat simple carbohydrates) can improve cognitive function and memory, so necessary for productive work.