World
In Montenegro, the protesters are waiting for the release of the Bishop and priests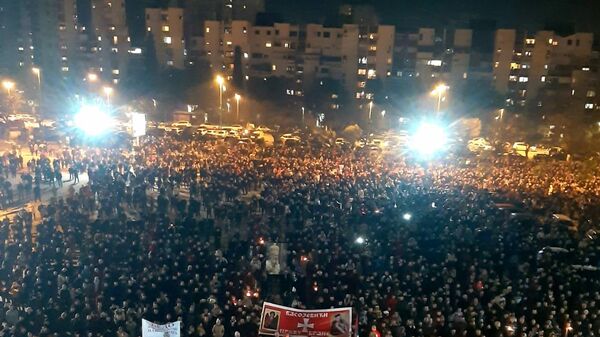 Montenegrin citizens continue to peacefully protest on the streets in several cities of the country in anticipation of the release of the detainee Bishop Budimljansko-Niksicko of Ioanniky and priests of the Serbian Orthodox Church (SOC).
Clergy SOC was detained for 72 hours for the holding of a meeting of believers on Tuesday on the feast of St. Basil of Ostrog. Due to their arrest in several cities of Montenegro, there were mass protests. As stated on Thursday, RIA Novosti head of the legal Council of the Metropolitanate of Montenegro and the Seaside SOC Archpriest Velibor of Comics, Bishop Ioanniky and priests kept in conditions that do not meet the requirements of the Ministry of health, and can extend the detention for another 30 days.
On Friday morning a crowd of people gathered in front of the Basic court of nikšić, pending decision. Metropolitan of Montenegro and the littoral Amfilohije pointed out that the Montenegrin authorities such detentions will lead the country to civil war. During the day people before the court in Niksic became more and more. On the evening of peaceful mass protests and marches were held in in the cities of Berane, Bijelo Polje, Budva, Pljevlja and in the capital Podgorica.
"In front of the court and the Prosecutor's office in Niksic is a few thousand citizens, who began to gather in the morning in protest against the detention of Bishop Ioanniky and priests. On the street Nikola Tesla, only to the part where the courthouse and Prosecutor's office, turned off street lighting, but illuminate its citizens mobile phones," reports the portal of the newspaper Vijesti.
In the Montenegrin segment in social networks – many broadcasts of the protest meetings, citizens accuse the authorities in the person of President Milo Djukanovic and demand the liberation of the Orthodox lords and priests.
By law, 72 hours of detention clergy expire after midnight (around 1: 30 GMT). In local mass media the information appeared that the judges in Niksic refused to analyze the matter of the clergy and it should be redirected to the judges to Podgorica, so supposedly the procedure was delayed.
Metropolitan Amphilochius on Thursday made a statement in a medieval monastery in Cetinje, in which he asked the state authorities to refrain from using force and urged authorities and citizens to the world, "brotherly love and renewal of unity". He also invited the judiciary to take on all the responsibility, but to release detained clergy.