Science
The children have discovered a rare inflammatory syndrome. The reason is the coronavirus?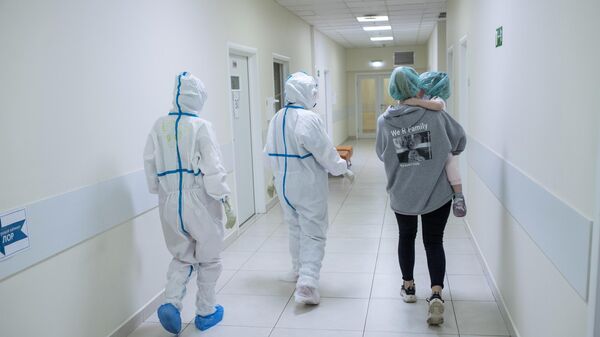 Alfia Enikeeva Tatiana Pichugina. In a world of hundreds of suspected cases of the deadly inflammatory disease among children. In France, the baby died, last week, three in the United States. All tested positive for the coronavirus. Doctors talk about a serious complication that can occur after a previous infection, even in asymptomatic form.
Pediatricians warn of
The first reports of COVID-19, arriving in January from China, about sick children not mentioned. Only at the beginning of March, after mass screening of inhabitants of the Chinese province of Wuhan of antibodies to SARS-CoV-2, it was found that the child may also be infected. It was believed, without serious consequences.
However, in April, scientists published data on the growth in the number of cases in children Kawasaki-like syndrome, in which inflammation of blood vessels — vasculitis, fever occurs.
In new York, one of the epicenters of the epidemic in the United States had a few dozen infected children.
In the Italian Bergamo hospital of Pope John XXIII February 18 to 20 April, the disease was suspected in ten patients. At eight in the blood were detected antibodies to the coronavirus. For comparison, over the previous five years at the clinic revealed only 19 patients with this diagnosis. Growth — 30 times. Italian scientists predict that such should be expected in all the countries covered by COVID-19.
In France from 27 April to 7 may and 17 juvenile patients of the hospital Necker, University of Paris, was diagnosed with Kawasaki disease. In the previous two years there were not more than one to two weeks. Only eight watched the full form of disease, some other symptoms were absent. Seven syndrome developed after COVID-19, and almost all had antibodies.
Friday, may 15, on dangerous inflammatory syndrome in children said the head of the world health organization Tedros Adan Ghebreyesus.
"In the past weeks, reports from Europe & North America have described a small number of children being admitted to intensive care units with a multisystem inflammatory condition with some features similar to Kawasaki's disease and toxic shock syndrome"-@DrTedros #COVID19

— World Health Organization (WHO) (@WHO) May 15, 2020
Mysterious disease
"Even before the pandemic was work showing that coronavirus can induce Kawasaki disease — the most common systemic vasculitis in children, which develops due to abnormal immune response in genetically predisposed the organism to various infections. But with a certain pathogen no. The disease, which is now reported in the USA and in European countries such as Italy, is not Kawasaki syndrome. The symptoms are very similar, but there are several important differences, which patients with this complication have to treat differently. In particular, they are worse respond to treatment with immunoglobulins," says RIA Novosti head of the Department of Pediatrics of PFUR Medical Institute doctor of medical Sciences Dmitry Ovsyannikov.
An important difference is the age of the patients. The Italians and the Americans are talking about children from six to eleven years. And Kawasaki disease usually develops before five years, peaking in infants of nine to eleven months.
According to the scientist, the Kawasaki disease is very clear diagnostic criteria.
"The temperature is above 38 degrees lasts more than five days, dry, red, cracked lips, swelling of the skin of the hands and feet, conjunctivitis, swollen lymph nodes, rash. In addition, according to abdominal pain and diarrhea. All these symptoms are very easily confused with an intestinal infection, SARS, allergies, scarlet fever, measles. But in the context of the current epidemic in combination of these signs in the first place is to think about Kawasaki disease and at the slightest symptoms, seek medical help. Judging by the works of foreign colleagues, timely diagnosis is very important. Because of Kawasaki-like syndrome may develop at lightning speed," emphasizes the doctor.
Associate Professor of infectious diseases at Russian national research medical University named after N. I. Pirogov, candidate of medical Sciences Ivan Konovalov also noted that it is not about Kawasaki syndrome, and systemic inflammatory response with toxic shock, which may occur in 14-30 days after acute coronavirus infection. Accompanied by the defeat of the arteries of small and medium caliber of the myocardium, kidneys, skin, and other organs and body systems.
"In Moscow is not aware of any case kovid-associated Kawasaki syndrome. From 2012 to 2019, this disease is identified more than two hundred children treated in Morozov children's hospital. While the dynamics does not change. But, in my opinion, the increase in the number of cases of Kawasaki-like disease we may expect in June. I don't know the official statistics on the incidence of children with coronavirus infection, but they hurt. And often asymptomatic. So if a child moved COVID-19 — no matter in what form — and in a month was suddenly covered with a rash, fever, and enlarged lymph nodes, it is necessary to suspect Kawasaki disease", — said Ovsyannikov.
Gaps in the statistics
Causes of systemic inflammatory response syndrome, toxic shock (or Kawasaki-like syndrome) is unknown. Its relationship with the infection of SARS-CoV-2 remains to be seen — analyses here are still very few.
"Russia is now accumulating information about it. However, the global statistics may not reflect the real picture, as not all countries know how many infections among asymptomatic carriers. The difficulty that children with manifestations of novel coronavirus infection in General much less than adults, as it often occurs without clinical symptoms, respectively, and in sight of the doctors they are not. There would extended testing of children", — says Konovalov.
The systemic inflammatory response syndrome and Kawasaki syndrome are extremely rare — usually just a few cases per hundred thousand children. Now due to the fact that the share of coronavirus among other infections are highly prevalent, the number of these diagnoses will probably grow. However, the final analysis of the statistics of disease and mortality is only possible at the end of the epidemic.