World
Because of supercyclone "Ampan" in India and Bangladesh to evacuate millions of people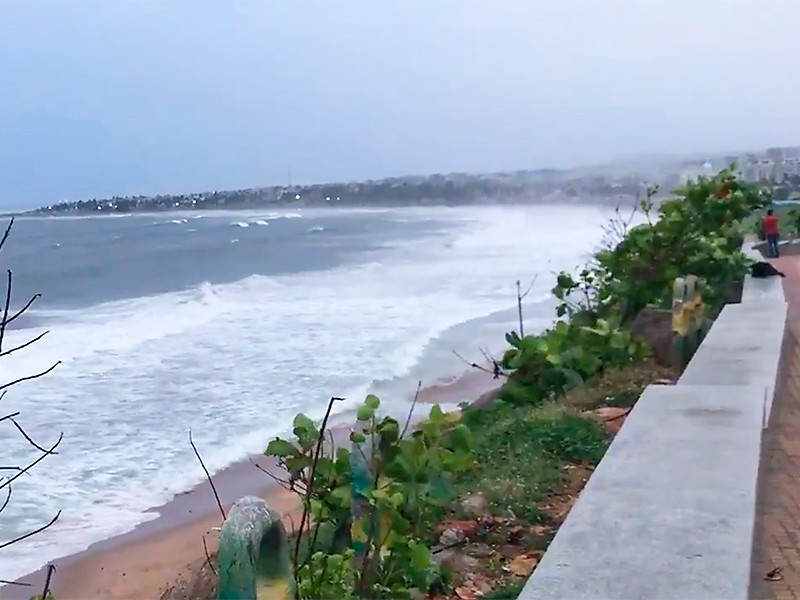 In the Bay of Bengal in the densely populated areas of India and Bangladesh is coming supercolony storm or as it is called in Indian meteorologists, supercycle "Ampan". On the eve of the wind speed near its center was 230-240 km/h, may 19, she fell slightly – up to 225-235 km/h, gusts reach 255 km/h According to forecasts, it will come ashore in the afternoon of may 20. This will happen on the stretch of coast between the town of Digha Indian state of West Bengal and the island of Hatiya in Bangladesh. Wind speed will decrease to 155 to 165 km/h, gusts up to 185 km/h, reports of the India meteorological Department (IMD).
"Ampan" poses a serious threat to settlements on the Northern coast of the Bay of Bengal. India and Bangladesh began to evacuate more than 2 million people whose homes are in potentially dangerous areas. The local weather service warned that the storm could be the most powerful for the region since 2007, when cyclone Sidr killed more than 3 thousand people, reports "Interfax" with reference to the Indian media.
The situation in both countries is complicated by restricting the movement of the population of the measures imposed previously by the authorities in the fight against COVID-19. Evacuated residents are placed in shelters, but because of the situation with the spread of a new type of coronavirus ask them to wear a medical mask and gloves.
In the Indian state of Odisha has already started heavy rains in West Bengal rains are expected starting in the second half of the 19th may. Due to strong winds, the authorities warn the population about the risk of serious damage to buildings (the total destruction of thatched houses), falling of trees and the problems with electricity supply, disruption of road and rail traffic, the destruction of crops on agricultural lands. To date have evacuated 50 thousand people, reports channel NDTV.
In Bangladesh prepared 12078 shelters that can accommodate more than 5 million people. It is expected that the evacuation will begin on Tuesday afternoon. The authorities are taking measures to comply with the rules of stay of people in premises during the epidemic of coronavirus infection, according to the portal bdnews24.com.
Super Cyclone AMPHAN is likely to make landfall between Digha (West Bengal) and Hatiya Islands (Bangladesh) close to Sundarbans with maximum sustained wind 155-165 kmph gusting to 185 kmph during afternoon to evening of tomorrow, the 20th May.

1/3 pic.twitter.com/rVI1r7LG2X

— India Met. Dept. (@Indiametdept) May 19, 2020
#CycloneAmphan is now a Category 5 storm. The India Meteorological Department (IMD) has issued a Cyclone Warning for the West Bengal & north Odisha coasts. Super Cyclonic #Amphan (UM-PUN) is forecast to cross the West Bengal–Bangladesh coasts on 5/20. https://t.co/gIIoqP8AMG pic.twitter.com/a5Oog0XpOS

— UW-Madison CIMSS (@UWCIMSS) May 18, 2020
India:
High tides hit the Vizag shore as Extremely Sever Cyclonic storm# Amphan is moving along East Coast and is around 250km away from Vizag Coast now. Gusty wind brings relief from the soaring temperature and unbearable humidity…#IMD prediction# landfall in West Bengal.. pic.twitter.com/thTt9iJUvJ

— sumit kumar onka (@SumitOnka) May 18, 2020
Bangladesh: