Crypto News
Bitcoin showed the worst weekly performance since "Black Thursday"
During the last seven days, bitcoin lost more than 10%, the largest decline since the collapse of the cryptocurrency market 12 Mar, known in history as "Black Thursday".
Monday, may 25, BTC trading at $8757. In the last 24 hours the capitalization of the largest digital currency decreased by 5% to $161,089 billion.
Bitcoin has strengthened its position in anticipation of halving may 11 (reducing the reward for mining the block). On some commercial sites coin tested values above $10 000.
However, after halving began sales of the BTC, which provoked the surrender of previously conquered positions.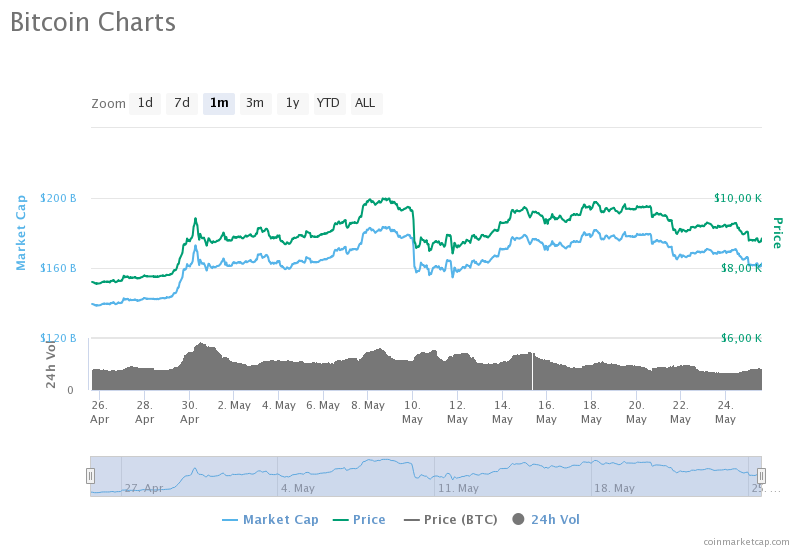 Charles Edwards of Capriole Investments shares the view of those analysts who believe that the fall caused the BTC miners. They began to sell more coins in order to obtain funds for the preservation of health in conditions when the reward for mining a block was reduced to 6.25 BTC.
Edwards stressed that a similar situation was observed after haligov 2012 and 2016, which from the network was forced to shut down many miners.
However , the expert urges not to despair. According to him, after the surrender of the miners, the conditions for transition of the market into "bullish phase".
Edwards recalled that after haligov four and eight years ago, the bitcoin fell in price, but then rallied together and made breakthroughs.