Science
Failure LauncherOne: why rocket competitor Elon musk fell into the ocean
Attempt Orbit Virgin British billionaire Richard Branson to launch space rocket LauncherOne failed. The rocket fell into the Pacific ocean.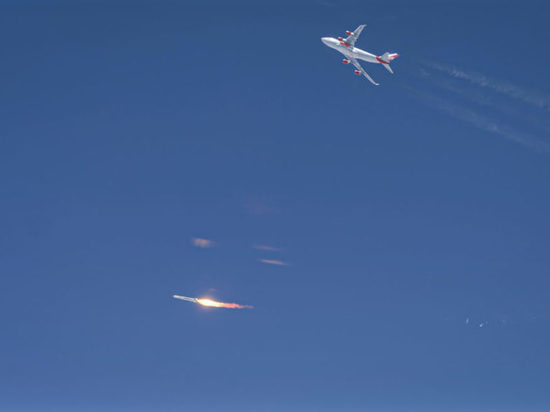 On Monday, a modified Boeing 747 called "Cosmic girl" in the ocean flew from the aerospace port, Mojave, California, carrying a rocket LauncherOne
About an hour after the departure of the aircraft fired a missile in normal mode, but after three minutes the Virgin, Orbit announced that the mission stopped.
Virgin Orbit announced that the rocket remains stable after the release and started the engine of the first stage. But at the beginning of the flight in the first phase "there was an anomaly," the company said.
The aircraft carrier "Cosmic girl" landed safely at the air and space port in Mojave, California after a test. With his crew, all right.
"We achieved many goals we set for ourselves, though not as much as we would like, – said in the press release of the General Director Virgin Orbit Dan HART. – Nevertheless, today we made a big step forward. Our engineers are already studying the data. Our next rocket is waiting. We will study, be clarified and begin to prepare for the next test, which will be soon."
Two-stage orbital rocket system was developed by sir Richard Branson in the framework of competition with the system of SpaceX Elon musk.
Development booster air-launched LauncherOne is Virgin Galactic since 2007. Designed to launch small satellites the rocket is able to output up to 300 kg of payload into sun-synchronous orbit after air launch with carrier aircraft at high altitude.
Monday was the first test launch of LauncherOne. Eve Virgin Orbit described this test as "the peak of the five-year development programme".
However, before performing a test run, Virgin, Orbit announced that the first attempt usually fail in about half of cases. The ultimate goal of the company is to use its missiles to launch small satellites into space, competing with land-based launches, such as Space Exploration Technologies Corp.
In this race, Elon Musk, has a significant advantage. Over the past decade SpaceX has been launched about 100 rockets, many of which returned safely to Earth.
In a few days SpaceX plans to send two astronauts to the International space station. This will be the first time us astronauts fly to the ISS from the United States after 2011, has been phased out the space Shuttle program (which the Americans have to fly into space on Russian "the Unions").
Recently, astronauts Douglas Hurley and Robert Behnken carried out dress rehearsal before the first launch of manned spacecraft Crew Dragon, designed by the company SpaceX Elon musk. This should be the first ever case of sending people into space by the private engineering company.
Additional bitterness of a failed missile test Virgin Orbit brings what is now the Empire Richard Branson has not the best times: as noted by Bloombeg, pandemic coronavirus affects his assets in the field of recreation and travel.