Crypto News
The Commission bitcoin decreased by 54%, and further adjustments of complexity will reduce the load on the network
Over the last 5 days the average transaction fees in the bitcoin network decreased by 54%, however, some observers believe that network congestion may encourage investors to Aldona.
A week ago, the average transaction fees made the leap to the level of February 2018, but since then it fell more than twice.
According BitInfoCharts that the average Commission bitcoin fell by almost 54% from $6,65 to may 20 at $3.07 on may 25. The peak average price of the Commission was at the level of us $3.91, but now the average price fell to us $1.65.
A supporter of Bitcoin Cash Hayden Otto believes that network congestion bitcoin will continue and this will push users to Aldona, as it was in 2017:
"When the bitcoin network is running at full capacity and there is a huge number of incomplete transactions, the coin will lose users because of altcoins. Most of the users trying to move the funds, convert them into other coins for the withdrawal from the exchanges."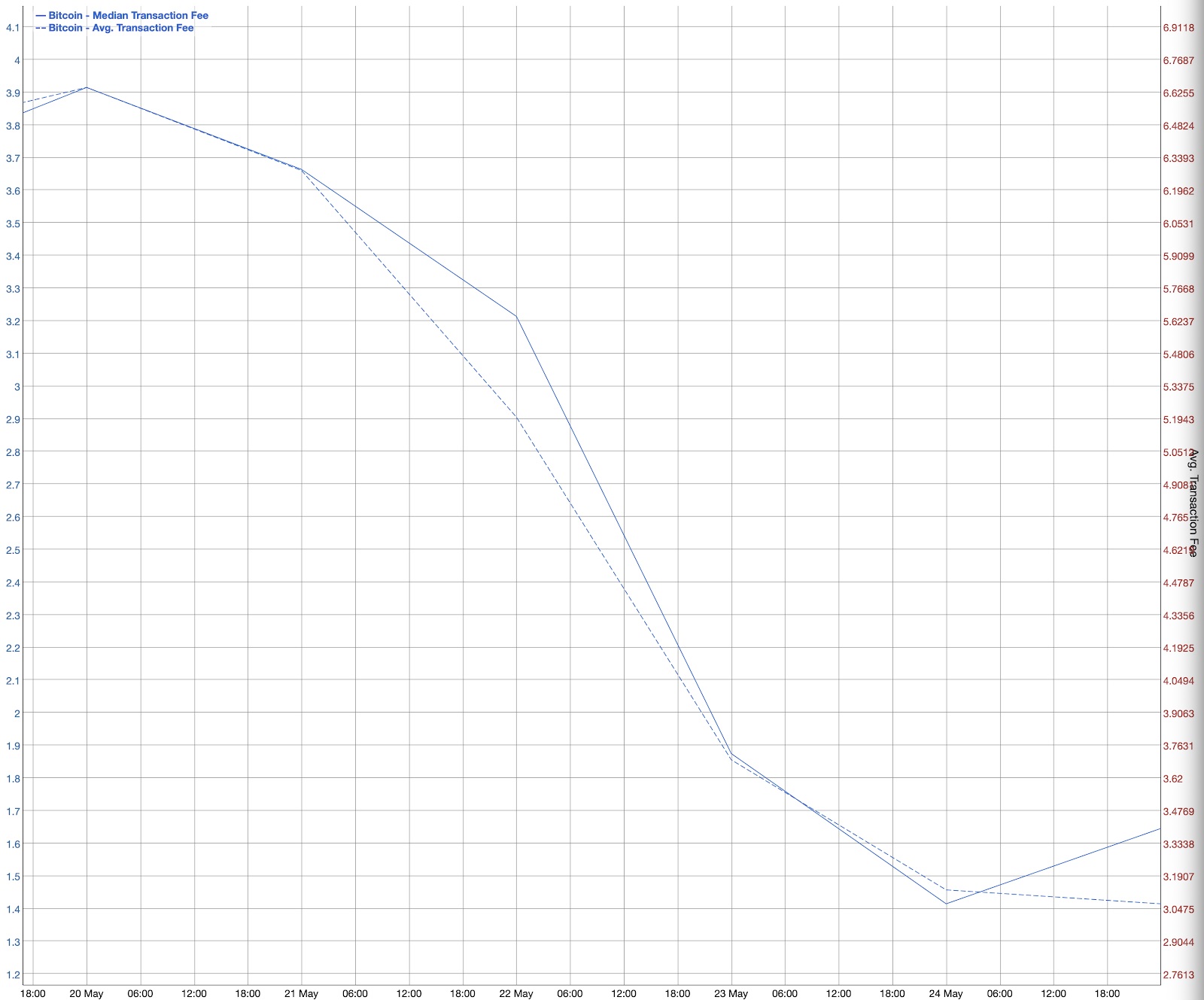 According to Otto, "this leads to a reduction of the dominant position of bitcoin" and a sharp increase in the same indicator from competing coins.
Otto also says that halving bitcoin has had a "destabilizing impact on the functional dynamics of bitcoin", although the situation is beginning to level off.
According to Otto, the number of unconfirmed bitcoin transactions recently stabilized at more than 20 000 once peaked at more than 80,000. Otto sees this as a sign that the economy is the network of bitcoin stabiliziruemost after halving.
Earlier we talked about the fact that on may 20 the complexity of mining major cryptocurrencies fell by 6%, while the adjustment of complexity also reduces network congestion. Otto says that only one adjustment is not enough:
"One adjustment difficulties after halving have been, but it will take another 1-2 adjustments to the difficulty back to normal. Because of the decline in can see the blocks are generated slower. Since halving BTC hash rate has dropped by almost 30% and the complexity has been reduced by only 6%, so you will need to further reduce complexity before the average interval between blocks will be 10 minutes".