World
Kravchuk called the way to stop Russian "aggression"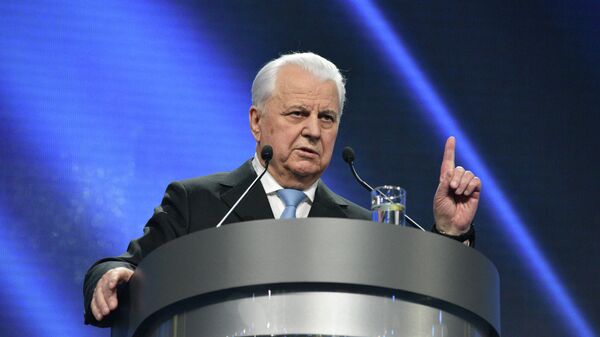 The first President of Ukraine Leonid Kravchuk believes that "to stop an aggressive business" Moscow can only United action by the international coalition. The opinion he expressed in an interview with "Gordon".
Kravchuk criticized the policy of European countries and accused its leaders of inconsistency. According to him, they introduce anti-Russian sanctions, but at the same time participate in the construction of the pipeline "Nord stream — 2" and discuss the easing of restrictive measures.
"That is to say there is one, then another, and do third. <…> Here's how I understand this question. And I think that another way to stop Russia is not present, except a hard, unified, United to form a coalition to support Ukraine," — said the former President.
Kravchuk and to make ambiguous statements, including about Russia. For example, in the beginning of the year he made the return of the Donbass and the Crimea under the control of Kiev. Thus, according to the ex-President, for the "annexation" of the Peninsula to Ukraine you will need a special scheme, as it is already entered "in system of the Russian relations". The local government then responded that Kravchuk himself did not believe his words, but the return to the country "that hates their ex-citizens," residents of the Crimea and the Donbass may not be considered.
The reaction of Russian politicians
The words Kravchuk on his way to "stop Russia" and the "aggressive case," replied the Russian policy.
According to the Chairman of the Federation Council Commission on information policy Alexei Pushkov, the Ukrainian ex-President, making such statements is probably not aware that the complete isolation of Moscow from the West impossible.
"Western countries have introduced against Russia "full political, diplomatic and financial-economic exclusion", because I can't do it. Kravchuk, apparently, do not understand. And why try so hard? For The Sake Of Ukraine? It needs the West against Russia, but not by itself", — wrote Pushkov in his Twitter.
Member of the Federation Council Committee on international Affairs, Senator from Crimea Sergey Tsekov, on his part, stressed in an interview with RT that Kiev should not stop Moscow and to establish a relationship with her.
He added that in recent time, Kravchuk said contradictory things — something real, something absolutely absurd.
"Russia must stop and interference in the internal Affairs of Ukraine by Western States. Russia does not need to be stopped, since it is necessary to establish friendly relations", — said the Senator.