World
"I used to go for a breakthrough": Interview with former political prisoner Eduard Kuznetsov, sentenced to death for the preparation of the hijacking in the Soviet Union
Photo: Dmitry brikman / newsru.co.il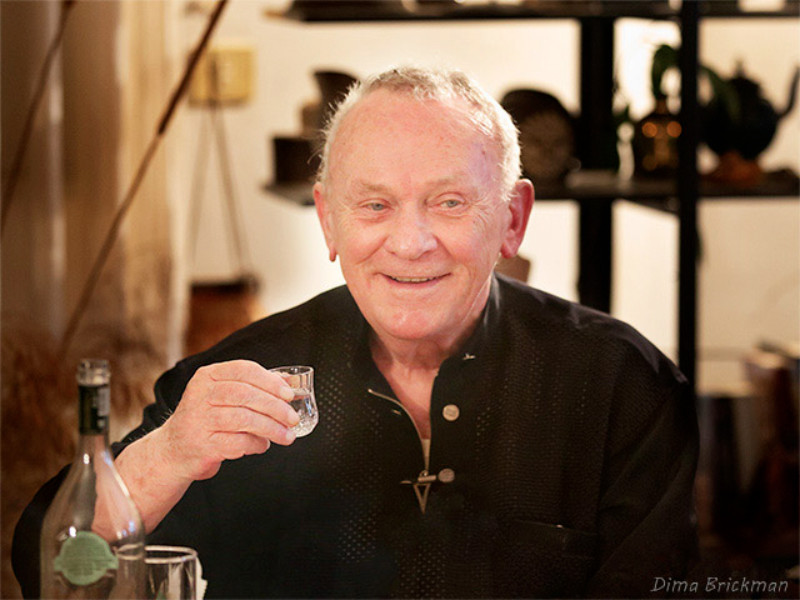 In Israel, published an interview with Soviet dissident and human rights activist Eduard Kuznetsov, who in January 2020 turned 81. 16 of them he spent in Soviet prisons and camps. Kuznetsov first got seven years for "anti-Soviet agitation and propaganda" and was sentenced to death for the failed attempt to hijack an airplane to emigrate from the USSR. Later Eduard Kuznetsov, along with four other political prisoners were exchanged for exposed Soviet spies.
According to Eduard Kuznetsov, he knew what was coming when he planned the hijacking in the summer of 1970, writes NEWSru Israel. "I have such a character, I like to go for a breakthrough when scared. Love looking into the eyes of danger. I knew that I was in any case arrested. I will go to this business or not go, does not matter, he says. I knew that the KGB is preparing me a new case because I have not repented, not broken in the camp, and after being released continued to meet with all sorts of samizdata and so on. My personal moment was that I was in any case will take".
According to Kuznetsov, he "figured that this would be idea to become an international scandal" of such force that it forced the Soviet leadership to change its approach to the issue of emigration in General, and Aliya (repatriation of Jews to Israel) in particular. So when in the environment of Leningrad Jews, which the authorities did not allow emigration, he conceived the idea of hijacking, Kuznetsov took up its implementation.
"Sitting – because, you know, when you sit to work – sit is much easier than when not. So Yes, I of course was focused on the scandal. And I wasn't hiding from his future accomplices of his position. I told them: "You are free to choose, you see us followed"," – says Eduard Kuznetsov.
According to dissident, the failure of the daring plan was predetermined, but for him it didn't matter. "The surveillance was so obvious and rude… When we went to the airport, almost under every Bush sat in the two border guards in a green uniform, says Kuznetsov. – So I said, "you Guys can leave. But keep in mind that the fact that we have talked about it, planned, gonna do it, is enough to keep us planted."
Some members of the conspiracy refused to escape, but, as predicted by Kuznetsov, they also received prison terms from two to ten years.
All were arrested 39 people, including in Chisinau and Odessa.
According to Kuznetsov, the plan of the conspirators was simple: to link pilots and drop them from the plane. And passengers as bystanders should not have been: all tickets are for 16-seater aircraft bought by the participants of the escape. In court later, both pilots have testified in favor of the rustlers, saying that the pilots were not threatened, and accused of anything dangerous did not do for them.
"We of course came from the fact that blood should not be. We were hoping for an international incident, international protection, and therefore blood should not be. In any case", – stressed Eduard Kuznetsov.
According to him, the conspirators agreed in advance that even in case of interception of a plane to put it will not. If an aircraft is shot down, "the sin would fall on the Soviets."
Eduard Kuznetsov said that he did not believe in the idea of democratization of Russia, which has inspired the struggle of dissident Vladimir Bukovsky. "Bukovsky all the years was my closest friend, and he already then said that our paths diverge. Because I have a goal to be implemented. Can away, but achievable," explains Kuznetsov.
Bukovsky and his supporters he calls "groundless idealists". "Your goal – the democratization of Russia – it's absolutely fantastic, this will never happen," – said Kuznetsov Bukovsky.
In the course of the investigation and the trial only one conspirator Mendel Bodnya – pleaded guilty. Yes, mark Dymshits, who was to be a pilot, said it is committed to Israel "to join the Communist party and fight". He therefore decided to ease their plight – "they say I'm not a Zionist, and a Communist," says Kuznetsov.
While Dymshits was strong, brave and honest. When the Prosecutor at the trial asked Russian wife Brand, Alevtina "How was your life with this Jew?" she said: "It was my happiest years."
Eduard Kuznetsov said that to get on the trail of the conspirators of the KGB did not make any work. "In our group was 16 people. To recruit 16, it is necessary to speak with hundreds of. Those who refused, it is unlikely to be very firmly kept secrets. And the people from the group are almost inevitably talking. "Here you leave me, I can be tomorrow…" With so many participants, leakage is inevitable. This is not Nazi Germany, where seven thousand officers participated in the conspiracy against Hitler, and the Gestapo knew nothing about it. That the Soviet Union is impossible," he explained.
After the "execution" of the sentence Kuznetsov had no illusions and knew how close his death. "I'm not a student, not the College boy was. Seven years in the camps behind. Camps and heavy. In 1963 me as a willful infringer of all modes have been transferred from the camps of strict regime in a labour camp of special regime. So for the year we shot it, nine people", – he added.
Someone shot over a tattoo "Slave of the CPSU", qualified as a malicious anti-Soviet agitation and propaganda. Others for being a Snitch named Snitch, that is "terrorized prisoner, embarked on the path of correction".
Eduard Kuznetsov said that modern Russia is returning to its normal "historical track". "Today is a Frank restoration of the Soviet system. And not that special someone does. This tendency of the Russian people to this form of government, he says. – Rigid hierarchy, the most hard power. No vacillation, no spread in different directions. Most of all they are afraid of federalization. So no one began to disperse".
The former "anti-Soviet" believes that democracy is impossible in Russia or in the Arab countries. "This is contrary to the national character. What is the Russian brace? Is that the neighbor's cow died, and to for free drink can be had. Everything," he concluded.
However, to the political image of Israel in Kuznetsov too many claims. "And therefore did not go to vote. Look at what is being done. Have showreels all. I would, but not for anyone," he acknowledges.
In Benjamin Netanyahu Eduard Kuznetsov was disappointed. "He has been in our house, I often visited him. But what to do – long power corrupts people. Although he is without a doubt a very talented man and head and shoulders above all the rest. I know that too. Stronger than him no one, no matter what. But I can not vote" – said Kuznetsov.