Animals
"Sent a good crop of marijuana": what the Mexicans thank the saints
Retablos — religious paintings, which in Latin America, Catholic saints thank you for visiting luck or averted disaster. On the canvas depicts the story of what happened, and below it is exactly described in the text. Sometimes the artist, who bought retablos, remains anonymous, but we know that often draw parishioners themselves. These cards look particularly naive when their themes are crime, prostitution and drug trafficking (the drug dealers and other criminals even have their own patron Saint not recognized by the Church of Saint jesús Malverde).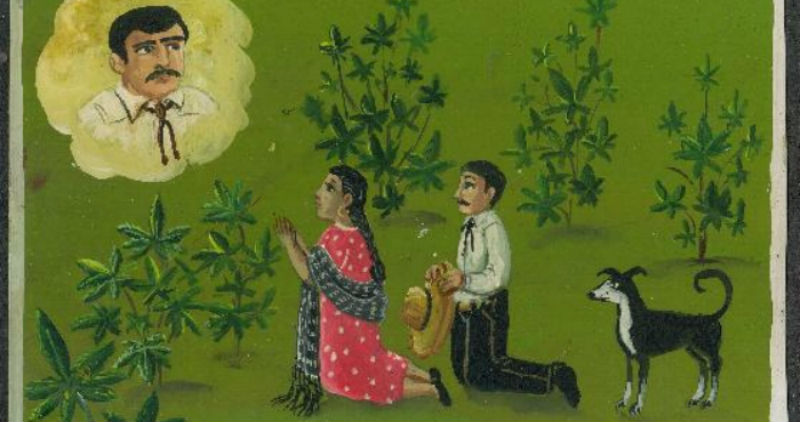 Source: "Retablos"
We are unable to determine which of the cards do retablos drawn for the sake of gratitude to the saints, and which for the sake of entertainment, but in any case they are beautiful.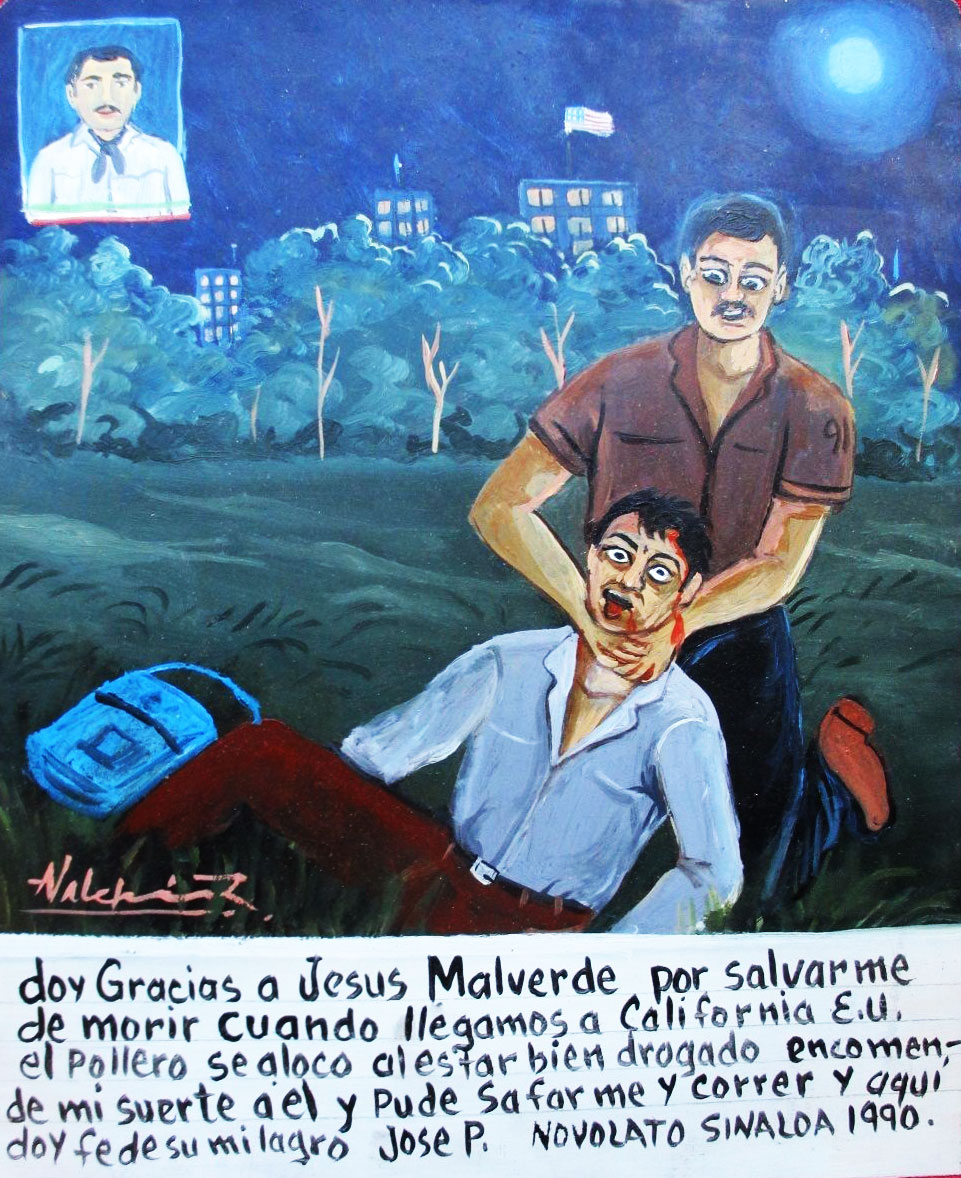 "Thank jesús Malverde for saving me from death. When we got to California, my guide went insane because of the large quantity of drugs. I have entrusted his life to Jesus and was able to escape and run away. With this retablo I show you a miracle. Jose P. Artist: Alfredo Vilchis, 1990".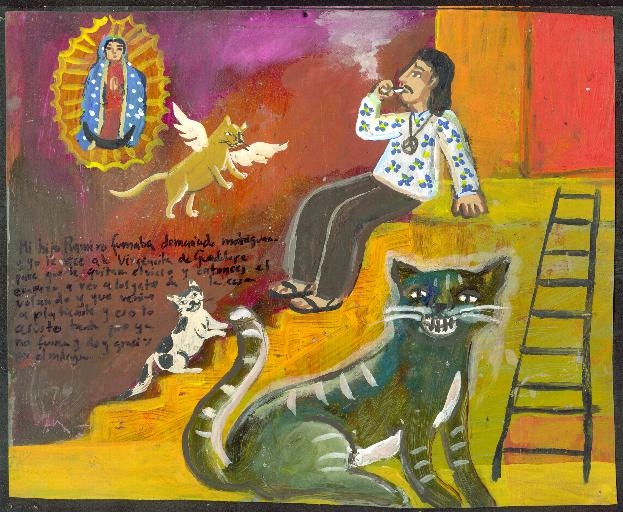 "My son Ramiro smoked a lot of marijuana. I prayed to the virgin of Guadalupe so he got rid of that bad habit. And then he dreamed of flying cats who tried to talk to him. It scared the shit out of him, so he's not thinking of Smoking. And I thank you for this miracle".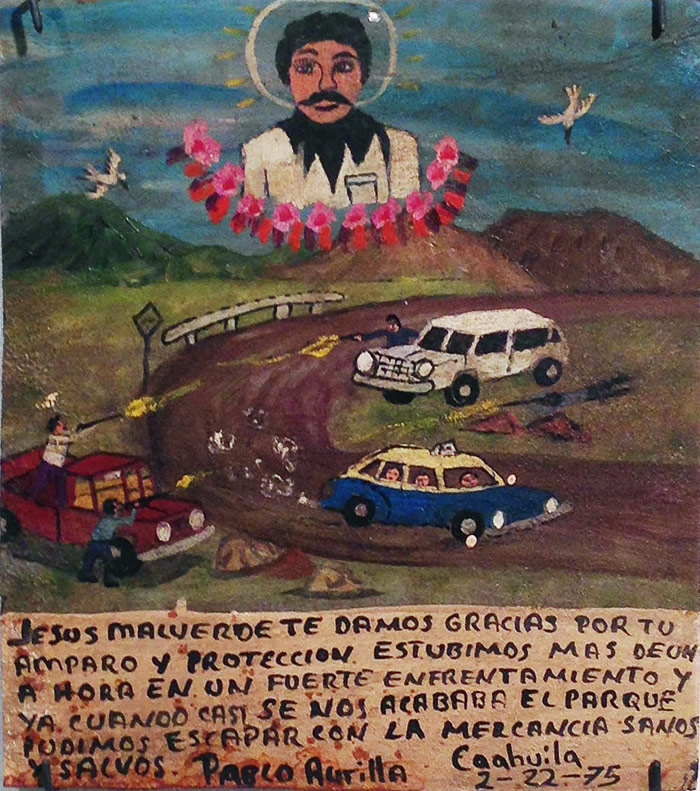 "Jesús Malverde, thank you for your protection and patronage. More hours we spent in a serious confrontation, and when we're almost out of bullets, we were able to escape unharmed, taking the product. Pablo Auria. Unknown artist, 1975".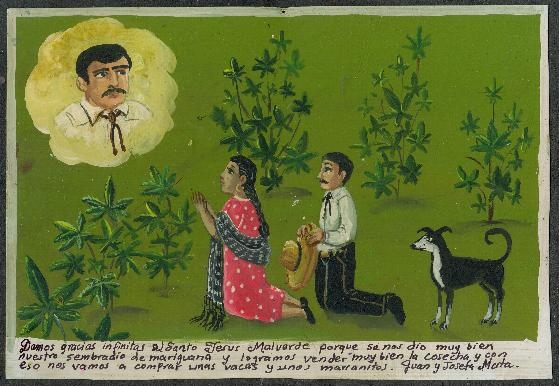 "We thank Saint jesús Malverde for sending us a good crop of marijuana. We will be able to help him a lot of money and buy yourself cows and pigs. Juan and Josefa Myrtle. Artist: Selva Prieto Salazar".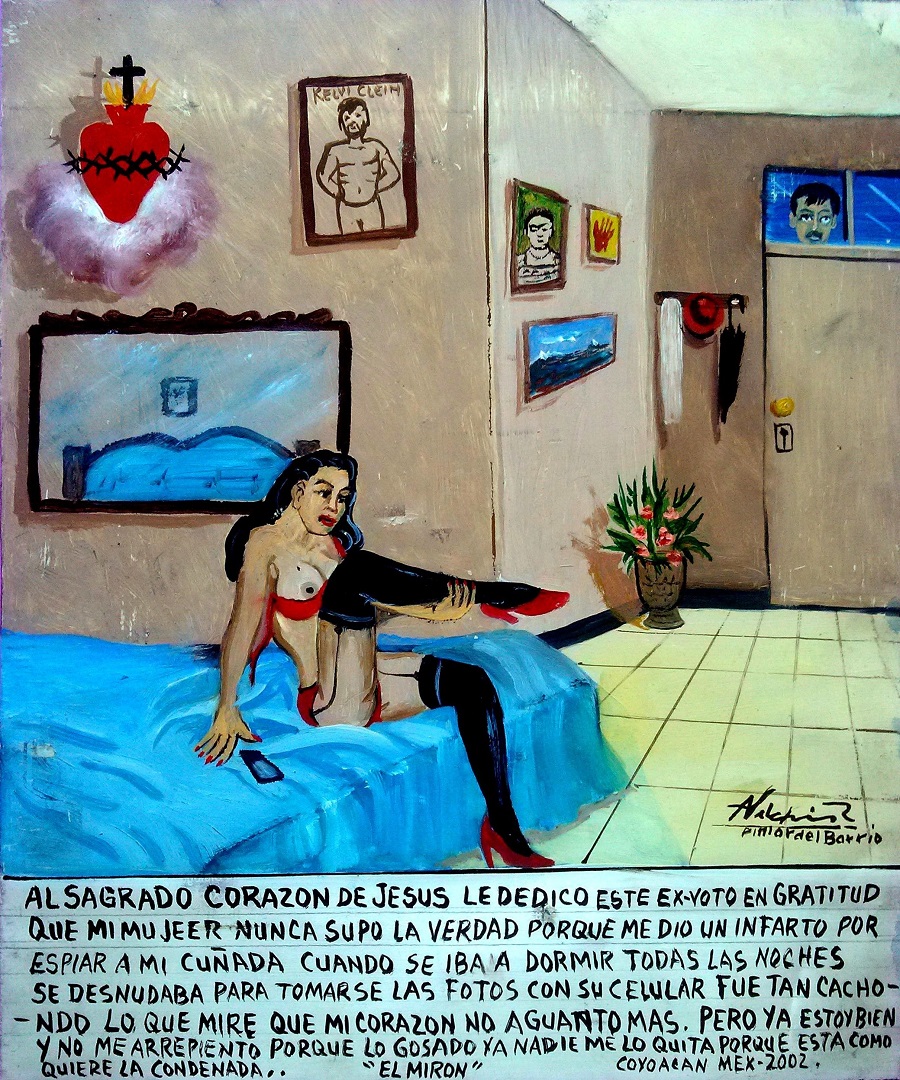 "The sacred Heart of Jesus, I dedicate this retablo in thanks for the fact that my wife never knew why I actually had a heart attack. At night, I spied on my sister-in-law when she went to sleep.
She undressed and photographed themselves on the phone. I was so excited that my heart broke. I am better now, and I repent of nothing. It was great, and no I do not deny, after all, what good is a devil! Peeping. Artist: Alfredo Vilchis, 2002″.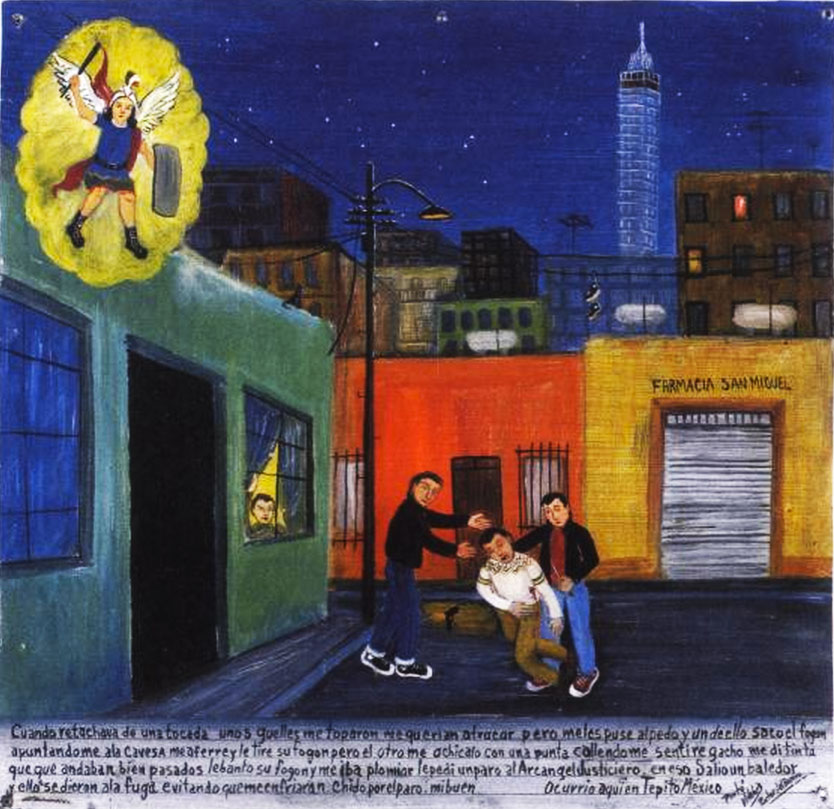 "When I got back from the concert, we saw some bastards who wanted to put on me. But they nothing from me got. Then one of them grabbed a gun and pointed it at my head. I grabbed him, grabbed the gun, but the other at this time stabbed me with a knife. I fell and felt disgusting.
These two were obviously under drugs. Here the first raised his gun and was going to kill me. At this point I prayed to the Archangel of Justice. Suddenly there was a friend of mine, and the two took to their heels without killing me. Nice in time to stop them, mate. Artist: Alfredo Vilchis".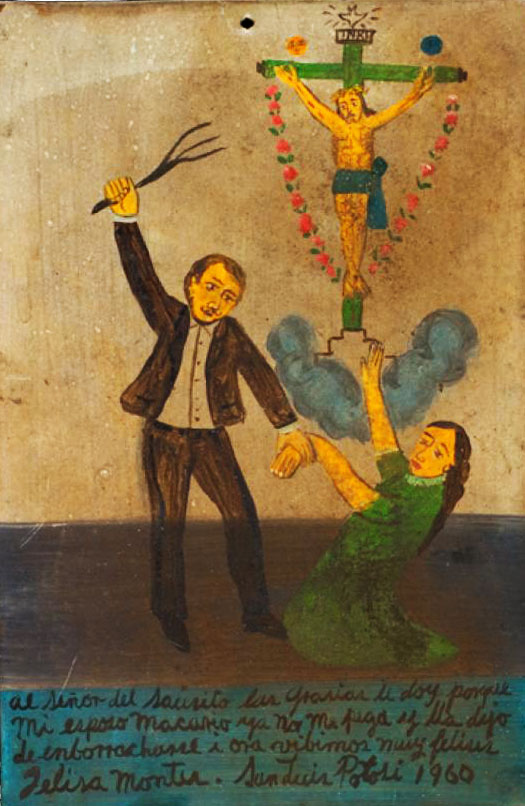 "Thank God Willow that my husband Macario more never hit me. In addition, he has ceased to drink, and now we are very happy. Felisa Montez. 1960".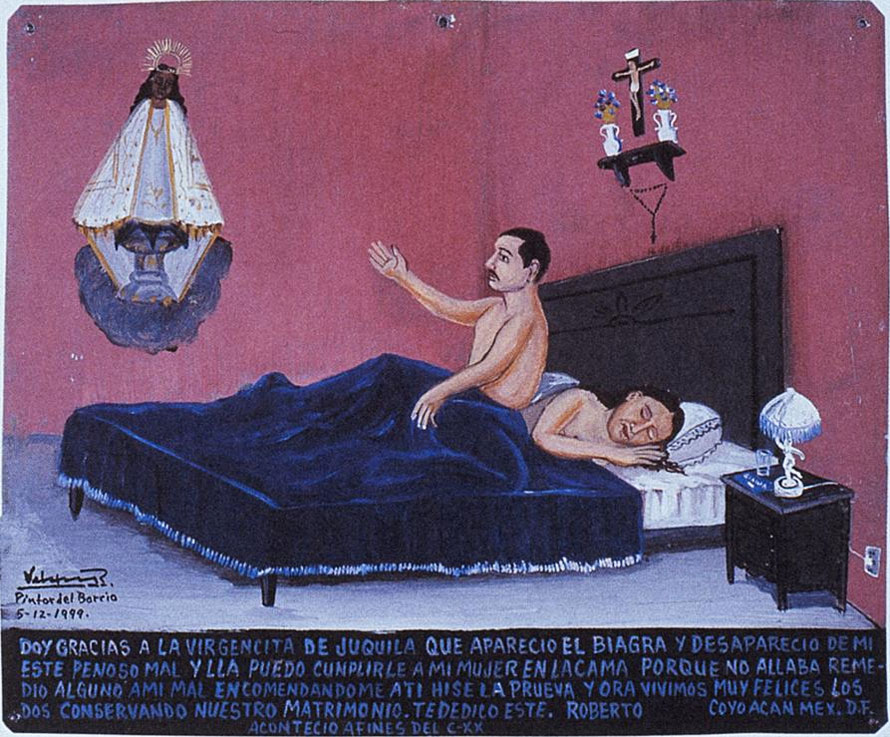 "I thank the virgin of Juquila for the viagra for deliverance from painful illness. Now I can satisfy my wife in bed. No media do not help me, and then I entrusted myself to you and tried viagra. Now we are very happy. I dedicate this retablo for the salvation of our marriage. Roberto Coyoacan. The late 1990-ies".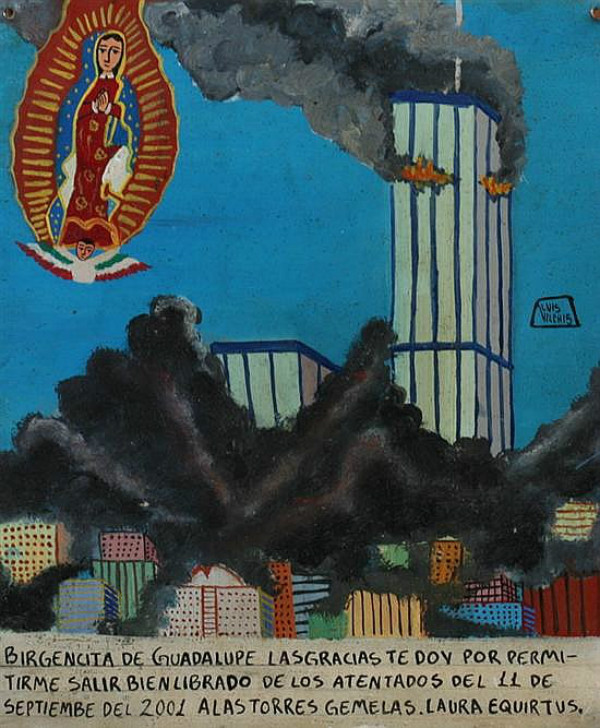 "Thank you, virgin of Guadalupe, helped me to escape during the attack on the twin towers on 11 September 2001. Laura Acertos".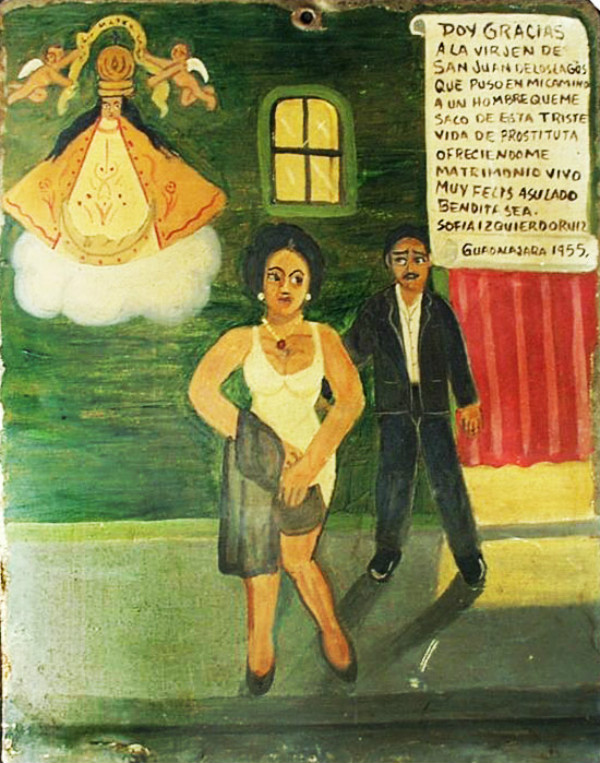 "I thank the virgin of San Juan that sent me a man who pulled me out of the prostitutes and offered to marry him. Now I am very happy with him. Thank you, Holy. Sofia Izquierdo Ruiz, Guadalajara, 1955".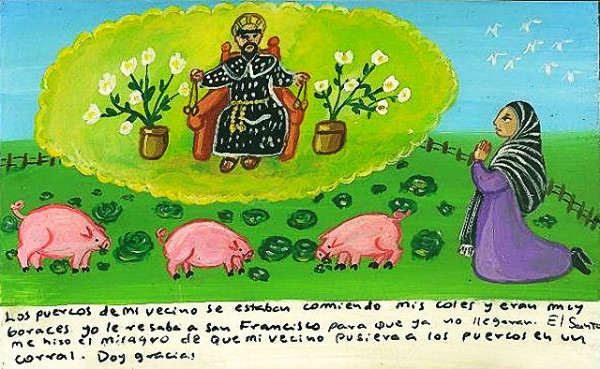 "Pig of a neighbor were eating my cabbages. They were very voracious. I prayed to Saint Francis, and the Saint performed a miracle, so my neighbor got to keep the pigs in the barn. Thank you."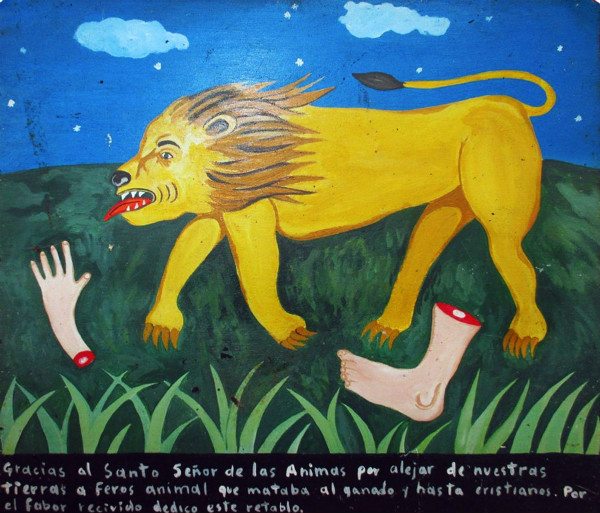 "I thank the Lord for souls that drove terrible beast from our lands. He killed our herds, and even Christians. In gratitude, I dedicate this retablo".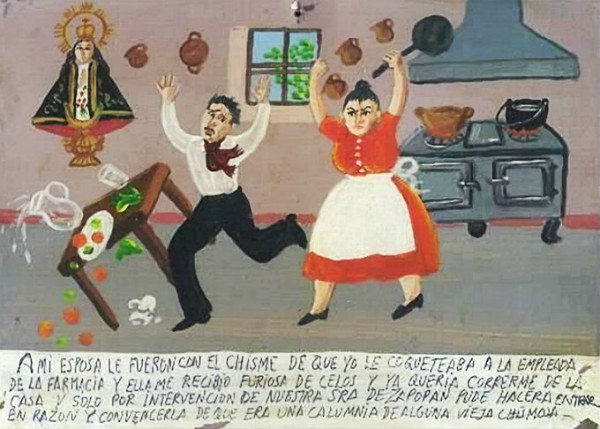 "My wife heard the rumor that I flirted with an employee at the pharmacy. The wife was furious with jealousy and wanted to kick me out of the house. Only thanks to the virgin of zapopan I was able to calm her down and convince that this is just a dirty rumor from some old gossip girl."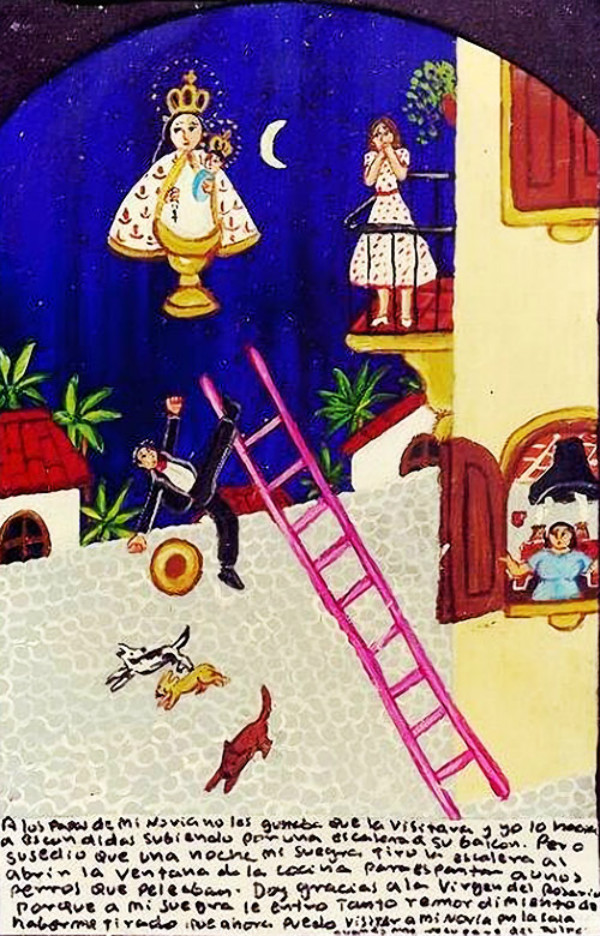 "Parents of my bride did not like that I get to see her, so I began to climb to her balcony, secretly, by a ladder. But one night my mother knocked the ladder when she opened the kitchen window to chase the dogs barked. I thank the virgin of the rosary for my mother-in-law was deeply worried about what was upsetting me, and now because of the guilt she allows me to visit my fiancée when I want to."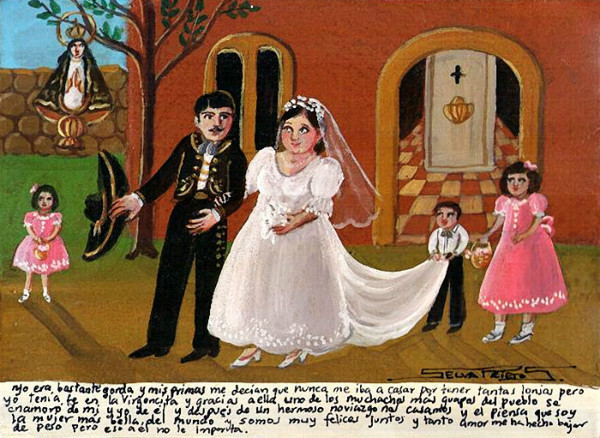 "I was very fat, and cousin kept saying that with such a weight I'll never get married. But I did not lose faith in the Holy virgin, and thanks to her one of the most beautiful boys in town fall in love with me, and I in him. After beautiful engagement, we were married. He thinks I'm the most beautiful woman in the world. We are very happy together, and love even helped me to lose some weight, but it really doesn't care".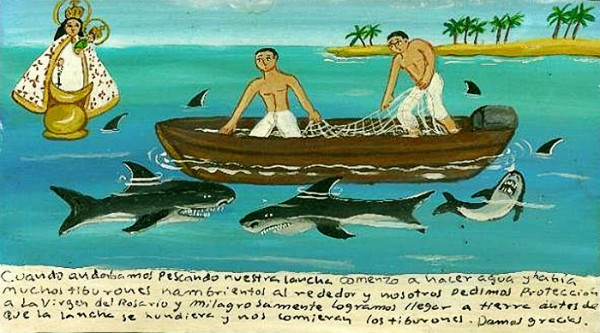 "We went fishing and our boat is leaking. Around us were a lot of hungry sharks. We asked the patronage of the blessed virgin of the rosary, and miraculously were able to get to shore before the boat sank and got eaten by the sharks. Thank you for that."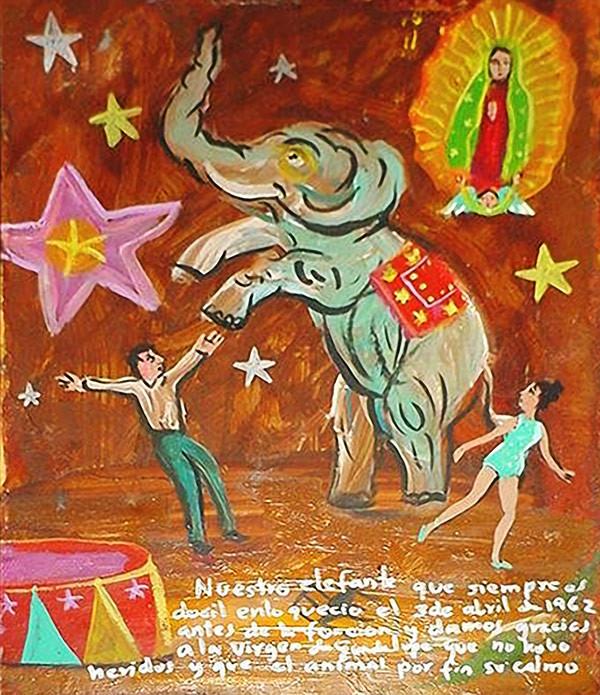 "Our elephant was always obedient, but on 3 April 1962, just before the speech, he freaked out. We thank the virgin of Guadalupe that we were not injured and the animal eventually calmed down."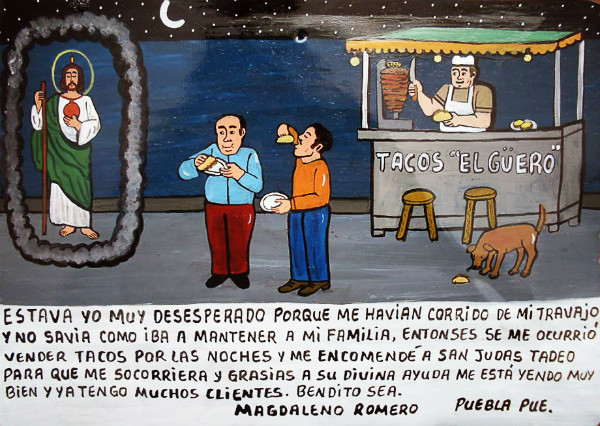 "When I got fired from work, I was desperate and didn't know how I can support a family. Then I came up with the idea to sell tacos at night. I entrusted myself to Idue Thaddeus, to get me out. With his divine help, things went very well and now I have a lot of visitors. Blessed are you, St. Jude. Magdaleno Romero, Puebla".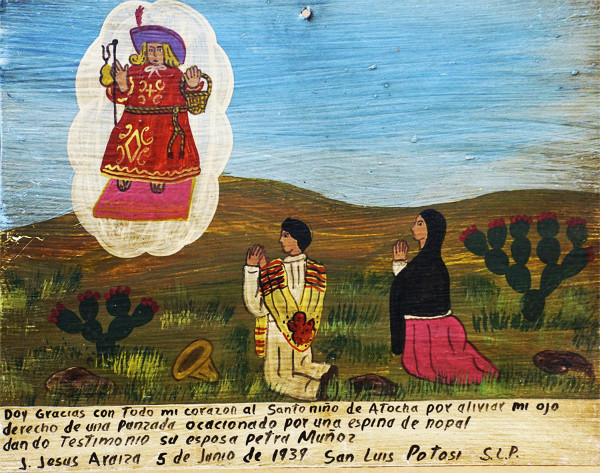 "With all my heart I thank the Holy child of Atocha for the healing of my right eye, which is hit by the thorn of a cactus. Peter Munoz, wife, testified to that. H. Jesus Arajs. June 5, 1939, San Luis Potosi".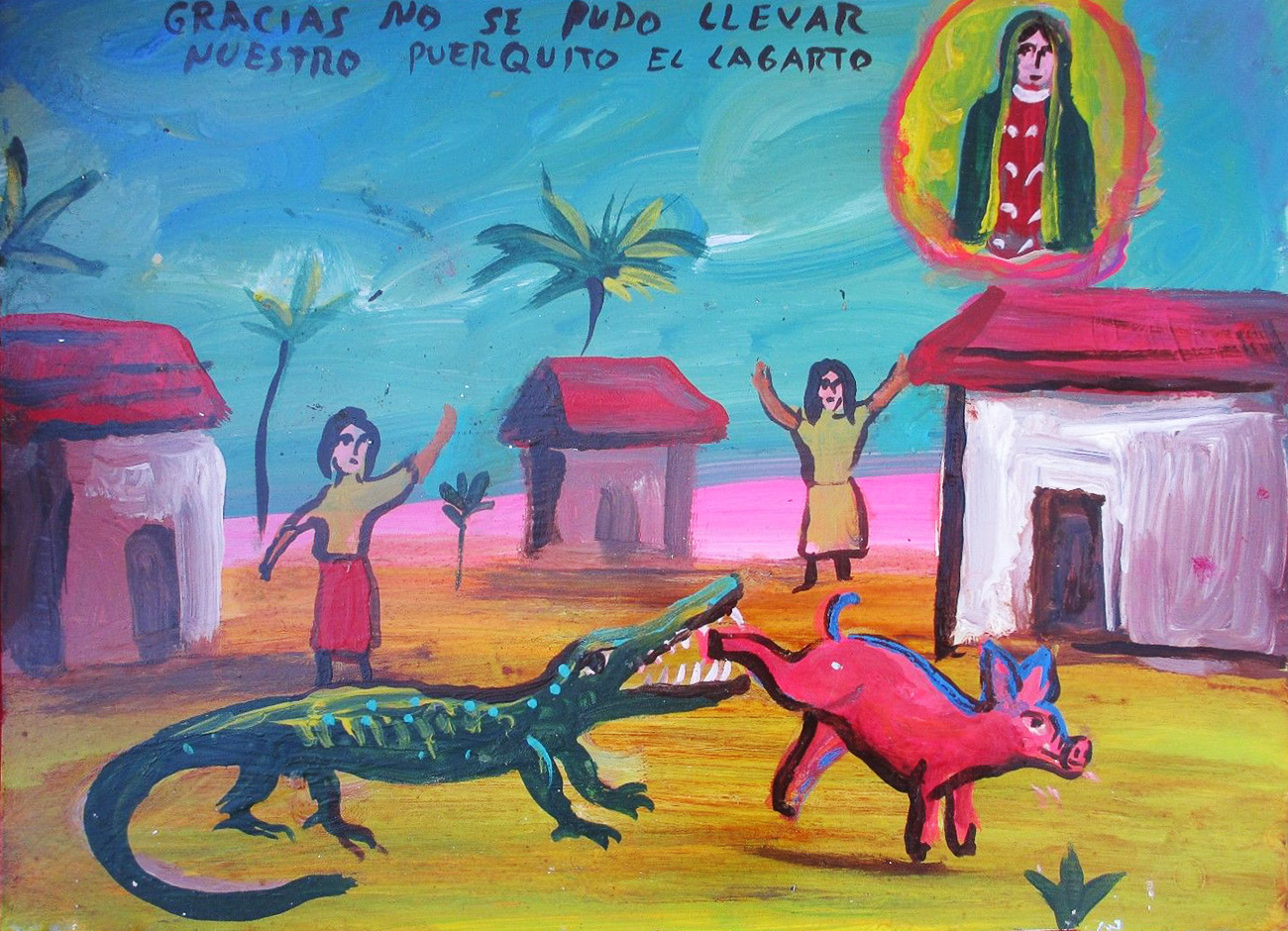 "Thank you for the crocodile grabbed our pigs."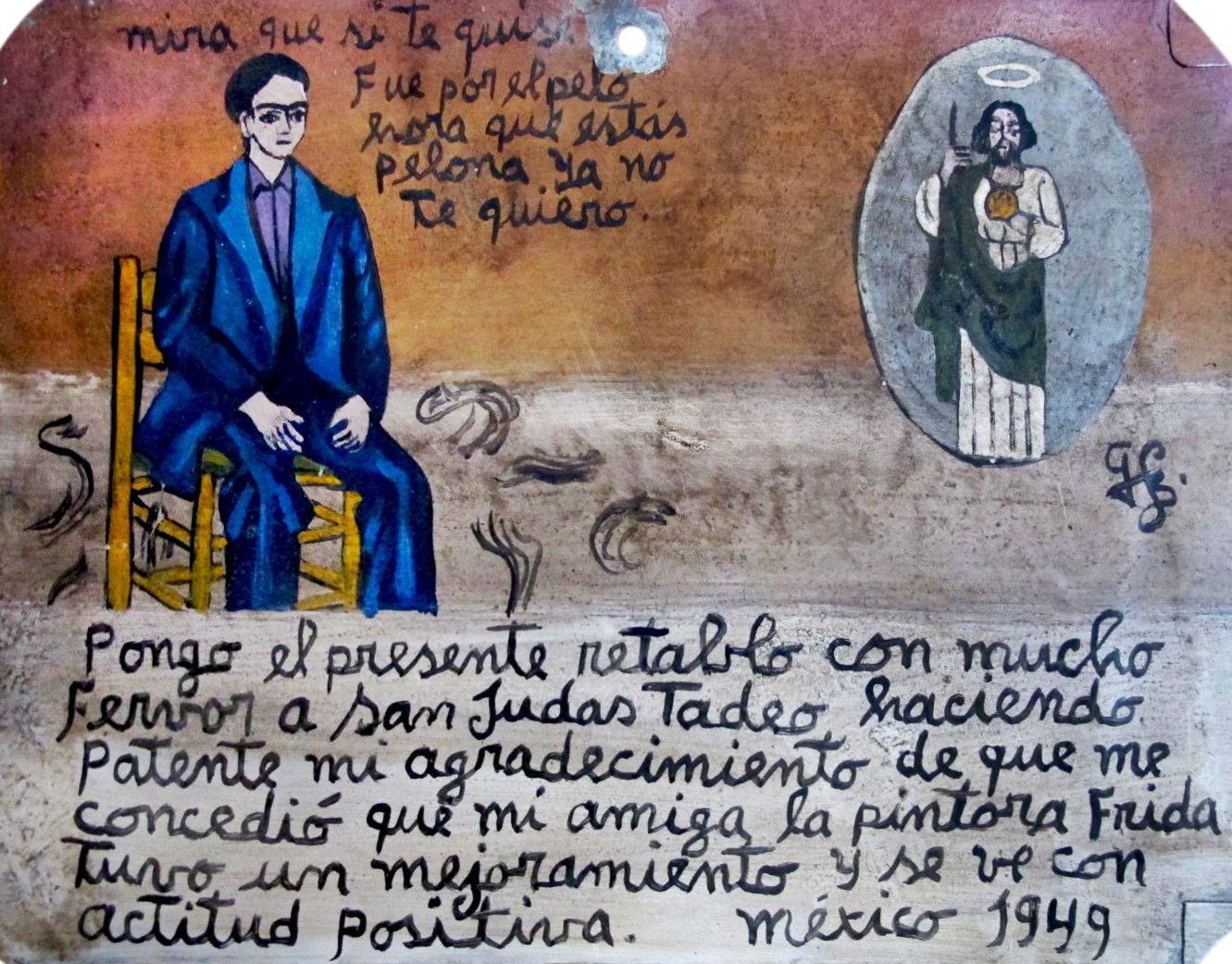 "Look, if I loved you for your hair, now you bald, I don't love you. Bring this retablo to Saint Jude Thaddeus in gratitude, as my friend the artist Frida feels better and gained a positive attitude. Mexico, 1949".
Frida Kahlo and her beloved Diego Rivera first began to collect retablo as art objects in their home were collected over 150 of these postcards.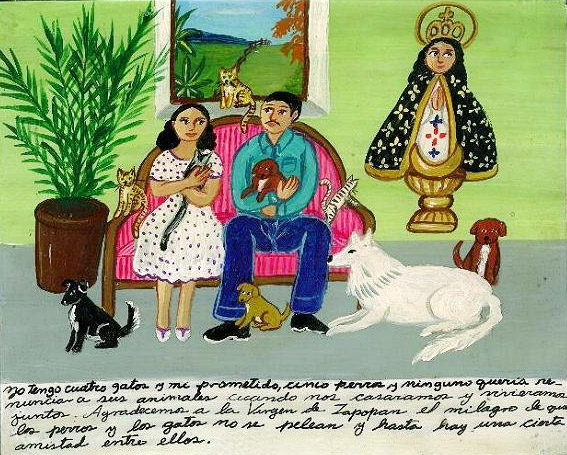 "I have four cats, and my fiancé has five dogs. When we got married and began to live together, no one wanted to abandon their Pets. We thank the virgin of zapopan for a miracle that dogs and cats don't fight and established some kind of friendship."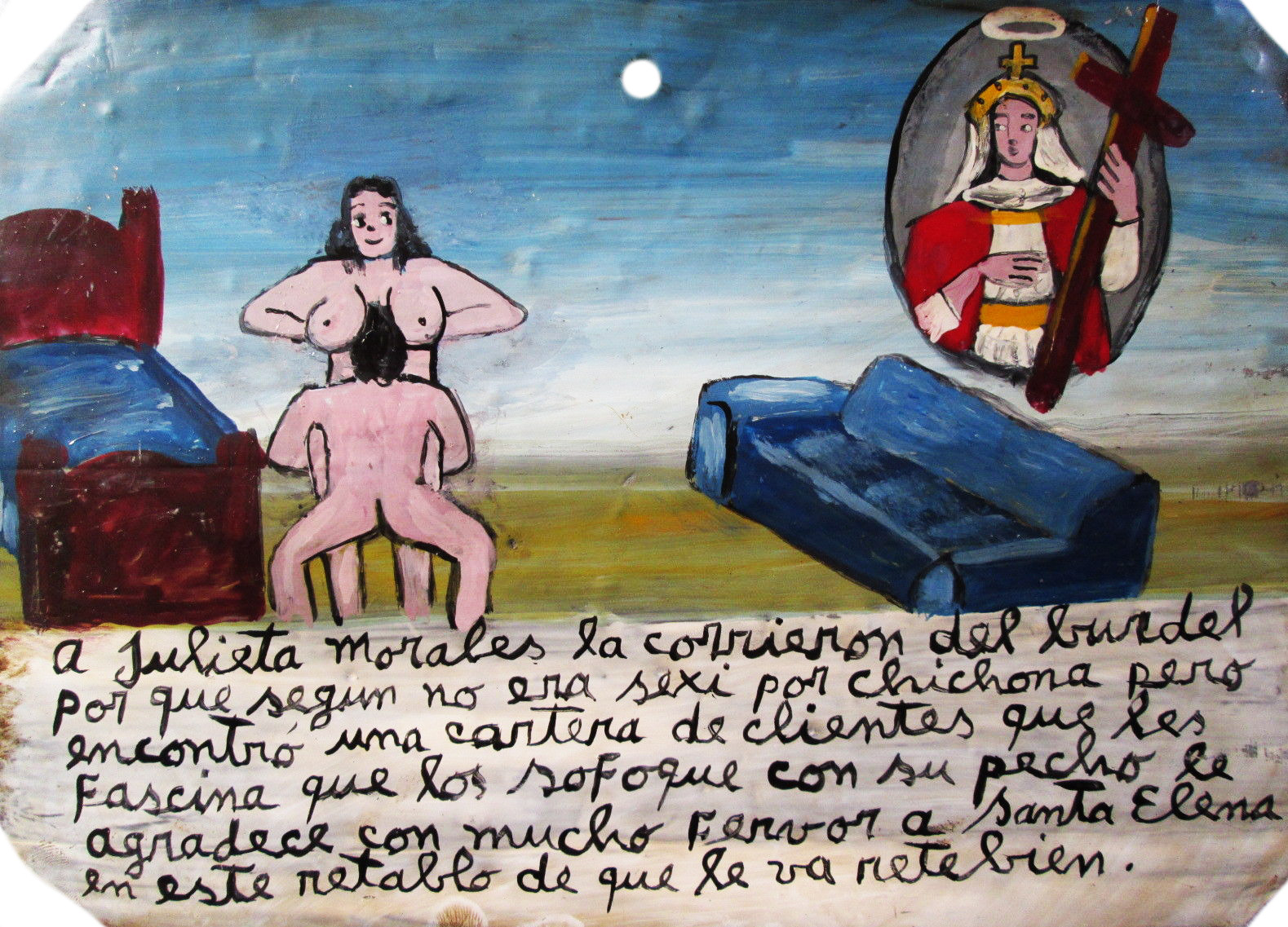 "Julieta Morales fired from the brothel because she stopped being sexual because of too large Breasts. However, she managed to find a group of clients that love it when she smothers them with his chest. She thanks Saint Helen with this retablo because she is doing prekrasnenko".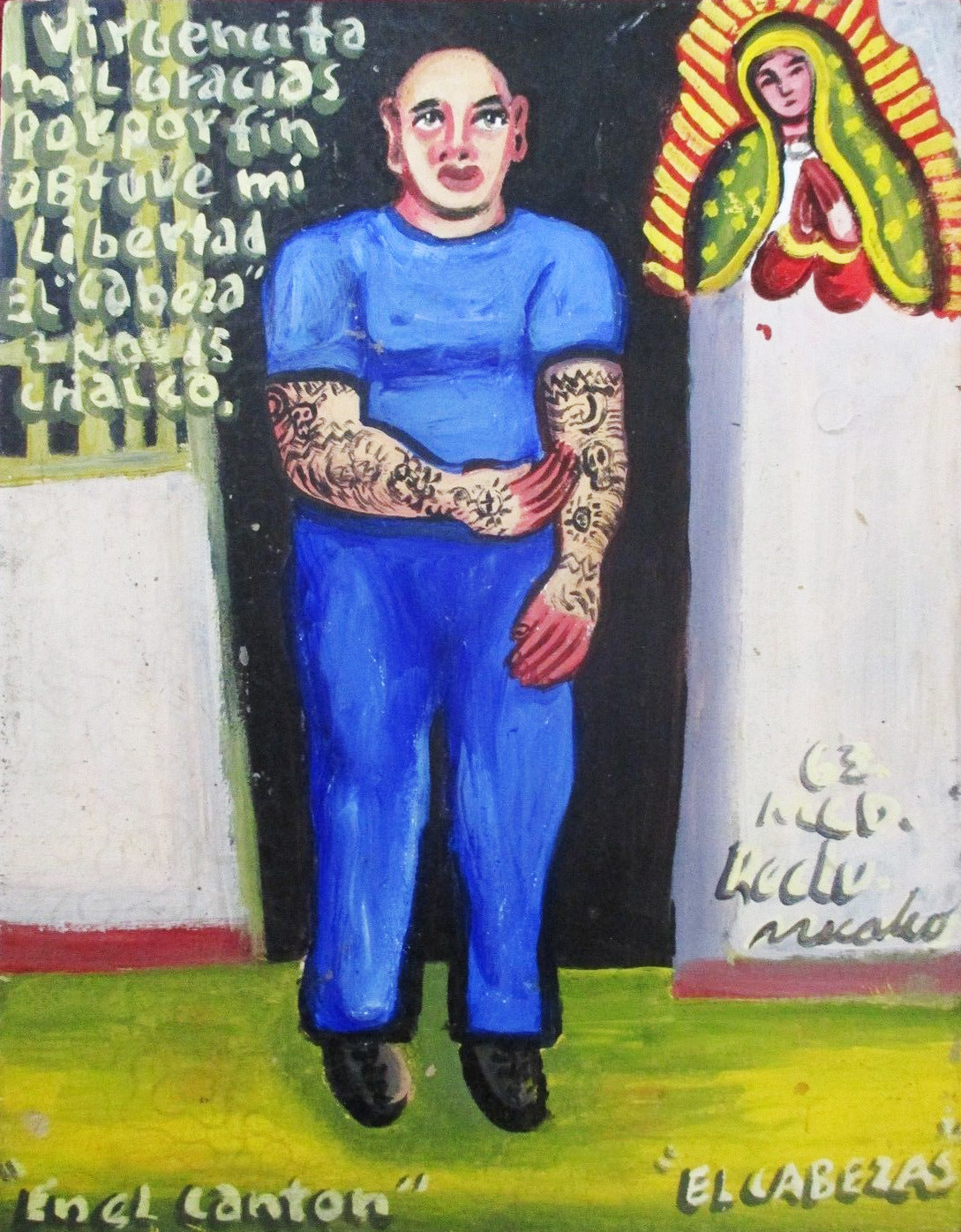 "The blessed virgin, a thousand thanks for what I finally got freedom. – Headed. 3, 2015, Calico".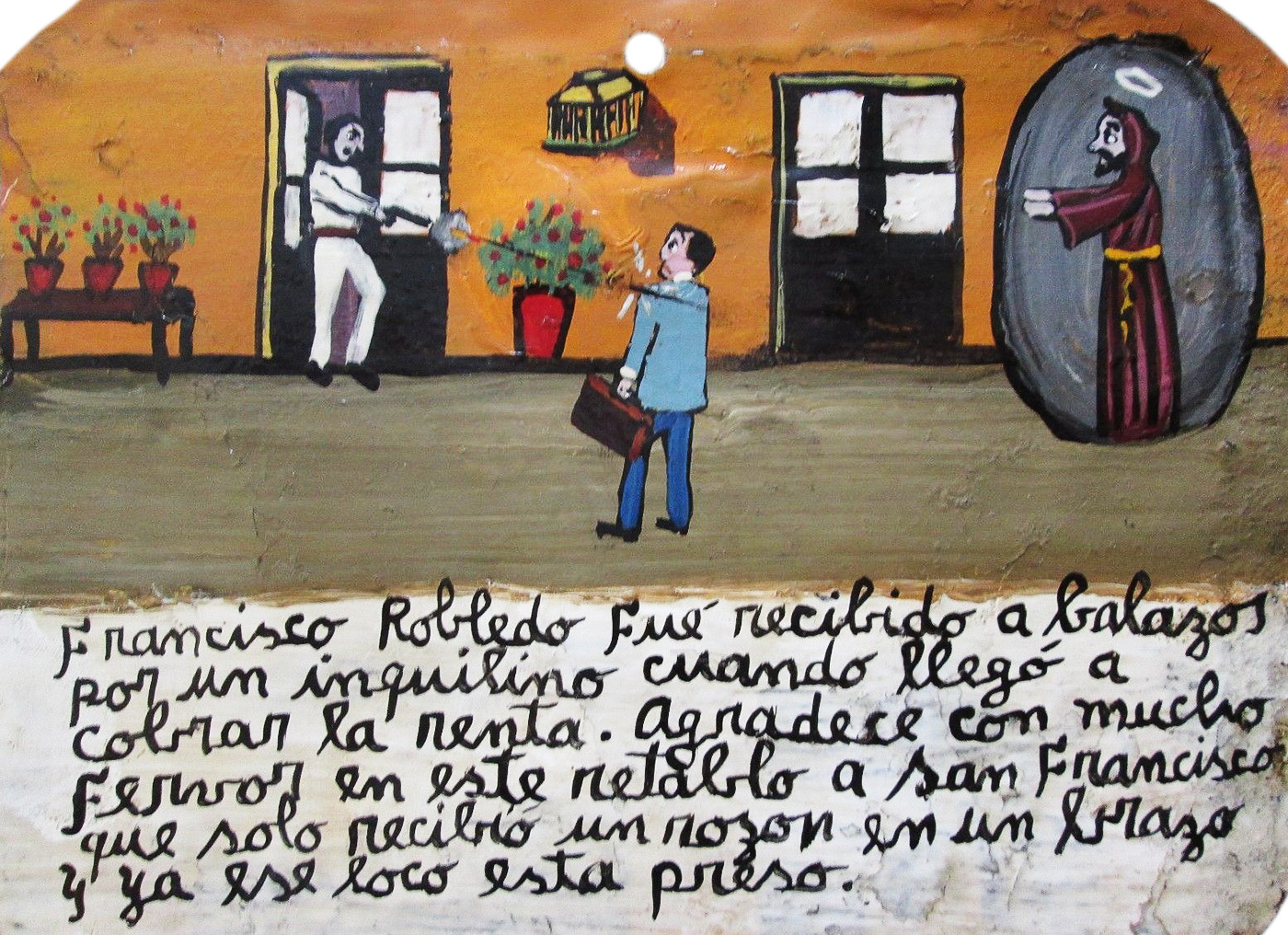 Francisco Robledo took a bullet from the tenant, when he came to collect the rent. He thanks Saint Francis, because he escaped with only a scratch on his hand, and the madman was arrested.
Like it? Want to be aware of updates? Subscribe to our page in Facebook and a channel in the Telegram.