Technology
Created of synthetic materials with properties of living beings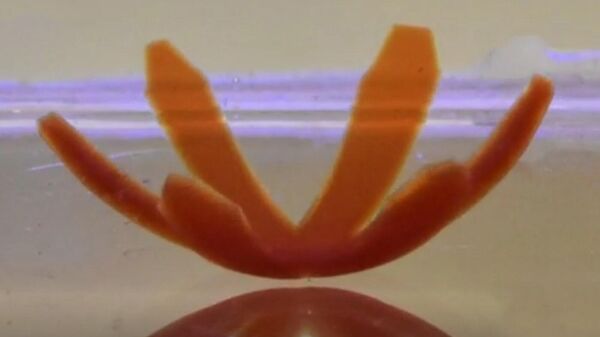 American scientists have developed a soft polymer material that when the light strikes them they begin to bend, rotate and crawl. Described in the journal Nature Materials.
Researchers from northwestern University in Evanston, Illinois, has created a family of soft "robotic materials". In the light of these thin film materials come to life — bend, rotate, and even crawling over the surface without the aid of additional equipment, hydraulics or electricity.
The structure of the new materials contain nanoscale peptide assemblies, which give the water molecules. Scientists have linked a peptide matrix with polymer mesh that responds to blue light.
When this light falls on a material, a chemical reaction changes the properties of the meshes, and they are of a hydrophilic, attracting moisture, become hydrophobic — water repellent. The material begins to expel moisture via a peptide tube is compressed and "alive". If the light is off, the material again becoming hydrophilic, absorbs water and expands back.
This is reminiscent of the reversible contraction of the muscles, which inspired the authors to develop new materials. Thus, by controlling the light, it is possible to give the material directional movement, as flexure occurs in the direction from which the light comes. The researchers even made an object to rotate at a time when he "crawled" on the surface.
Before you make "real" materials in real life, scientists performed computer modeling, which allowed to predict their properties.
"From the biological systems we know that magic muscle based on the relationship between small proteins and giant protein polymers that expand and contract — are in the press release words of the head of research Stoppa Samuel (Samuel Stupp), Professor of materials science, chemistry, medicine and biomedical engineering at northwestern University and Director of the Institute Simpson Kerry. Only muscles use chemical fuel, rather than light to generate mechanical energy".
Researchers believe that "robotic materials" can perform many tasks in areas such as medicine, energy, the restoration of the environment.
"We live in an era where devices that help us manage daily life, are constantly evolving — notes Stop. The next stage of development of science is to create materials with the abilities of living beings. These materials can add functionality to soft robots, equipped to identify fragile items and their subsequent release in the exact location. In medicine, soft materials with a "live" performance, bending and changing shape, will ensure the extraction of blood clots in the brain after a stroke. They will be able to move on the surface of water, cleaning of the reservoir or the sea and also to look for defects in the batteries, membranes or chemical reactors".
The authors believe that a new family of materials opened endless application possibilities, thanks to their ability to take a variety of forms.