Science
In Russia have invented a robot milker, which recognizes each cow
The first domestic robot for milking cows was developed by the staff of the Federal agricultural research center VIM. He knows every pet by a special chip that takes care of the udder, animal feeds, and only after that starts milking with a special hand-manipulator. In summary, compared with conventional mechanized milking performance of dairy farms could increase by 15-20%, as well as the quality of the milk.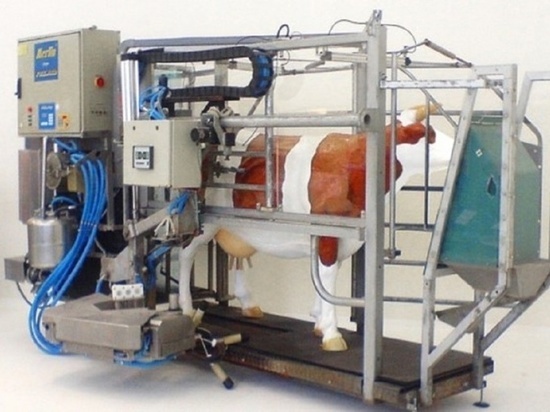 As told to "MK" head of laboratory of automated systems for milking and primary milk processing Vladimir Kirsanov, the milking machine is a small house-a machine in which a cow walks by yourself. The design suggests a certain isolation of the animal, not to be disturbed relatives.
Robot milker not a worse person learns each pet on a special chip on the collar. "Knowing" in the previously entered program the productive properties of a particular cow, the robot selects a customized menu for feeding. While the cow chews and calms down, arm is listed under the udder. It comes with a 3D camera that recognizes all four of the nipple. Begins to prepare them for milking. This process, according to Kirsanov, a very important part of the event. To build on the last Cup to the nipple, it should take no more than one minute. This is due to the physiology of an animal, which within minutes produced the required amount of the hormone oxytocin, which is also called the hormone of galactopoiesis. By the way, the Western counterparts of our robot violate this "commandment" competent milking – almost all the time of preparation of the udder is significantly greater than the minute, which reduces the yield.
After fixing the glasses they are not immediately connected to the process of milking. First, wash the teats, milk the first squirts of milk and separate them in a separate container to the main were only pure milk.
Then begins milking. Due to the fact that each of the four cups to milk their share of the udder to the end (under normal milking mechanized happens not always) it does not remain milk, so the cow is not threatened mastitis (inflammation of udder). It is a common in the cow the disease across the farm reduces the overall milk yield by 15-20 percent. In the end, in addition to the quality and quantity of milk farmers using the robot, increase productive longevity of cows.
First finished models of the robot-milkers engineers Visu promises to demonstrate at the agricultural exhibition this fall.