Crypto News
The volatility index of bitcoin this week has fallen to 30%
The range of price fluctuations bitcoin is a narrow end of may 2020. The coin is trading in the range of $9,000 to $9800 and so far failed to break the psychological mark of $10,000.
The volatility index BTC fell to the lowest level since October of last year. Volatility in weekly terms had fallen to 30%. This is according to the platform Skew.
On a monthly basis, this figure fell to 57%. At the time of publication the largest digital currency slightly grew in price to $9265 after a fall provoked by the miners.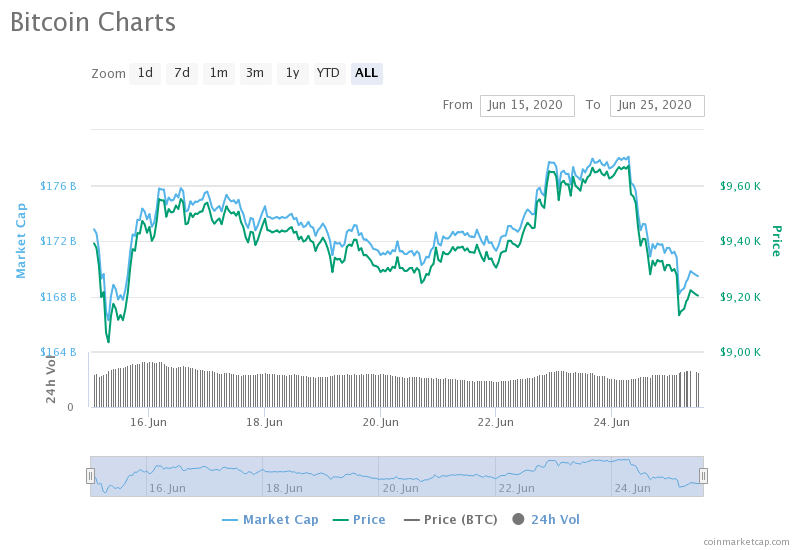 We will remind, this week began with the fact that mining pools were again to send the bitcoins on the exchange. The result of this activity provoked a rollback BTC to $9100 on some commercial sites.
One of the analysts posted on Twitter in which he stressed that if bitcoin reaches $9800, then a new stage of exacerbation of volatility can lead to more substantial loss positions. Does not exclude such variant at which the coin will again begin to test values below $9000.
The situation on the us stock market continues to put pressure on the cryptocurrency industry. Indicator S&P 500, which correlates BTC in early trading in the US is declining.
If during today's session, the figure will be in the red zone, the outflow of capital from bitcoin will begin to grow, observers predict.