Crypto News
Litecoin is weakening: the Coin threatens to fall to the levels of the beginning of 2017
Litecoin (LTC), which many call the "younger brother" of bitcoin, continues to lose position in the market. In the middle of this week LTC fell to $41, capitalization Aldona decreased to $2.7 billion.
Litecoin is in seventh place in the ranking of the largest cryptocurrencies him in the back breathes Binance Coin, capitalization is approaching $2.4 billion. Analysts predict that the trend is weakening LTC will dominate in the coming weeks.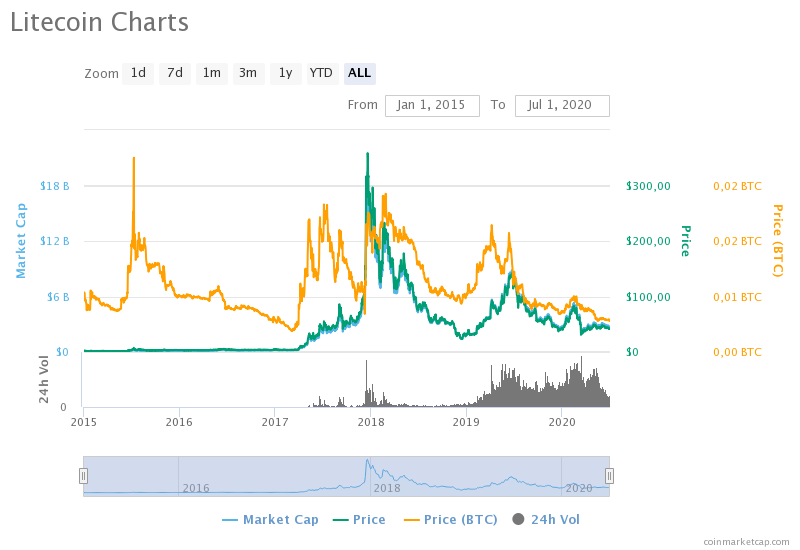 Sound predictions that the coin is likely to start testing the values recorded at the beginning of 2017, that is less than $15.
Litecoin is closely correlated with bitcoin and most other cryptocurrencies. When BTC increases, Aldon also gaining in value. However, the growth rates LTC minimum, which creates the preconditions for its massive sales of the asset.
Activity in the network of litecoin does not change significantly from last fall and remains at a minimum. On average, the network handles up to 32 500 transactions per day.
However, in the camp experts, there are those who believe that the collapse of litecoin will not happen. Feeling the bottom, the coin will resume growth. One trader recently wrote on Twitter, as soon as the coin will refresh the lows, you go to the active accumulation of this asset.