World
Pompeo has accused Russia of selling weapons to the Taliban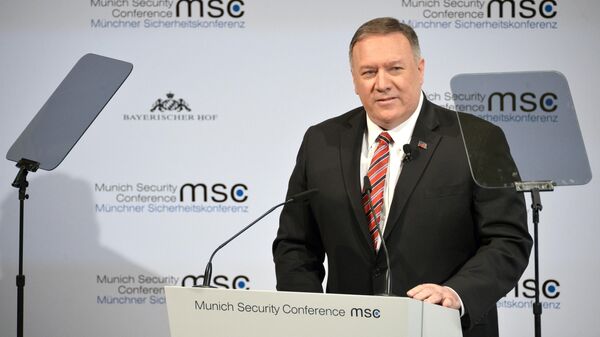 U.S. Secretary of state Mike Pompeo said that Russia in Afghanistan confronts the United States, and repeated the charges in the sale of small arms to the Taliban.
"The fact that Russia is acting in Afghanistan in a manner that confronts US is not new," said Pompeo at a press conference.
"Russians sell small arms (the Taliban) for 10 years, jeopardizing the lives of Americans. We objected to this. Every time I've met with my Russian counterpart, I was talking about this: "Stop it," said Pompeo.
Russia has repeatedly denied US charges of selling weapons to the Taliban.
The Secretary added that Russia and the US in Afghanistan is partly the same as the interests which are, in particular, in reducing the terrorist threat.
However, he did not comment in detail on media reports that Russia allegedly paid reward to the Taliban for attacks on American troops in Afghanistan. The Secretary only said that on this account, U.S. intelligence agencies made an official statement.
Previously, the newspaper the New York Times, citing anonymous us intelligence officials published an article in which asserted that military intelligence of the Russian Federation allegedly offered a reward associated with the Taliban militants for attacks on American soldiers in Afghanistan and that the US President Donald trump reported. Evidence was provided.
The Russian Embassy in the United States demanded from the authorities an adequate response to the threats made to the diplomats because of the news about Russia and Afghanistan. The Russian foreign Ministry called the media reports a fake. Trump called the article "paid".
Advisor to the us President for national security Robert O'brien said that the allegations "a conspiracy of the Russian Federation with the Taliban", published in the press, not confirmed by US intelligence. A Pentagon spokesman also stated that his office has no evidence of "collusion".
Press Secretary of the President Dmitry Peskov, commenting on the publication of the New York Times about the "conspiracy" of Russia with the Taliban, said that these allegations are false. On the question of journalists, discussed if trump somehow this topic with Russian President Vladimir Putin in the course of this year, Sands said.