Crypto News
Analyst Bloomberg predicted a rise in price of bitcoin to $12,000
Mike McGlone from the team of analysts of the Agency Bloomberg, drew attention to the appearance factor, which is to bring bitcoin to $12 000.
This expert has repeatedly pointed to the enormous potential of the largest cryptocurrencies. In early June, McGlone suggested that by the end of this year BTC will be able to test the level of $20 000.
This week analyst Bloomberg published a review which noted the positive value of such factors as the increase in the number of active bitcoin addresses. He referred to the data team Santiment.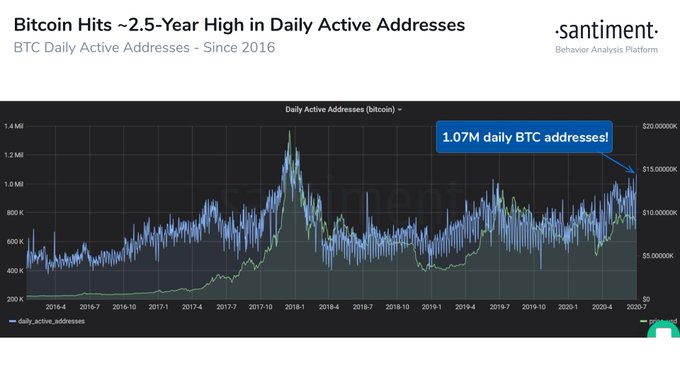 The experts of the platform have reported that the daily number of addresses in the network Ethereum interacting with BTC, reached a two-year high (1.07 million). Last time approximately the same number of wallets interacted in the middle of January 2018.
McGlone noted that the presented data suggest that the improvement in fundamentals of cryptocurrency. He also added that the increase in the number of active bitcoin addresses – this is an important signal for the resumption of growth of the coin. The result of a new rally, BTC should be the achievement of $12 000.
The analyst refers to another and to the data service CoinMetrics reported earlier that the number of unique bitcoin wallet reached the annual maximum. The last time there were such factors, bitcoin was able to break out of the "bear paws" and resumed expansion.