Science
In Russia have found a way to safely recycling oil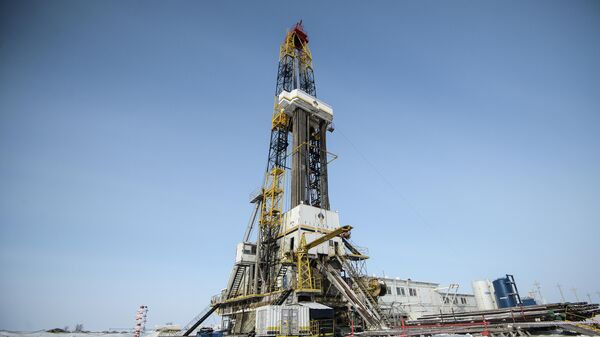 Economical and environmentally friendly method of disposal of waste from drilling wells has been developed by scientists of the Tyumen industrial University (TIU). According to the authors, their development will help considerably to reduce the toxic environmental impact of oil production on land. About it reported in a press-service of the University.
When drilling oil wells, as explained by the experts, they injected a special saline solutions, water-or oil-based. Out of the hole, breed with such additives are toxic for the environment, and the elimination of contamination is more than ten years.
Existing methods of disposal of drilling waste, according to scientists TIU, involve large costs, not ensuring the proper level of ecological safety. The method created in the TIU allows you to convert drilling waste into an environmentally friendly material, applicable for the construction of earthworks.
"Instead of traditional waste treatment in a centrifuge with a subsequent thermal deactivation, we made the mineral components with low cost and mixing, bring to a homogeneous mass. Gypsum, glauconite, diatomite and reduce the salt content, concentration of oil products and heavy metals," – said the head of the research group, associate Professor of technosphere safety TIA Elena Gaevaya.
As noted by scholars of TIU, their method differs from traditional that does not involve the formation of secondary waste, does not pollute the atmosphere with combustion products, as well as significantly saves resources and time.
"Our technology develops physico-chemical method of waste disposal, involving the addition of a mixture of sorbents that absorb toxic substances. In this case, our method not only much more effective and safer than their foreign counterparts, but 10-15% cheaper, which is more than enough for market success," said Elena Gaevaya.
Utilization of new technology runs parallel drilling, taking up no more than two weeks. This allows you to avoid long-term storage of waste, in which there is a constant leak of toxic substances. With this new method, as explained by the authors, does not require extensive infrastructure or the delivery of the equipment in remote areas, where it often happens that the drilling is carried out.
Also a new technology, unlike the existing analogues, designed for effective application at temperatures down to minus 35 C, making it promising for the development of the Arctic territories, the scientist said.
At the moment, the group of specialists of the TIU is working to create a mobile installation for the disposal of drilling waste, as well as the technology prepares to enter the world market, adapting it for use in various climatic and geological conditions.