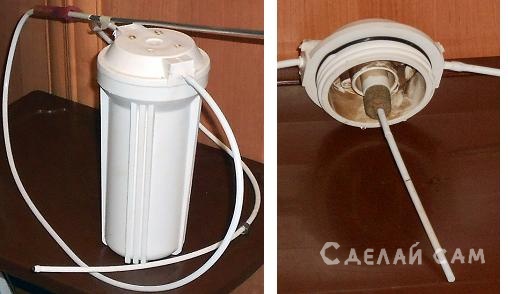 The desire to wash the balcony Windows quickly and painlessly, suggested to make the washer. Was trying to do with the help of electric pumps from the window washer of the car, but did not succeed. And the prospect to carry a bucket of water during this operation, the probability of flood water was high, and the ability of the circuit, since it is necessary to work with stress.
The idea brought a selected filter housing for water. All that concerned the storage, diversion, and supply of water was available. It remains only to consider the mechanism of water flow.
This problem can be easily solved by the supply of air to one of the taps of the filter, as the filter suggests, the sealed enclosure. Such products are used, the storage air receiver, which can serve as the filter housing, thanks to the impressive volume of his body.
To solve the problem it was necessary to ensure the water flow in the second branch of the filter under the pressure of the air. Small improvements inside the filter easily solved this problem.
For water I used the tube for the syrup, inserted into the hole of the cork from the wine. Tube inserted into the lid of the filter, providing isolation of the air in the filter housing with water supplied to the other branch.
During the test the thought came to him, to use the device as a water seal, that did not represent any difficulties. Enough bends interchanged in their function. In this case, the input and output will be gases, but different properties.