World
In Iran recorded the highest daily mortality rate from coronavirus
WHO Coronavirus Disease (COVID-19) Dashboard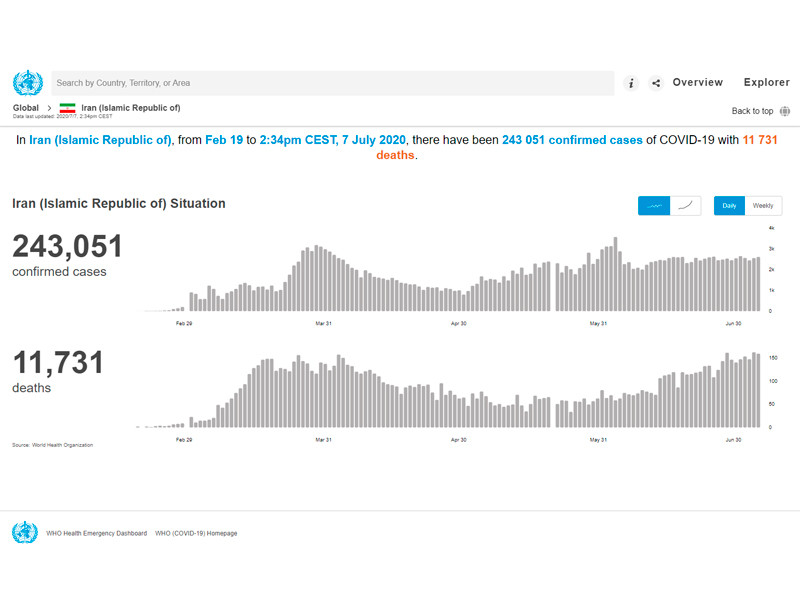 In the last 24 hours in Iran has registered 200 deaths among those infected with the coronavirus. This is a record figure since the beginning of the outbreak in the country in February this year, reports news Agency Mehr, citing the press Secretary of the Iranian Ministry of health Shima Sadat Lari.
She said that the total number of deaths after infection with coronavirus in Iran has reached 11 931. We have also identified 2 637 new cases of the disease, and their total number has increased to 245 688.
According to a spokesperson, from the coronavirus in Iran were cured no less than 207 thousand people, but 3 270 patients remain in critical condition. Currently held 1 846 793 diagnostic test for coronavirus.
According to the news Agency Mehr, the highest level of epidemiological danger is declared in the Iranian provinces such as Khuzestan, Hormozgan, Bushehr, Ilam, Hormozgan. Meanwhile, the situation begins to deteriorate in Tehran, the provinces of Isfahan, the Mazandaran, Golestan, Sistan and Baluchestan, Kerman, reports "Interfax".
Iran from April canceled the lockdown, imposed over the coronavirus. In early June, Iranian President Hassan Rouhani said that the country, despite new cases of the disease, has the opportunity to introduce such a regime for economic reasons.
According to Western media, at the moment Tehran has allowed the authorities of the provinces most affected by the coronavirus, to again resort to restrictive measures.
Throughout the world, the coronavirus has infected 11 744 397 people. Of them died 540 764. And 6 740 095 recovered.