Crypto News
The outflow of bitcoin from kryptomere increased to a new high
Holders of bitcoin continue to take their coins with cryptocurrency exchanges, according to the latest data platform Glassnode.
The trend in the outflow of BTC with trading platforms dominates from March, that is after the infamous "Black Thursday", when bitcoin fell to an annual minimum.
On Thursday, July 9, was set a new record for number of bitcoins, derived from trading floors for one day.
Before it was withdrawn on 20 660 BTC more than is posted on the exchanges. It is the largest daily outflow cryptocurrency in 2020.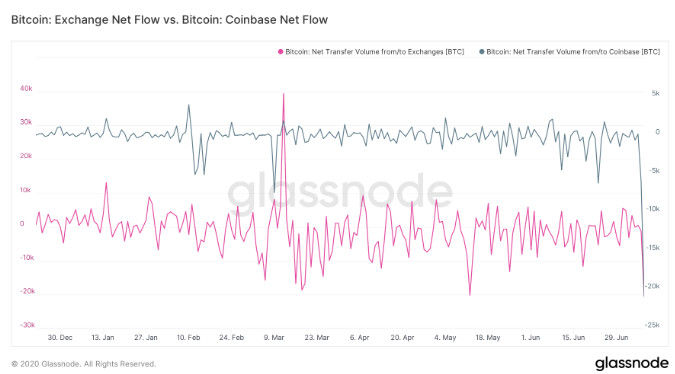 The greatest number of coins was derived from the stock exchange, Coinbase (20 787 BTC). With other marketplaces also saw the withdrawal in BTC, but in lesser amounts.
Researchers previously have periodically drawn attention to the tendency of investors to shift to long-term storage of cryptocurrencies. The number of bitcoin addresses that do not move coins continues to grow.
Recently, an analyst from the team IntoTheBlock Daniel Ferraro wrote in his blog that in the last 12 months the observed dynamics of sustained growth in the number of wallets that prefer to hold bitcoins for more than one year.