Science
The doctors warned that Sunny weather can cause complications of coronavirus
If at the beginning of the outbreak of new coronavirus infection were all sure that children carry the disease easily and without consequences, but now there are more data on severe cases, complications of coronavirus infection in children by type of Kawasaki syndrome. Moreover, these complications have started to capture adults.
Doctors first in the world to put forward the hypothesis that the increase in their number can be associated… with the UV light. That is why the summer that everyone has been waiting in the hope that sunlight will kill coronavirus, has become a dangerous time, in terms of obtaining the dangerous effects of infection. "MK" has learned the details from the experts.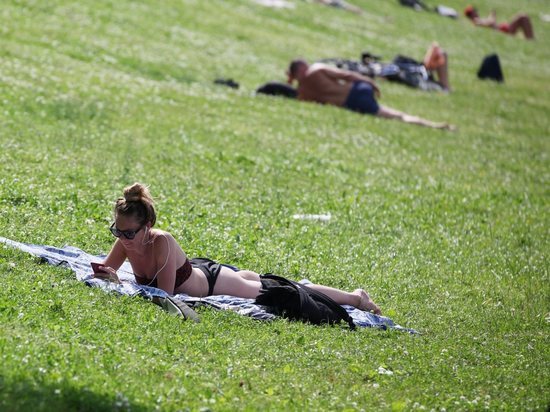 So, several countries have already reported a surprising increase in the number of complications novel coronavirus infection in a child with symptoms similar to Kawasaki. Kawasaki syndrome – a form of vasculitis, which belong to the group of autoimmune diseases and cause severe immunopathological inflammation of the blood vessels (arteries, arterioles, capillaries, venules and veins). It is manifested by fever, changes in the mucous membranes, skin lesions of the coronary and other arteries with the possible formation of aneurysms, thrombosis and discontinuities of the vascular wall. It is found usually in young children when COVID-19, there are cases in different ages. Treatment is not developed.
On the occurrence of such complications stated in 16 us States and several European countries. In the United States have launched investigations, 102 cases of such reactions in children, three of whom died. The Lancet reported a 30-fold (!) the growth in the number of such cases in children in the Italian province of Bergamo. In France for two weeks from late April to early may identified 17 such children, although the previous couple of years has never detected more than 1 child per two-week period. The patients were aged 3 to 16 years.
There are such children in Russia, although exact statistics of their number not yet released. However, the physicians dealing with such patients. Head of the therapy Department of the clinical hospital№79 Natalia Lenskaya calls on colleagues to pay very close attention to the issue of children with COVID infection. "Everyone was happy that the children do not get sick or get sick very easily, – says Natalya Georgievna. No treatment other than NSAIDs (nonsteroidal anti-inflammatory drugs – Ed.) not received. Hospitalization of children was very low it Was unclear why the children the disease is three days and in adults is hard. But just in children another immune response. And suddenly from one to two months after the disease appears in a severe form of vasculitis according to the type of Kawasaki syndrome. First in Britain has identified more than 100 cases, then in Spain, Italy, Russia, the United States – and no one understands. In fact, in children with the disease begun autoimmune process that has not been revealed and gradually, under the action of ultraviolet irradiation, there was a development of severe vasculitis".
The doctor said that the appearance of the initial symptoms of vasculitis can be noticed immediately after ultraviolet radiation exposure: "I think at this stage you can still stop the process with the help of glucocorticoids and exclusion of ultraviolet radiation (UVR). You have to understand that from the second month after the beginning of the COVID infection at any time may develop severe vasculitis according to the type of Kawasaki syndrome. If nothing is done, it is inevitable on the background of the UFO will develop (sooner or later) severe vasculitis. No other mechanism of development of this syndrome is impossible to imagine. Many of the children after COVID infection have signs of cutaneous lupus syndrome on the background of ultraviolet radiation (the so-called syndrome of "cleavage" – grouped small lesions, demarcated edge jackets). Many people take this rash a heat rash or mosquito bites. Other manifestations can be noted changes in behavior of the child: nervousness, fast change of mood, somnolence, periodic increased activity. Body temperature after ultraviolet irradiation slightly increased (to approximately 36.8). All these phenomena disappear in a day, if there was repeated exposure".
The therapist is sure that if nothing is done at the stage of onset of rash, which parents often do not attach importance and which can occur a month after the disease can very quickly be too late. What the doctors do not really know, but do they have any idea on this. "I think to begin to treat children from the beginning of an COVID infection, perhaps, the development of severe autoimmune complications can be stopped and not bring them to intensive care. The faster we are now aware of this problem and take action, the more children we can save!" – Dr. Lena.
Is it really worth to be afraid of the sun? To put all children with the first symptoms of the novel coronavirus to the hormones or wait for the development of a serious rheumatologic complications?
We do not know for certain about the connection, but we know that UV light affects the immune cells and that this impact associated annual exacerbation of autoimmune diseases such as lupus erythematosus, and acute leukemia. These observations are not very scientific, that is, confirmation is not available, although they are known to all doctors – says "MK", the Chairman of the Moscow city scientific society of physicians Pavel Vorobiev. With mers, we see a huge number of autoimmune vasculitis and some reactions, like Kawasaki syndrome. The latter is not so much, but skin rashes, evidence of vasculitis, we fix plose the time. Accordingly, vasculitis (lupus vasculitis too) can worsen when exposed to sunlight, this may be the reason that in the summer more of them.
– Yes, and Kawasaki syndrome in winter, no one spoke, and now he began to record more often…
Messages was all the time, and syndromes such as Kawasaki, described among other vasculitis not only in children but also in adults. Perhaps these syndromes have a different period, is not normal. Thus, when the standard course is a high temperature, and everything can happen without the rise in body temperature. Such is the autoimmune reaction to a viral infection.
– The professional community discusses the issue of assignment children with symptoms of coronavirus infection of glucocorticoids, i.e., steroid hormones, at the beginning of the disease. How do you feel about this idea?
– Without a doctor to do that, of course, impossible, because glucocorticoids is not first-line therapy. However, doctors should pay attention to this problem, which has not yet been widely discussed. There is a group of patients with a typical infection course, and there are those who have vasculite-like state. Moreover, began to appear in patients with lesions (also vasculitis) nervous system, Central and peripheral. Polyneuritis that stretch after COVID long, and yet no one knows what to do with them. At least this is the indication for plasmapheresis both – all vasculitis are treated with plasmapheresis. However the availability of this method is low. In relation to the appointment of hormones, I have no confidence that they need to give everyone. I'd first started all of plasmapheresis, and then thought of glucocorticoids. In addition, not all vasculitis go on hormones.
– What is the reason for the low availability of plasmapheresis, it is expensive?
Yes penny the Soviet method! Old technique, its a little where to apply. Because everyone wants to purchase expensive drugs. Plasmapheresis and often gives the best effect in the individual diseases. Yes, count free.
– Is it any pandemic is expected to surge in diseases rheumatological profile?
– This is not possible, unfortunately. We never connected directly to all autoimmune diseases with viruses and other pathogens. But, for example, have borreliosis (Lyme disease), which is transmitted by ticks. According to some information, all juvenile (childhood) rheumatoid arthritis is a consequence of borreliosis. And who knows that in adults. For example, the cause of fever – a streptococcal infection that triggers the rheumatoid process, damage of heart valves. This is not news, but we have forgotten about it. All autoimmune diseases have an etiology.
– What do you think about the possibility of preventing complications kovid? Today, the widely used low molecular weight heparins, it helps?
– I can only make assumptions. Heparins are great to reduce all the manifestations of the disease. I do a lot of ambulatory patients kovid, we are giving a direct oral anticoagulant. I have more than a hundred patients under supervision. Receiving these drugs literally breaks the disease, even in the most severe cases, and no complications developed.
– What should parents do if they notice the child has symptoms similar to Kawasaki? For example, rashes on the type of collar?
– It is necessary to immediately go to the doctors, the dermatologists. But in General, it is necessary to raise this issue, about which nobody speaks, and it is necessary to sound. We are all, alas, have focused on the respirator. Our society today therapists are trying to develop recommendations on how to deal with such syndromes. My opinion – if plasmapheresis is not available, then be sure to anticoagulants
…About the mass development of vasculitis after COVID writes in his social networks, a doctor from Kiev Ellie Christmas. She spent among colleagues a survey and came to the conclusion that many patients who did not receive anticoagulants during infection, two to three months after the disease disabled: "I can't go to work, I feel weak, tired, complain of tachycardia, arrhythmia and neurological disorders". In addition, many are unable to recover for 3-4 months: "someone's temperature jumps, someone has a potential stroke condition, all neurological symptoms: numbness and loss of sensation, tingling in different parts of the body, sleep disorders, arrhythmia, tachycardia, weakness". Patients don't understand what's happening to them, the doctors too. "This vascular systemic inflammation, vasculopathy," says Ellie Christmas.
Therefore, the fact that the chiropractic patients will be added soon, no doubt almost none.