World
At the naval base of the U.S. Navy in San Diego lit up the ship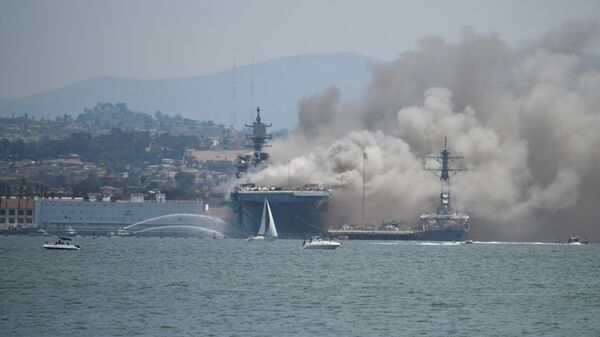 On the American naval base in San Diego caught fire amphibious assault ship USS Bonhomme Richard, said the command of the surface forces of the U.S. Navy.
It is reported that all injured 21 people, including 17 sailors and four civilians, the victims are receiving treatment at a local hospital with injuries that do not pose a threat to life.
On Twitter fire Department of the city stated that the boat explosion. The fire occurred at 8:30 (18:30 GMT). The ship was on a maintenance crew was about a thousand people. The whole team left him missing there.
According to the latest data of the command of the surface forces of the U.S. Navy, the fire continues to burn on the ship more than six hours. From the burning ship was evacuated two other warships – Fitzgerald and Russell.
"Can burn to the waterline"
The head of the fire service San Diego Colin Stowell told CNN that the fire on the ship could take days, it can burn to the water line.
According to him, in extinguishing the fire involved employees of the U.S. Navy and the police. A source at the Pentagon told the TV station that the fire, according to preliminary information, started on the "well deck", which serves for loading and release of water landing craft.
USS Bonhomme Richard
USS Bonhomme Richard — a universal ship class Wasp, he was accepted for service in the U.S. Navy in 1998. In the composition of his team of 102 officers and over a thousand sailors. The vessel is more than 250 meters, a displacement of more than 28 thousand tons.
The ship is equipped with anti-aircraft missile launchers and a flight deck. Except for the military, he is able to carry helicopters, boats and vehicles-amphibious.