Crypto News
The volatility index of bitcoin fell to a three-year low
The volatility of bitcoin on a monthly basis, weakened to levels seen in mid-2017. This is stated in the review of analysts of the platform Skew.
They also found that a ten-day volatility of BTC right now is about on the same level that was observed before the fall of the cryptocurrency to $3100 in December 2018.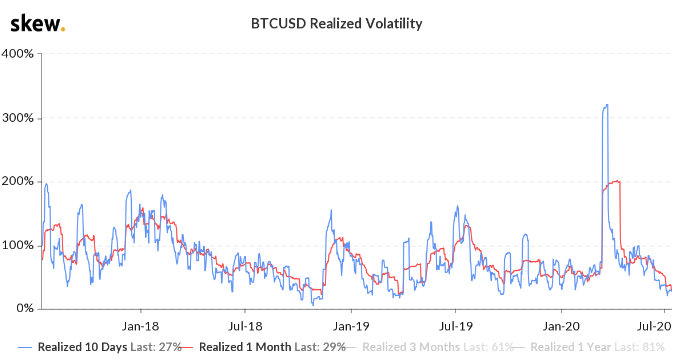 The activity of players remains low, as evidenced by the prolonged decline in trading volume of BTC.
The largest cryptocurrency stuck below $9500, while at the same time the so-called "Allston" is in full swing. Just look at the impact of such coins as Cardano and Chainlink.
The volatility of BTC at any time may escalate, and for this traders need to prepare now, analysts stress.
Only in the expert community there is no consensus about what consequences the explosion at the stock market.
For example, the same Skew analysts predict that weak volatility should be replaced by taking new heights. They refer to the data for the previous year. Then a prolonged period of low volatility in the spring ended in a $14 000 in the course of the famous race in June of bitcoin.
However, there are analysts who believe that the revitalization of the market will lead to a drop in BTC. One of them under the name FilbFilb team CoinTelegraph Markets believes that BTC will return to $8,000 after the next burst of activity players.