World
At Palermo struck the strongest since the late 18th century shower stopuri dozens of cars in the tunnel (VIDEO)
ALL PHOTOS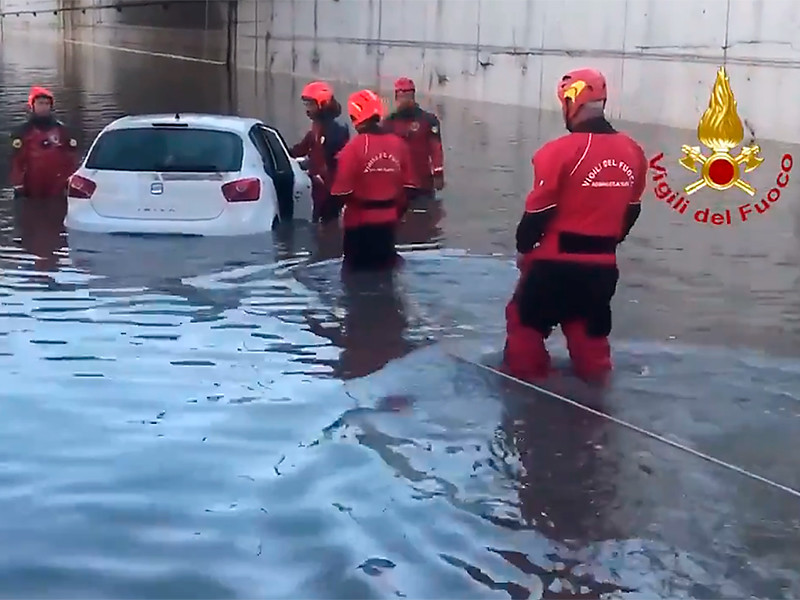 On 15 July heavy rain fell on the Northern part of the Italian island of Sicily. Most of the floods affected the city of Palermo, the street which went under water. Here the rain did not stop for about three hours. According to the mayor of Leoluca Orlando, two hours dropped more than a meter of rainfall, transfers TV channel Sky TG24.
As the mayor told rain that struck the city, was the strongest since 1790. "Literally two hours, had the annual rainfall," said he, and pointed out that the weather service did not predict rain of such intensity, and city officials have not announced a storm warning, reports TASS.
In the result the road was heavily flooded. But the most difficult situation was in the tunnel that under the water were dozens of cars, and people had to swim ashore. With hypothermia hospitalized two children.
Local media reported two dead, citing an eyewitness, who saw that people are unable to get out of the car. National fire corps Italy on his Twitter page reported that rescuers found the plane but no one was there. They explored other means of transport, but they also found nobody.
As told the news Agency ANSA, the head of the regional civil protection salvo Kokina, at the lowest point of the flooded tunnel currently the water level is one meter. This section was carefully examined, so the rescuers believe there are no victims.
In another area of the city the flow of water and dirt dragged several cars for hundreds of meters. Here also nobody has suffered, informs Stormnews.
Due to the inclement weather, firefighters received more than 300 calls, some of which they continue to work. Due to the rising water were flooded and received damage to the building. The residents of several homes were evacuated.
🔴 #Palermo, nessuna vittima accertata dai sommozzatori dei #vigilidelfuoco impegnati tutta la notte nel sottopasso allagato: individuate auto sommerse, proseguono le ricerche per escludere la presenza di persone. Idrovore al lavoro per abbassare il livello d'acqua #16luglio 7:00 pic.twitter.com/LY7RsfYDXl

— Vigili del Fuoco (@emergenzavvf) July 16, 2020
🔴 #Palermo, estratta una delle auto nel sottopasso, nessuno all'interno. Prosegue il lavoro dei #vigilidelfuoco per escludere la presenza di persone nelle altre auto ancora sommerse #16luglio 10:30 pic.twitter.com/L0TlTW7GpK

— Vigili del Fuoco (@emergenzavvf) July 16, 2020