DIY
Needle file the handle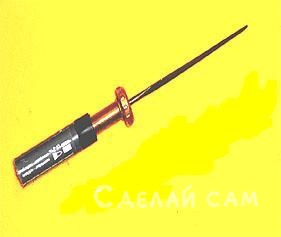 If you take a plastic dowel, tube from full metal plugs with collet extender, add to the tube of the fixing draining the old toilet, turn the handle of a needle file.
Going in this order:
The diameter of the needle file select a plastic dowel and stick to the working part of a needle file.
The outside diameter of the plastic dowels pick up the metal dowel and insert it in the previous part of the product from the collet extender. If you select to consider:
– plastic dowel should be slightly larger than the inner diameter of the collet so that it is at odds with this operation.
– tube length should ensure comfortable grip handle ready hand. (see "Hand tool" – "the Cutter").
On the other side of the tube plugs stick up from the sink, expanded its end. Tube by finding the collet, compresses the plastic sleeve from the seated needle files, thereby ensuring its fastening in the handle.
4. Refine handle of the marker