Crypto News
Study: Satoshi – Patoshi – the biggest "whale" and the protector of the bitcoin network
A recent report by the Whale Alert showed that the miner known as Patoshi, produced 1 125 150 BTC (more than $10.9 billion) at the beginning of the formation of the bitcoin network to protect the network from 51 percent attack.
Whale Alert has confirmed that Patoshi is thus the Creator of the first anonymous cryptocurrency, Satoshi, and early blocks, mined them also include a bitcoin transaction to developer Hal Finney.
Whale Alert comes to this conclusion after reviewing previous studies Sergio Lerner. Lerner just coined the term "miner Patoshi" pointing to a man who had all mainil bitcoins using modified software.
The diagram shows that the straight lines are standard software for mining coins, and the "sawtooth" line is the result of using modified software from Patoshi.
Whale Alert claims that the miner Patoshi "regulate the speed between blocks" maintaining the speed of production at the level of 0.6 units for every 10 minutes.
Based on code templates that are stored in every bitcoin block, Whale Alert makes the conclusion that this early mining was carried out 48 computers, one of which was leading.
Whale Alert points to two reasons for the speed control of a mining manner Patoshi: 1) keep a time interval of 10 minutes between blocks; 2) to protect the network from attack 51%.
Satoshi kept his share of the hash rate yet at the level of 60%, while the network has grown, and the attack of a 51% attack, I could have become a serious threat to her. Later, however, Satoshi came to a optimum speed of 1 block per 10 minutes.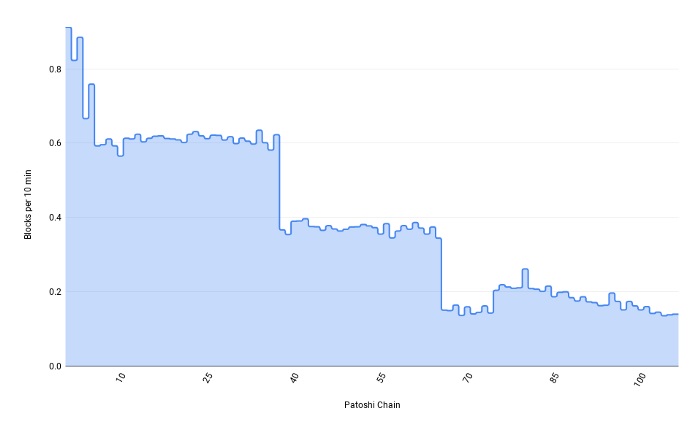 Analysts believe that Satoshi stopped mining at block 54 316 when the network was quite decentralized. However, up to may 2010 (before the block 112 500) occurred some changes, the origin of which it is difficult to attribute Patoshi (Satoshi).
Will the dump from Satoshi?
It seems that the actions Patoshi was carefully thought out and aims to protect the network during its formation, although now the global hash rate of bitcoin has reached unprecedented heights. While it seems unlikely that the same person wants to sell their stocks of bitcoins, thereby committing a dump on the market. Whale Alert concludes:
"The time out of mining, the desire to regulate the speed of extraction of blocks and the fact that he did not spend the coins, testify to the fact that Satoshi was only interested in the growth and protection of the young network. Bitcoins mined Patoshi was probably just a by-product of these efforts. It is unlikely that this balance will ever be spent, although the question remains why Satoshi just burned these coins".
Lerner also said that Patoshi actions were not motivated by financial gain, and he believes that "Satoshi will never use your coins".