Crypto News
The outflow of bitcoin from kryptomere in the second quarter increased by more than 200%
Investors withdraw money with trading platforms over the past few months. That is why the market is weak volatility, analysts say.
In the second quarter of 2020, the outflow of BTC from the cryptocurrency exchanges increased more than twice. Since January, in dollar terms, the exchange left bitcoins totaling more than $2 billion.
The increase in the outflow of coins drew the attention of the analyst Lewis Harland, use data platform Glassnode.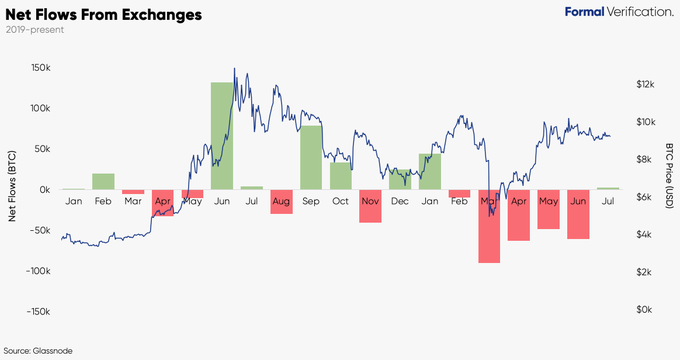 If in the first quarter of the year, holders of the cryptocurrency bitcoin brought 55 000 in the second quarter, the outflow amounted to 174 000 BTC.
Thus, investors finally switched to long-term storage of cryptocurrencies. In total for the first six months of 2020 kryptomere was derived 229 000 bitcoins worth up to $2.13 billion
At the moment, the balance of the trading sites listed 2.64 million BTC worth up to $24.5 billion.
The researchers draw attention to the fact that the March collapse of the stock market has not led to massive dumping of bitcoin. On the contrary, the accumulation is only increased. According to the latest data, to a record high increase in the number of bitcoin addresses with up to 1 BTC.