DIY
Glue at the moment. Interesting homemade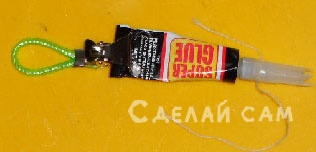 The requirement to wear gloves when working with instant glue, unfortunately, difficult task because in the time they are not in place, so take a risk, and not infrequently put not only the details but also the fingers.
Had to solve two problems:
1. It is easier to Unscrew the cap when you re-open, because, increasingly, it may cause leakage of the glue and squeeze the glue out of the spout.
And not to get your hands dirty in the process of gluing.
The second issue has been assigned to this device, which performs the following function: holds the tube with minimum contact with him:
To fit was used the lock from the chest.
To hold the tube inside it, on the edge installed and secured using the cotter pin area. By a light pressure with your fingers on the moving part of a latch, the edge of the area rests in the tube.
At the end of the tube is covered with a clamp type "crocodile", bought for hanging towels. As flow of the adhesive, the tube moves inside the fixture with a clamp, a flexible part which extends outward through the slot.
The device allows to remove the problem of the location of the tube in the workplace, during the operation of gluing at the moment of fixation parts, which eliminates leakage of the adhesive, as a result, its random slope.
May have already proposed methods to solve the first problem, I suggest this: before screwing the cap to cut and insert a length of wire with a bent end, which you can then scroll and pull, lubricate the spout is silicone and impregnated wound them a couple of turns of thread, with the help of the pipette.
In a short working time intervals, close the tube it is possible with a toothpick.
But as they say better safe than sorry….., don't neglect TB when working with such active material.