World
Taken hostage in Kiev called Zelensky jester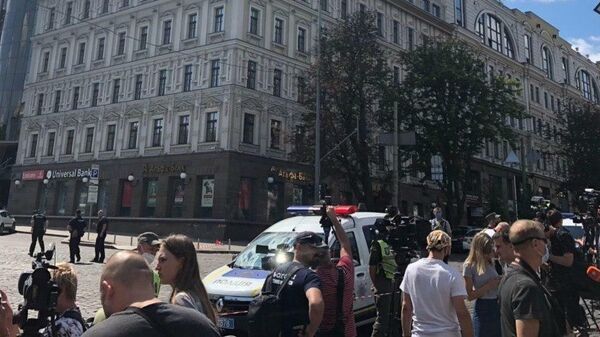 Seized Bank branch in Kiev, said the President of Ukraine chose the "Joker" in the country, nothing has changed for the better.
"It's not so, guys. Ukraine is a free country, a free state, like all the rest of the world. Recently there was an election of the President. You chose the clown… He took the responsibility to run the country, to be faithful, honest, loyal son of the country and change the lives of Ukrainians for the better. During those six years, has anything changed? Before him the presidents, at least one change something?" – said the attacker on Monday on air of TV channel "112 Ukraine".
In Ukraine, the cases of hostage-taking. Twenty-first day of July in the center of Lutsk, a man took the bus with 13 passengers, and if he had explosives and weapons. The negotiations lasted more than ten hours, all the hostages managed to be released, no one was hurt. The man was detained. In the Poltava region on 23 July a man tried to stop a stolen car, threatened to blow up the grenade, took hostage a policeman and went with him on one of the law enforcement car. He later abandoned the car, released the hostage unharmed and disappeared. The first of August the Deputy head of the Ministry of internal Affairs of Ukraine Anton Geraschenko said that the police found the man and eliminated him after he during his detention was again taken hostage by a law enforcement officer.