Crypto News
Litecoin is trying to get back in the top five largest cryptocurrency
Last week, the litecoin (LTC) is first with bitcoin to renew the highs and increased in price up to the highest values since the beginning of March 2020. Aldon at the end of July jumped to $60 on some commercial sites.
Monday, August 3, the price of litecoin dropped to $58, capitalization of bitcoin has dropped to $3,731 billion.
LTC could at the end of last week to accelerate so much that walked on capitalization Aldon Cardano.
Currently, litecoin holds the sixth position in the list of top altcoins and ready to break into the top five. His closest competitor supports Bitcoin SV, whose market capitalization today stands at just over $4 billion.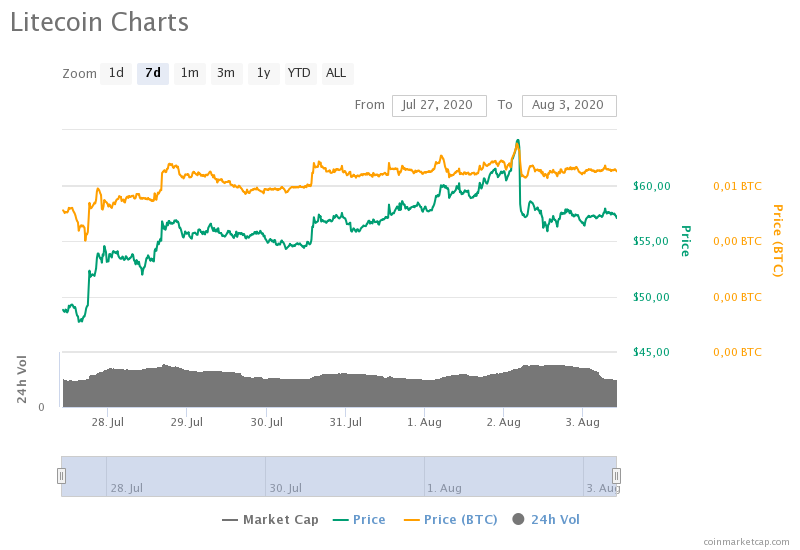 Transactional activity in the network of litecoin soared in late July to a nine-month high.
These days the number of daily transactions exceeded 46 600 is the highest value since November of last year. It was at this point LTC was able not only to recover from previously incurred losses, but also to demonstrate very good performance in relation to the dollar and bitcoin.
However, in early August, the transaction activity dropped sharply. Over the past day, the network has processed 35 488 operations. However, analysts still believe that litecoin has not exhausted the potential for sustaining a rising driving dynamics.
Cryptocurrency is highly dependent on BTC, which is currently konsolidiruyutsya. As soon as bitcoin will go to growth, LTC can jump to $70 or more and return to the top five altcoins.