Crypto News
In the "altsiona" dominance of bitcoin fell to an annual minimum
The index of dominance of bitcoin fell to its lowest level in the past 12 months. Now the figure is 61%. The total cryptocurrency market capitalization approaching $360 billion.
The value of all altcoins on Saturday, August 8, exceeded $138,8 billion In mid-may 2020 index of dominance BTC exceeded 67%. In the autumn of last year it was even higher and reached 69.9 per cent.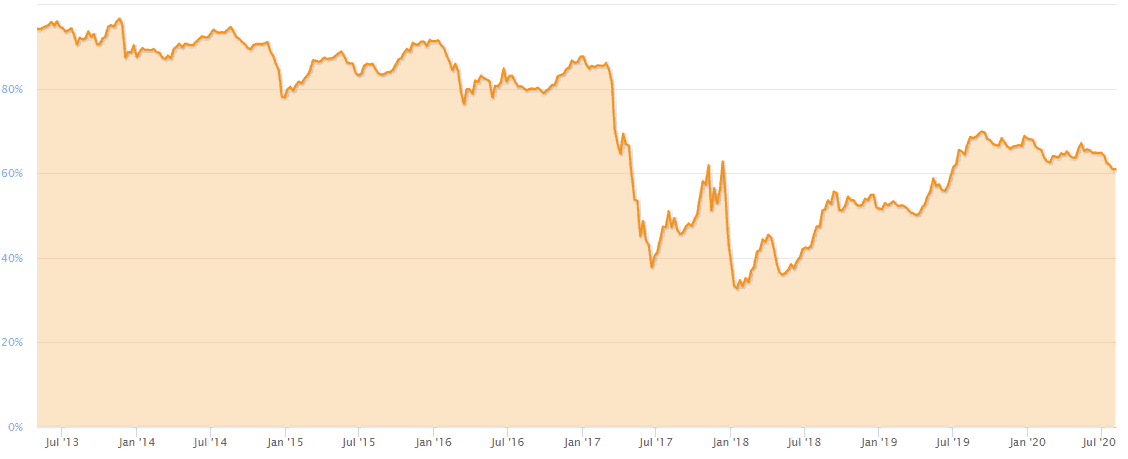 The fall of the dominance of the largest cryptocurrencies, which we observed, was the result of the so-called "artstone".
In cryptosuite this term refers to the period of price rise is the biggest altcoins. Over the past two weeks substantially increased their position in the market of such coins, as Cardano, Binance Coin, Chainlink and litecoin.
Very good results showed the largest Aldon ether (ETH). This cryptocurrency is not tested values above $400. The last time the broadcast was trading at this level in 2018.
Bitcoin now holds just above $11 600, capitalization of BTC has increased to $214,29 billion.