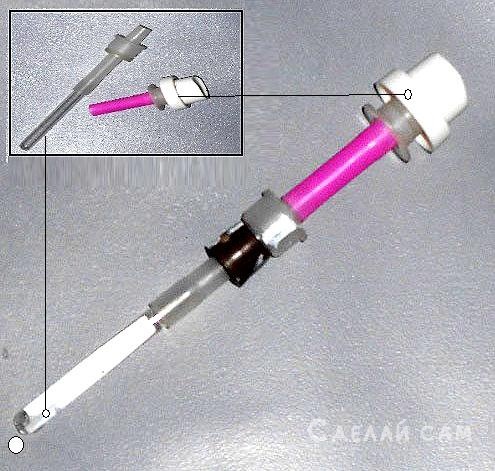 The accumulated stock of spare parts during disassembly of pipettes and dispensers allowed to sell one product – a metered pipette.
From standard medical pipette borrowed glass tube. Tube using a transition node connected to the dispenser, which is typed in the required number of doses of fluid in the tube. Addition to the dispenser taken the host of the atomizer, but here it is used only as stud detail for the mechanism of the dispenser, the pumping of doses of liquids.
For draining liquid from the pipette in a transitional node of the drilled hole, which during intake of liquid in the pipette is blocked.
For process control uses a plastic ring worn in the transition node. The ring also drilled a hole that when draining the fluid is aligned with the hole in the transitional node thereby providing access of air into the tube. When the set of fluid apertures are displaced relative to each other, turning the ring in the direction of in a transitional node, denying access of air.