Sports
Williams hits back at 'unfair' O'Sullivan comments after losing Crucible classic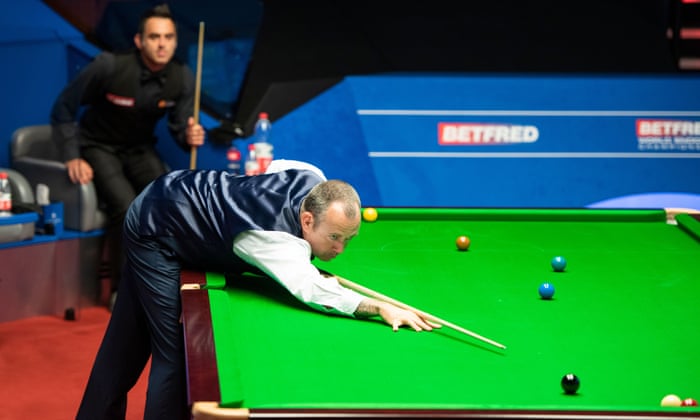 Mark Williams hit back at Ronnie O'Sullivan's criticism of snooker's new generation after losing their thrilling world championship quarter-final 13-10 on Tuesday.
"I understand what he was saying that the standard's no good, but that's compared to him," said the world No 3 Williams. "He's including me in that. There's no one on the tour that's as good as him, but it's unfair to class everyone else in his standards … for him to have a go at the lower-ranked players I think is a bit naughty.
"He is the pioneer for our sport. He is the main man without doubt and the best player in the world," Williams told BBC Sport. "You'd never have another top sportsman in their field sort of disrespecting or slagging off the rest of the tour.
O'Sullivan fought back from 6-2 and 8-4 down to defeat Williams in a quick-fire, high-quality contest and set up a semi-final against Mark Selby. The five-times Crucible winner is the new title favourite after the defending champion, Judd Trump, was knocked out by Kyren Wilson, who faces qualifier Anthony McGill in the other semi-final.
Having rallied to square the match at 8-8 before the final session, O'Sullivan shared the next four frames with Williams before pulling away, clinching a 13-10 win by potting a respotted black. Afterwards, O'Sullivan compared himself to Diego Maradona, saying only his natural ability was keeping him in the tournament.
"I'm not hard on myself, I'm a realist," he said. "I'm not doubting that I've got ability. What I'm good at I'm unbelievably good at: my scoring, my break-building, my positional play. There will always be a little bit like … Maradona. You look at him now, he's big and fat but you put a ball at his feet and the geezer's unbelievable.
"It's a little bit like snooker. You've got to have the long game and the safety and the cue action, you've got to have the reliability. I don't believe you can win it being good or rubbish, and I've been good or rubbish. I just need to be steady. Otherwise it's like trying to win the US Open with a five iron in my bag."
O'Sullivan will now take on the resurgent Selby in a repeat of the 2014 final, which his opponent won 18-14 to claim his first world title. "I love Mark, he's my favourite guy on the circuit. He's a proper lovely guy, funny as hell, but as a snooker player he's a beast and the ultimate test, and I'm going to have to draw on every bit of skill and experience that I've got."
'Half-decent amateurs': Ronnie O'Sullivan criticises snooker's next generation – video
Selby said he had previously doubted he would ever return to the Crucible's semi-finals. He endured a crisis of confidence in the wake of his third world title win in 2017, losing his world No 1 ranking as he won only two tournaments in the following two years. But the 37-year-old, who was forced to battle past Jordan Brown and Noppon Saengkham, believes the manner of his quarter-final win against Neil Robertson, a fellow former champion, indicates he is back to somewhere near his best.
Selby said: "Over the last 12 to 18 months I was questioning myself. I had got so used to winning tournaments then when I wasn't winning it became very damaging to my confidence. I was happy with my performance against Neil. I felt if I got a chance I could score, and my safety play was back up with how it was a few years ago."
Trump crashed out after a 13-9 defeat against the No 8 seed Wilson. In doing so Trump became the 18th player to endure the so-called "Crucible curse" where no first-time winner has retained the crown since the event moved to the venue in 1977.
Trump backed his conqueror to succeed him as world champion. "I think if Kyren plays like that he will be very tough to stop," he said. "His long-potting was brilliant over all three sessions and he is my pick to go on and win the title. He has taken a step up from when we played before and now it is all about me putting my foot back on the gas to get ready to try to improve to reach where he is at."
Wilson said: "To make the one-table set-up is a big achievement and to get there by beating the defending champion and world No 1 makes it even sweeter. There's no bitterness there, I'd just like to achieve what he's achieved. I'm striving to get there and Judd's already made it."
In the battle of the qualifiers, the Scot Anthony McGill came through to record a 13-10 victory over Kurt Maflin. The Norwegian, superb in defeating David Gilbert and John Higgins in the first two rounds, could not reproduce that form and trailed 7-1 going into Tuesday's final two sessions.
Maflin won five frames in the morning to pull it back to 10-6 but McGill, who beat Jack Lisowski and Jamie Clarke in final-frame deciders, was solid and held on to seal his maiden Crucible semi-final, where he faces Wilson.