Food
9 awesome appetizers for new year's table
In the New year so you want to treat yourself and your loved ones something unusually festive and delicious.
We found some tasty and creative snacks that will adorn any Christmas table. Warning: these snacks are usually first to disappear!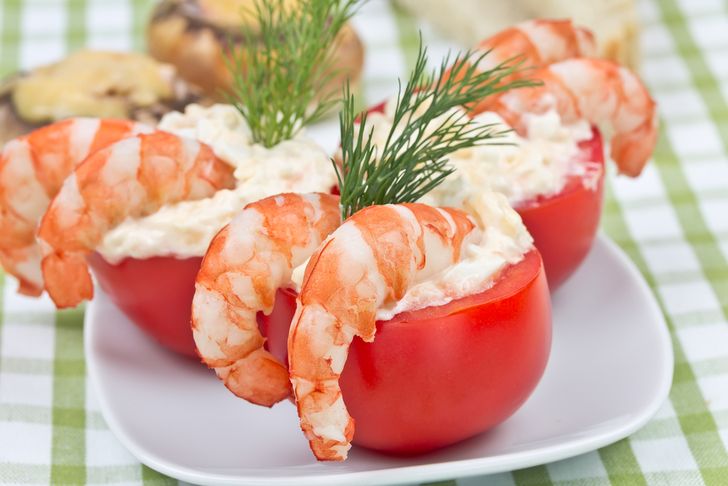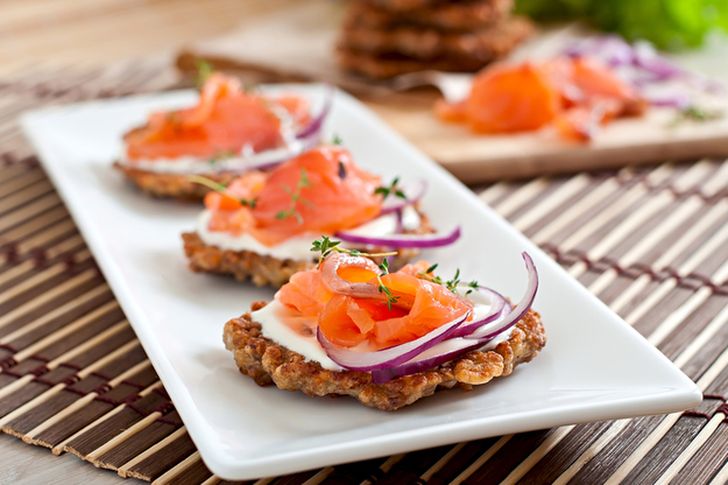 You will need:
500 g potatoes (can be less)
1 bulb onion
1 red onion
1 egg
3 tbsp flour
200 g sour cream
200 g smoked salmon
pepper (optional)
salt
vegetable oil
Preparation:
Potato peel and grate, then carefully squeeze, stir and again squeeze. Onion peel, finely chop and add to the potatoes.
Lightly beat the egg together with the yolk and add it to the potatoes together with the flour. Salt, pepper and mix thoroughly.
Spread the dough with a spoon on a heated with oil pan. It is better to spread a little, so the pancakes turned young and beautiful.
Fry for a few minutes on each side until Golden brown. Ready pancakes spread on a paper towel to remove excess oil.
Pancakes smeared with sour cream on top, put some roughly chopped red onion and fish slices.
You can serve it both warm and chilled.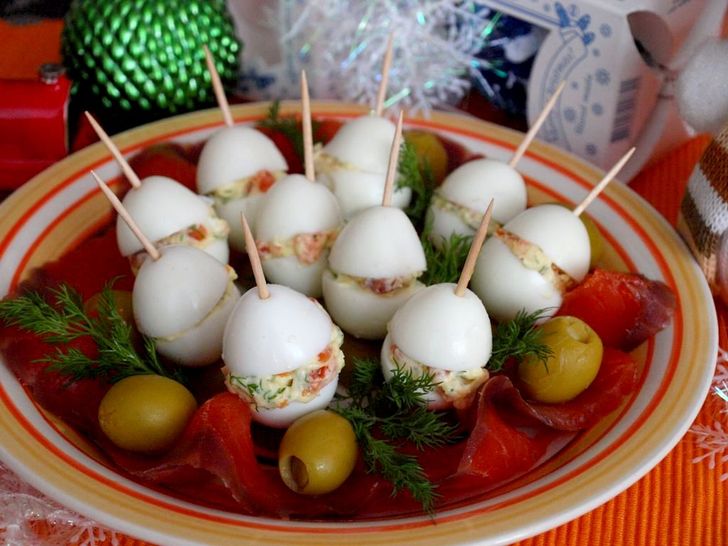 You will need:
10 quail eggs
2 tbsp cream cheese or cottage cheese
50 g salted salmon or trout
1-2 sprigs of dill
a mixture of five peppers
salt
Preparation:
Quail eggs boiled in boiling water for 5 minutes. Drop them in cold water, allow to cool and clean the shell.
Each egg cut in half (crosswise) and remove the yolks.
Salted salmon cut into small cubes — the smaller the better. Dill also finely chop.
Put the yolks in a small bowl, mash with a fork. Adding salmon, dill and cream cheese. All mix well to get a viscous mass, pepper-salt to taste (do not add salt if you like) and stir again.
Gently stuff the halves of quail eggs, joined in pairs and fastened with skewers or toothpicks.
A snack can be served on lettuce.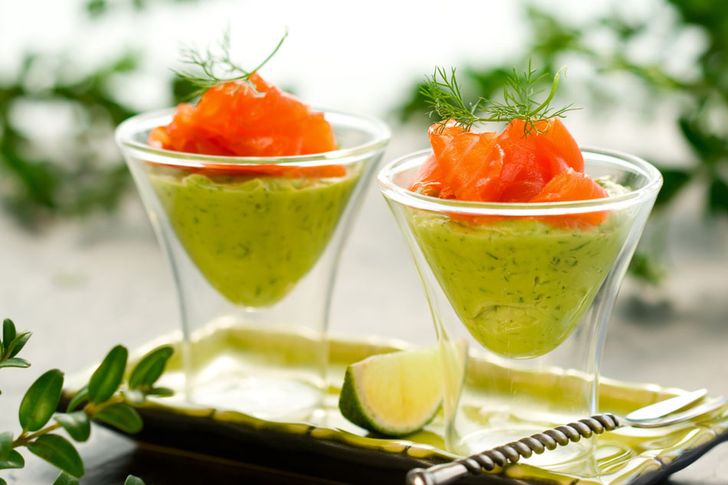 You will need:
2 avocados
1 lime or lemon
100 ml heavy cream (preferably 35%)
1 sheet of gelatin
100 g smoked salmon
pepper
salt
Preparation:
Salmon cut into small cubes, sprinkle with lime juice, pepper and add a bit of zest. All mix thoroughly and refrigerate.
Soak the sheet gelatin in cold water. Whisk a large part of the cream in a solid foam, and the rest is heated in the saucepan. Dissolve gelatin in warm cream.
The flesh of the avocado mash with a fork into a puree, add the lime zest, salt, pepper to taste and mix with warm cream. Then gently add the whipped cream, the foam is not settled.
Spread the avocado mousse into the appropriate cups and put on top a piece of salmon.
Allow to cool a little at room temperature then put in refrigerator to cool. Snack chilled.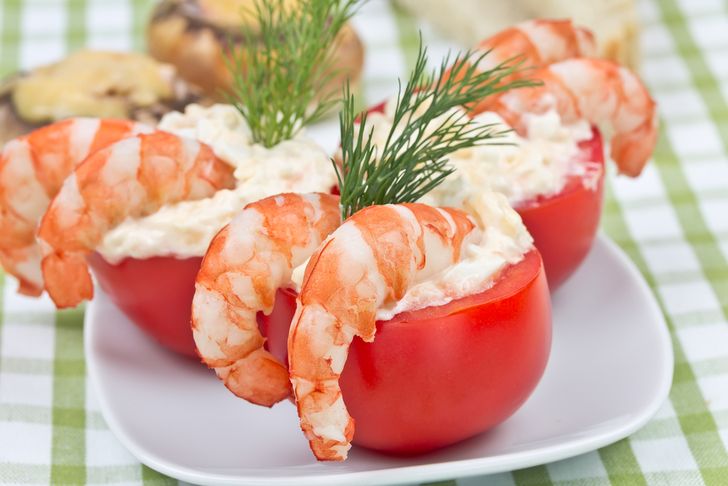 You will need:
20 cherry tomatoes
20 cooked frozen shrimp
200 g cream cheese
salt
Preparation:
Cherry tomatoes wash and dry with paper towels. Cut each tomato top and carefully remove the pulp.
Inside slightly potseluem tomatoes, turn upside down on a paper towel to stack the juice.
Shrimp boil in salted water and recline in a colander. Clean, remove head. Tails can be left, to make it prettier.
Fill the tomatoes with the cream cheese. It is easy to do using a pastry bag or plastic bag with a cut tip.
Cheese stick in a shrimp tail up. The food is ready.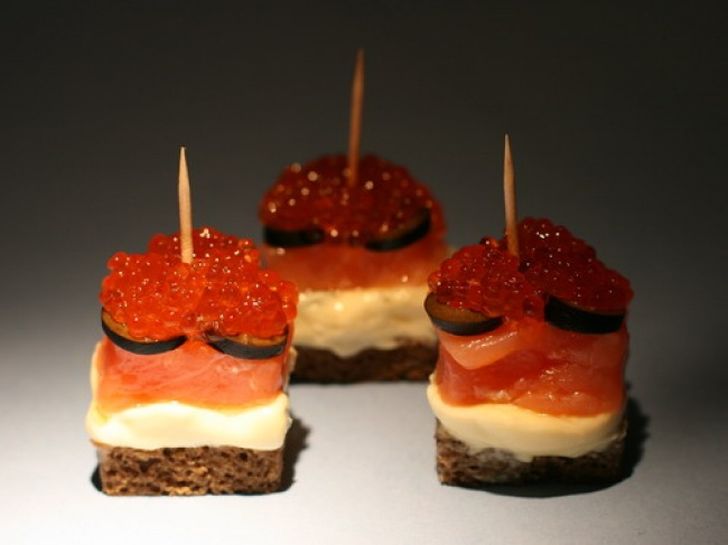 You will need:
300 g cream cheese
6 slices rye bread
220 g smoked salmon
50 g of red caviar
1 tsp lemon zest
2 tsp fresh lemon juice
a handful of chopped onion (you can substitute any greens)
pepper
salt
Preparation:
Cream cheese lightly whisk. Add to it the lemon zest, lemon juice, green onions, salt and pepper. Mix thoroughly.
Cut out slices of rye bread rectangles with a size of about 8×10 cm. Generously grease each 1 tbsp (heaped) cheese mixture.
Spread on top a thin slice of fish, try to fine fit in size.
Again grease the cheese mixture, again put the fish slice and the third time the grease cheese mixture.
Cut the edges to make sandwiches perfectionist — smooth, uniform. Put in the fridge for an hour.
If you want, cut the sandwiches into little canapés (2×3 cm). If not — leave as is. On top lay an even layer of caviar. Can be fed.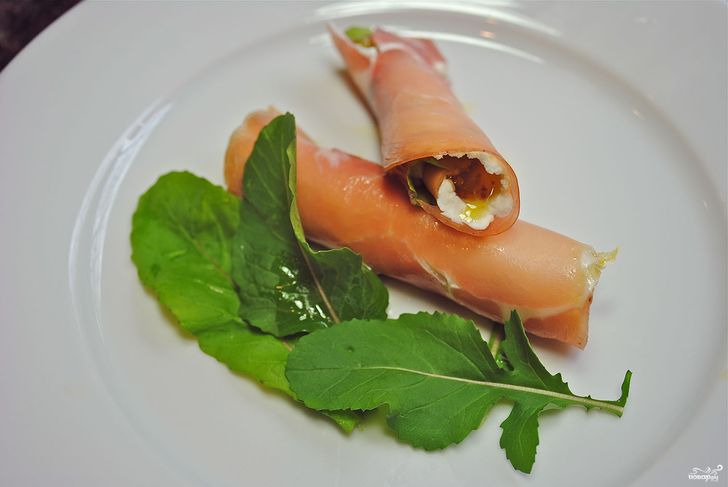 You will need:
2 tbsp olive oil
2 tsp. lemon zest
1 tbsp lemon juice
170 g butter, cottage cheese or goat cheese
2-3 cloves garlic (optional)
12 slices of ham
1/2 Cup arugula
1/2 Cup Fig jam (optional)
Preparation:
In a small bowl mix olive oil, lemon zest and lemon juice and blend set aside.
In another bowl, mix the cheese and garlic.
Covered with a thin layer of cheese on each slice of ham, then lubricated with a layer of jam. Put on top of the arugula, sprinkle with a mixture of oil and lemon juice, season to taste ground black pepper.
Twist the ham in the roll and put seam side down. Lay out all the finished rolls on a plate and serve.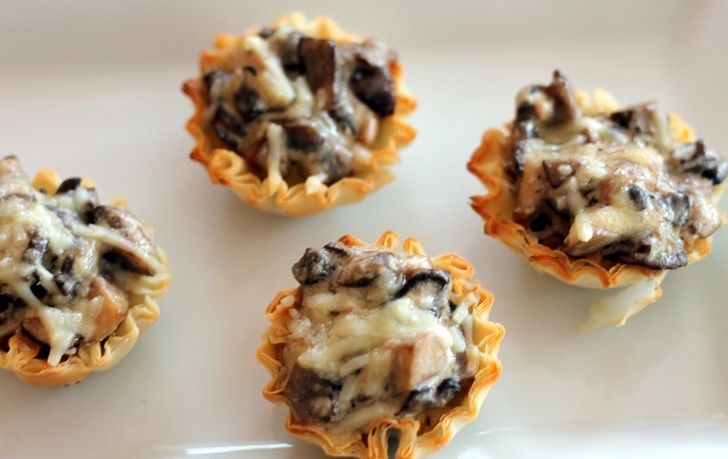 You will need:
500 g chicken fillet
400 g mushrooms
300 g favorite cheese
2 onions (can be less)
1 Cup cream
12-15 of the finished tartlets
salt
Preparation:
Onion peel, finely chop and fry in vegetable oil until Golden brown.
Chicken fillet cut into very small pieces and add to onion in pan. Fry for 10 minutes, then add chopped mushrooms and fry for another 5 minutes.
In a pan place the finished tarts and spread each filling with a slide.
Fill each basket with a little cream and sprinkle the top with grated cheese. Send a baking sheet with the tartlets in the oven for 15 minutes at 200 degrees.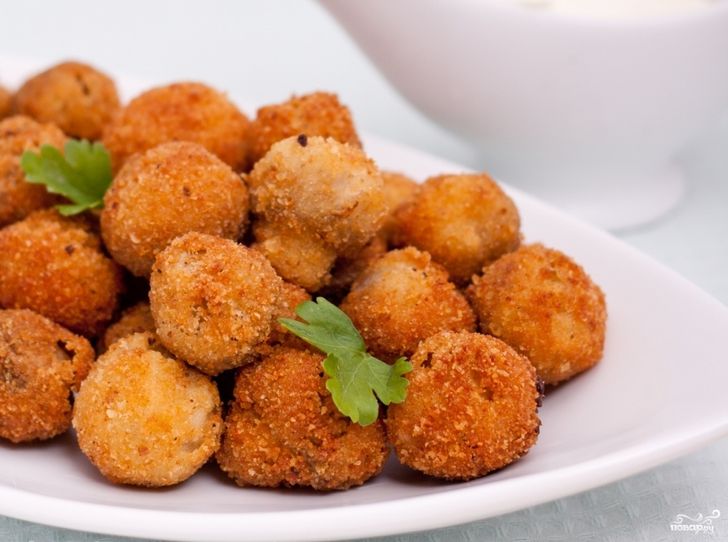 You will need:
200 g small, neat mushrooms
2 eggs
100 ml of milk
50 g flour
50 g breadcrumbs
1-2 cups of vegetable oil (the exact number depends on your capacity for frying; mushrooms should be swimming in oil)
pepper (to taste)
salt
Preparation:
Mushrooms wash, peel skin and boil in salted water 10 minutes.
Whisk eggs in a large bowl along with the milk.
Boiled the mushrooms drop into the egg mixture, then dip them in flour, dip again in egg mixture and coat in breadcrumbs.
Drop the mushrooms into the boiling oil and fry until Golden brown.
Served hot, with fresh herbs and vegetables. Tastes best with fresh herbs.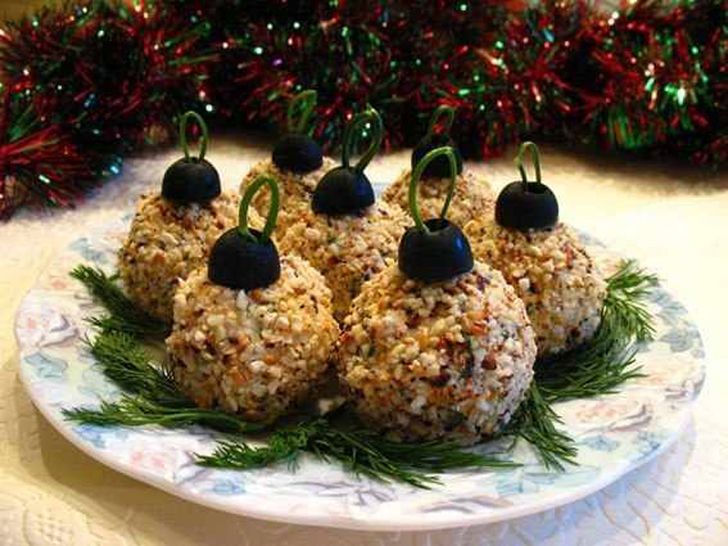 You will need:
300 g chicken fillet
200 g of hard cheese
1/2 Cup walnuts
garlic (to taste)
a small bunch of dill
a small bunch of parsley
a few olives for decoration
mayonnaise (you can substitute a different sauce to taste)
Preparation:
My chicken breast and put in boiling salted water. Cook for 15-20 minutes. Take out, cut cooled meat into small cubes.
Cheese RUB on a small grater. Parsley and dill wash, pour over boiling water and finely chop. Garlic passed through chesnokodavku or three on a small grater.
All mix and mayonnaise. Leave to infuse for 20-30 minutes.
While the mixture is brewing, grind in a mortar or blender the walnuts, set aside for a while.
The resulting mixture formed the balls and dip them in chopped walnuts.
Olives cut and put the ball top — get a "holder" of the ball. From the stems of greenery make the loops on our "Christmas tree balls". You can bring to the table.
Happy new year!
Like it? Want to be aware of updates? Subscribe to our page in Facebook and a channel in the Telegram.