Asia
App wars: TikTok aside, Trump WeChat ban could be bigger deal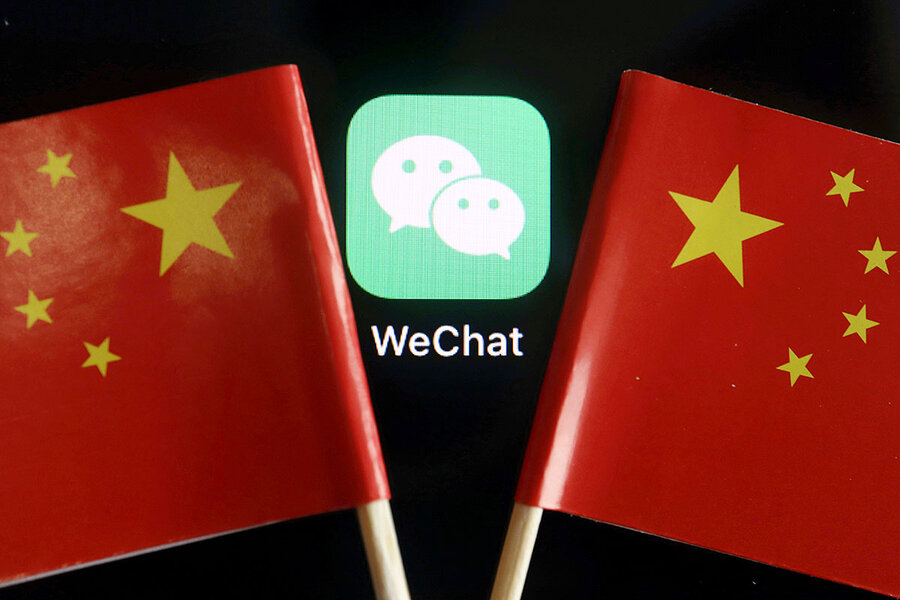 Still, Mr. Shen says alternatives to WeChat do exist, including Skype, Zoom, Letstalk, and Signal. He understands the data, privacy, and security risks of WeChat, having discovered to his surprise last year that his own WeChat messages and account were being censored. "Thousands of people do the manual work to look into each and everyone's messages, to see if it is in accordance with the [Communist] Party's narrative. If it is not, they will block it and delete it," says Mr. Shen, a U.S. citizen.
Trump embarks on the sales job of a lifetime
Some argue a ban is too strong. A group of Chinese American lawyers has formed a nonprofit organization, the U.S. WeChat Users Alliance, that has filed a lawsuit against Mr. Trump and Secretary of Commerce Wilbur Ross seeking to block the executive order. While acknowledging the risks of using WeChat, the group argues users should be able to decide whether to accept them or not. "If there are bugs in your house, you call an exterminator. You don't burn down the house," writes Song Yi, a Washington-based attorney who is working pro bono on the case.
What would a ban mean for the U.S. and China?
Exactly how the U.S. government will carry out the executive order remains to be seen. The order directs the secretary of Commerce to determine by Sept. 20 the "transactions" that will be "prohibited." "The worst-case scenario is WeChat gets pulled out of the app stores," said cybersecurity expert Melissa Hathaway in an August webinar hosted by the National Committee on U.S.-China Relations. The administration's goal is to protect national security, by preventing "an extraordinary amount of personal data that goes back to mainland China," she said, but that could be complicated by laws protecting communication channels.
However it plays out, the WeChat action is another sign of the technological decoupling between the U.S. and China. "I do see this as part of the journey of decoupling that started years ago and has definitely accelerated with this administration," Ms. Hathaway said. Ultimately, technology experts say what is needed is not tit-for-tat actions against individual companies, but a broad multinational agreement on data flows and transparency.