Animals
Unreal beautiful photos of the waves… fog
In the past eight years, photographer Nick Steinberg shoots in San Francisco and the surrounding area, and he was literally fascinated by the fog. This natural phenomenon is fully captured it and began to define his work. Steinberg checks a traffic camera, satellite data and various predictions to always know where the fog descended so that you can quickly drive up and start shooting. Moreover, the photographer has about 20 like-minded people who call themselves "tumeroheline" and share information about the fog as soon as I see it. Steinberg has shared his secret of how he manages to catch the fog in this unusual form.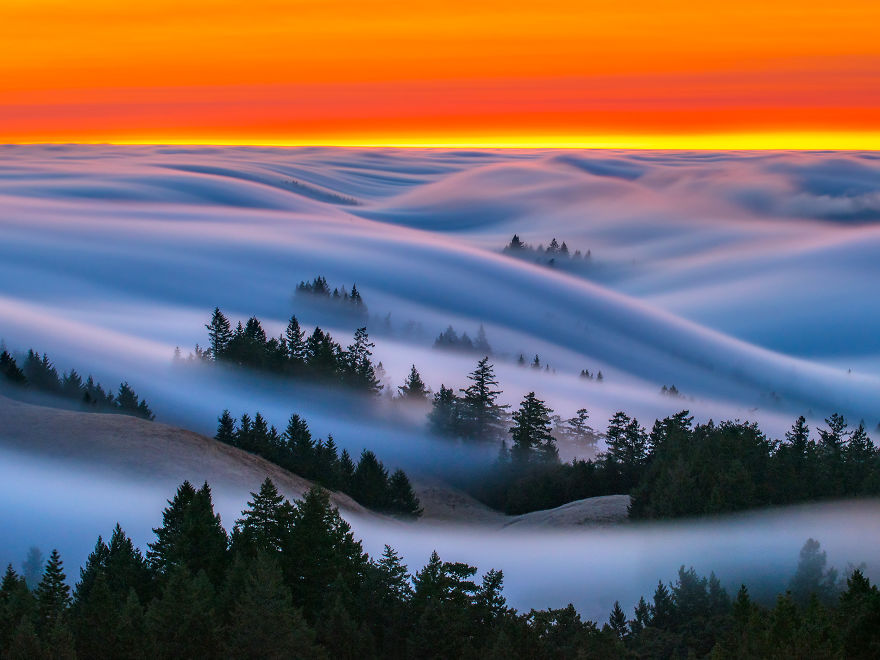 "The research in this area, I discovered something amazing! In the summer months, when fog is formed due to the large amount of warm air from the continent, it rises too high to take it off in the Bay area (including in the area of the Golden Gate bridge), approximately 1,000 feet (305 m), whereas the height of the bridge is 746 ft (227 m). In addition, as it comes from the Pacific ocean, the coastline is generally exempt from the survey. So the only option is to climb the highest viewpoint, one of the best is mount Tamalpais with a height of 2572 ft (784 m). Mount Tamalpais allows what is called "rise above everything" in the literal sense is a Paradise on earth as you feel on top of the world, or nearly in the plane looking down at clouds. After many trips there I have found that when the fog thickens and reaches the perfect height and thickness, he begins to move in waves, following the contours of the landscape. That is why I use the phrase "waves of fog": he literally looks like a wave and reminiscent of the ocean," says the photographer.
"I realized that playing and experimenting with different shutter speed in the camera, I can or freeze motion, or to emphasize and make it more buttery and smooth. All this is done at the expense of the camera, not in photoshop. I do this by inserting dark filters, called ND or Neutral Density (neutral density). They make the camera assume that it's night, because of what it slows down the shutter release. By doing this, can I get effect of smoothness. Sometimes I shoot with an exposure of two minutes, depending on speed. If overexposed, the mist can turn into a mess, and nethergate — it will be too textural. To remove the fog study. Need a lot of patience, training and knowledge to catch it. In the end, the chase is always worth it and the views from mount Tamalpais are really fabulous!"
Like it? Want to be aware of updates? Subscribe to our page in Facebook and a channel in the Telegram.