Sports
Pat Smullen, unflappable multiple Classic-winner, dies aged 43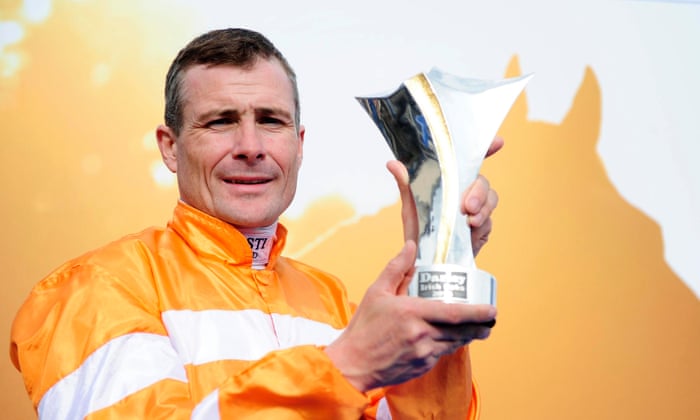 Pat Smullen was an outstanding champion jockey and multiple Classic-winner who, less than 18 months ago, seemed to have prevailed in the most difficult battle of his life. The news on Tuesday evening that pancreatic cancer had returned to take Smullen's life at 43 years of age left a deep sense of shock and loss across racing and arrived a year to the day after a charity race he organised at the Curragh raised more than €2.5m (£1.9m) for Cancer Trials Ireland.
The race, and the afternoon built around it, typified Smullen's reaction to his initial diagnosis in March 2018: to fight his disease in any and every way possible. The same competitive instincts made him one of the outstanding Flat jockeys of the last 20 years.
It is a testament to his calm professionalism and consistency that he was Ireland's champion jockey nine times between 2000 and 2016, while riding fewer than 50 horses in all that time for the country's perennial champion trainer, Aidan O'Brien.
Instead, he forged an enduring partnership with Dermot Weld, having taken over the role as stable jockey from Mick Kinane in 1999 when Kinane joined O'Brien's Ballydoyle. Smullen was crowned Ireland's champion for the first time the following year, with Kinane the runner-up.
Pressure did not seem to impinge on Smullen, even in his early years in the saddle, and he was a rider who so often rewarded the faith that was shown in him, by trainers, owners and punters alike. His first Group One winner came as early as 1997, when the 20-year-old Smullen got Tarascon up in the final strides to win the Moyglare Stud Stakes and more than two dozen wins at the highest level were to follow, including Harzand's success for Weld in the Derby in 2016.
Other career highlights included Vinnie Roe's four wins in the Irish St Leger, a 2,000 Guineas victory on Refuse To Bend in 2003 and Grey Swallow's defeat of North Light, the 2004 Derby winner, in the Irish Derby in June 2004. Grey Swallow was bred by Marguerite Weld, the trainer's mother, who was 88 years old at the time and present at the Curragh to enjoy the moment.
Smullen married the former Classic-winning trainer Frances Crowley in 2001 and the couple had three children: Hannah, Paddy and Sarah.
Michael D Higgins, Ireland's president, was among the many thousands who paid tribute to Smullen on social media, saying "his remarkable performances at home and abroad brought joy to so many".
Tony McCoy, who won Smullen's charity event at the Curragh, said: "Devastated, there's no words. It's hard to believe his amazing charity race was a year ago today. Heartbreaking. Thinking about Fran, Hannah, Paddy and Sarah. RIP champ."
Brian Kavanagh, chief executive of Horse Racing Ireland, said on Wednesday morning: "It is the saddest of days as Irish racing comes to terms with the loss of one of our brightest stars. Pat Smullen was a nine-times champion jockeys, but his achievements in the saddle pale in comparison to his qualities out of it.
"Pat was an inspiration for the selfless way that he faced up to the most awful of diagnoses and his fundraising efforts through Cancer Trials Ireland will benefit many people in the future. The Pat Smullen Charity Raceday will go down in the annals of Irish racing as one of the best days ever at the Curragh.
"For Pat to be taken from us at such a young age is hard to comprehend. His memory will live long wherever horse racing is discussed. May he rest in peace."