Animals
It's not you, it's me: the guy wrote a touching letter to break a contract with a fitness club
To end any relationship is hard, you need to act carefully and to choose the right words not to hurt the feelings of another. Even if it's a relationship with the gym. "I still love you, but now only as a friend" — wrote in a letter to the resident to terminate the contract with a fitness club.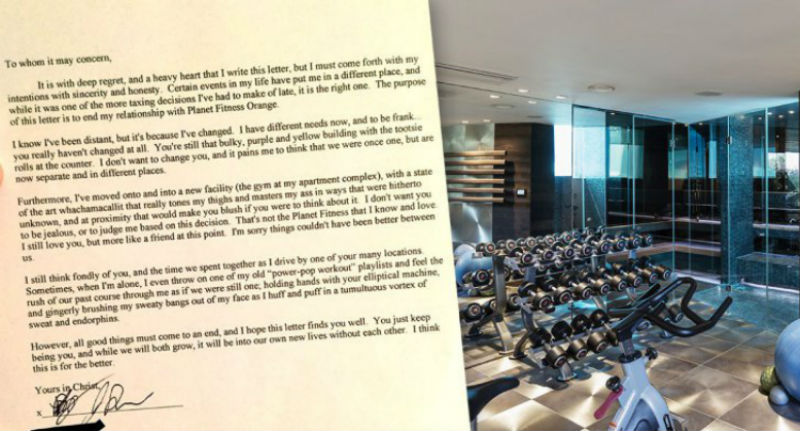 Planet Fitness wouldn't let me cancel over the phone, and required a certified letter to cancel since I live in a different state now. I dropped this in the mail today. from r/funny
A Reddit user under the nickname Mastrrbasser moved to live in another state, so I decided to cancel the membership to the fitness club Planet Fitness. But it turned out that it is not easy. On the phone to break the contract impossible to cancel a subscription, only writing a letter and bringing it to the gym in person or by mail. Apparently, Planet Fitness really doesn't want customers to cancel the contract. Mastrrbasser this difficulty has not stopped, and he wrote to the gym a heartbreaking breakup letter.
"It is with great regret and a heavy heart that I write this letter. Certain circumstances in my life forced me to move. And although this is one of the most difficult decisions in my life, it's right" — so began the letter Mastrrbasser.
The guy even used the classic "it's not you, it's me."
"I know I have been distant, but that's because I've changed. Now I have other needs. And to be honest, you haven't changed. You all the same huge purple-yellow building and at the reception you still are candy Tootsie Roll. I don't want you to change, and it hurts me to think that once we were one, and now we are so different and yet so far from each other. I still fondly remember you and our time together. Sometimes when I'm alone, I include the old playlist and I just keep thinking about the exercises that we did together."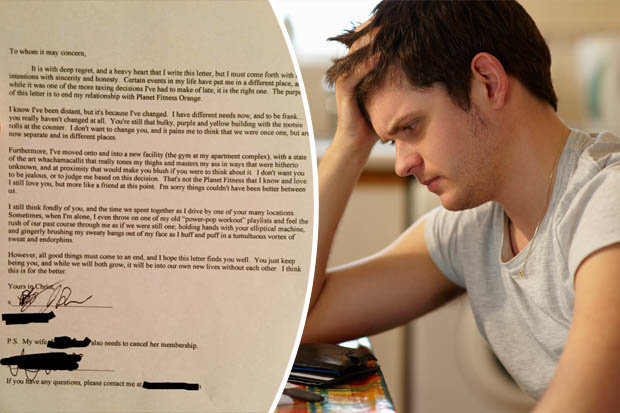 The Reddit user explained that he had already signed up to another gym, which is located in his house.
"I don't want you to be jealous or judge me because of this decision. I still love you, but now only as a friend. I'm sorry for what happened".
"All good things come to an end. I hope that you all will be well. We will grow and start a new life, but apart. I think it's for the best. PS My wife also wants to cancel the membership," finish the letter Mastrrbasser.
Post a photo of the letter was posted on Reddit on January 30 and has already attracted more than 300 comments. Users just loved the letter that they wished to use it not only to cancel a membership at the gym but to break up with a girl, for example.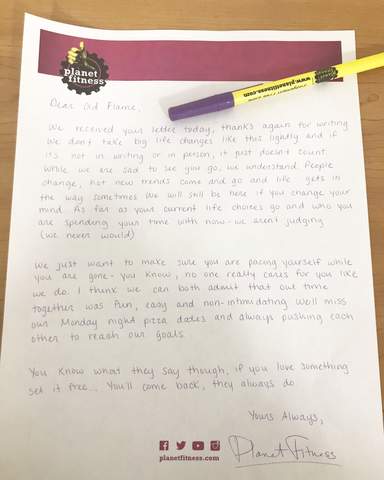 Gym said the guy in the same style.
"You know that if you love someone, you need to let go. You come back, you always do," was written in response to the letter.