Holiday
7 healthy salads for the new year holidays
New year holidays — is not only gifts, luminous Christmas tree, Santa Claus and snow maiden. It is also plenty of delicious food and alcoholic drinks on the table. So for some the new year's holiday turns into a Celebration of the Abdomen, and many then suffer the consequences of overeating.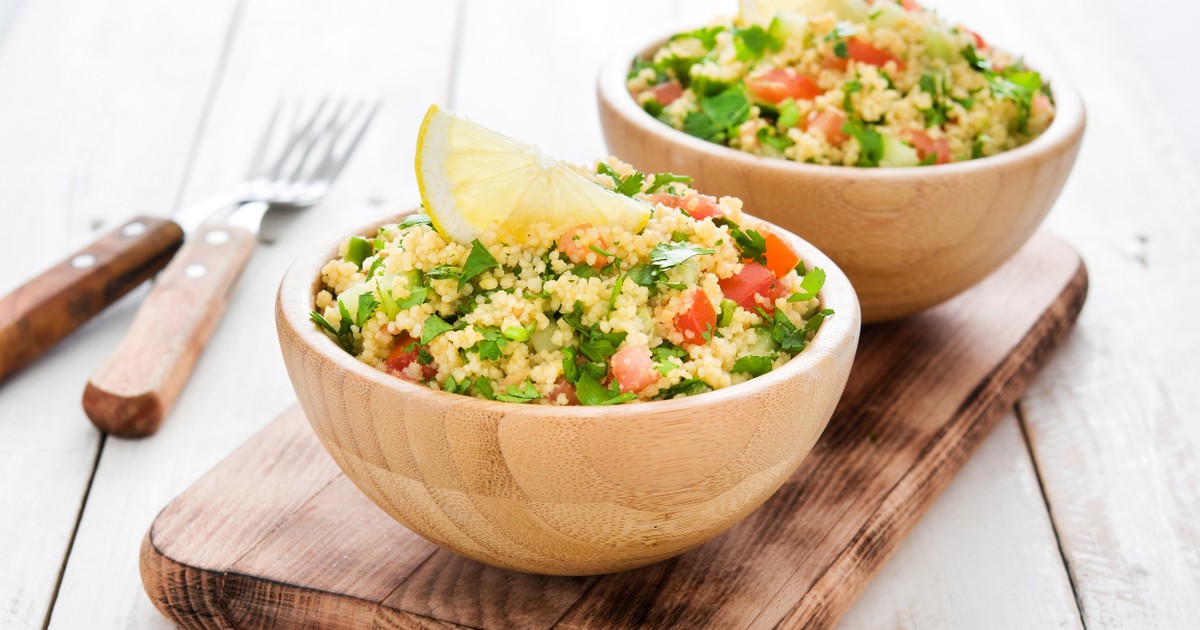 It is believed that as will meet new year so then you will spend it. If you are not ready for all the next 12 months to overeat and prefer to take care of your health, then this release is for you. In this collection you will find several recipes for healthy salads to the best way to start a New 2018.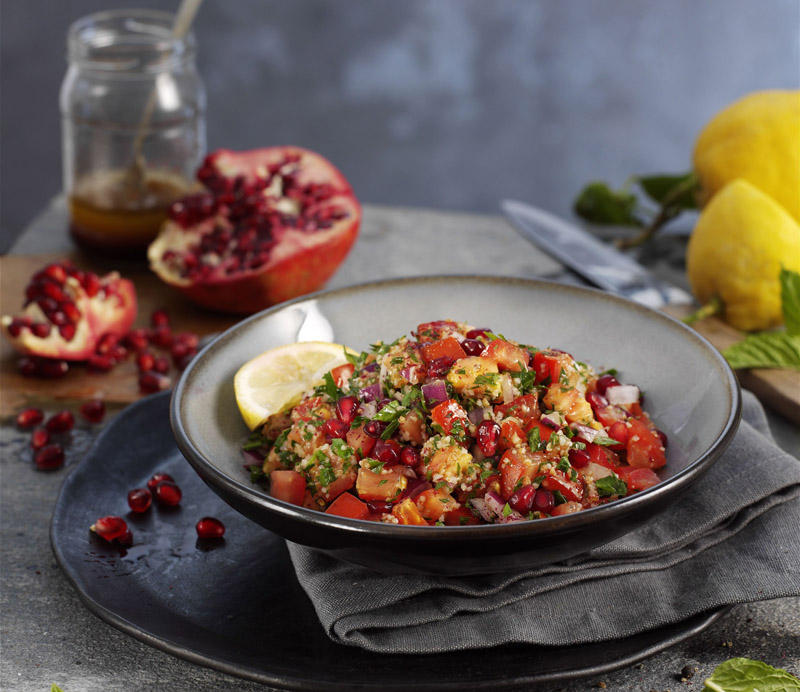 Ingredients for 4-6 people:
1/4 Cup bulgur wheat, juice of 1 lemon and 3 tablespoons olive oil seeds of 1 medium pomegranate 60g leaf parsley, washed and dried 30g of mint, washed and dried 4 large red tomatoes, 1 medium red onion, carefully chopped 1 tablespoon pomegranate molasses (syrup), which is available in good supermarkets and health food stores, a pinch of salt, ground white pepper, pinch of sumac (spice).
Preparation:
1. Place the bulgur in a large bowl and prepare a little boiling water. Pour the water before boiling into a bowl, so that the bulgur was completely covered. Wait, so he got soaked for about 10 minutes until water is absorbed and bulgur are soft.
2. While the bulgur soaks, cook the lemon juice, chop parsley, mint and onion. Slice the tomatoes into cubes of medium size. Remove the pomegranate seeds.
3. Once the bulgur has absorbed the water, add tomatoes, onion, mint and parsley.
4. In a separate bowl mix well the lemon juice and a pinch of salt, pepper, molasses and sumac. Add the olive oil.
5. Mix spices and the mixture of bulgur and tomato together, taste, add salt and spices as necessary.
6. Decorate the Tabbouleh salad with pomegranate seeds and place a few whole sprigs of mint. Serve this middle Eastern pleasure at room temperature with warm pita bread, falafel and hummus.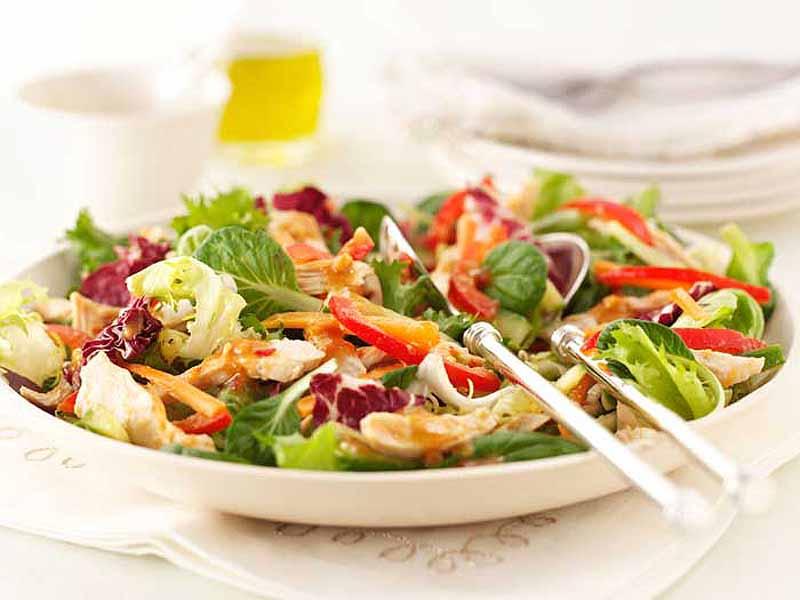 The main advantage of this salad, the Turkey is a fast brewing time of only 10 minutes and low in calories. Well, spices will help warm up a cool winter evening.
Ingredients for 4 persons:
225 grams boiled Turkey breast, sliced, 1 red pepper, without seeds, chopped, 2 carrots, peeled 175 grams of cucumber split in half and remove the seeds, escape 3 green onions, finely chopped, 125 grams salad leaves, chili sauce 2 tbsp peanut butter 2 tbsp, juice of half a lime.
Preparation:
Put the Turkey slices and pepper in a large salad bowl.
Cut the carrots and cucumber into thin slices.
Finely chop green onions.
Add the carrot, cucumber and onion in a bowl with lettuce and mix well.
Place the chili sauce, peanut oil and lime juice together in a small sauce pan, mixed with 6 tbsp water and gently heat, stirring until all is smooth.
Then pour the resulting sauce over the salad before serve.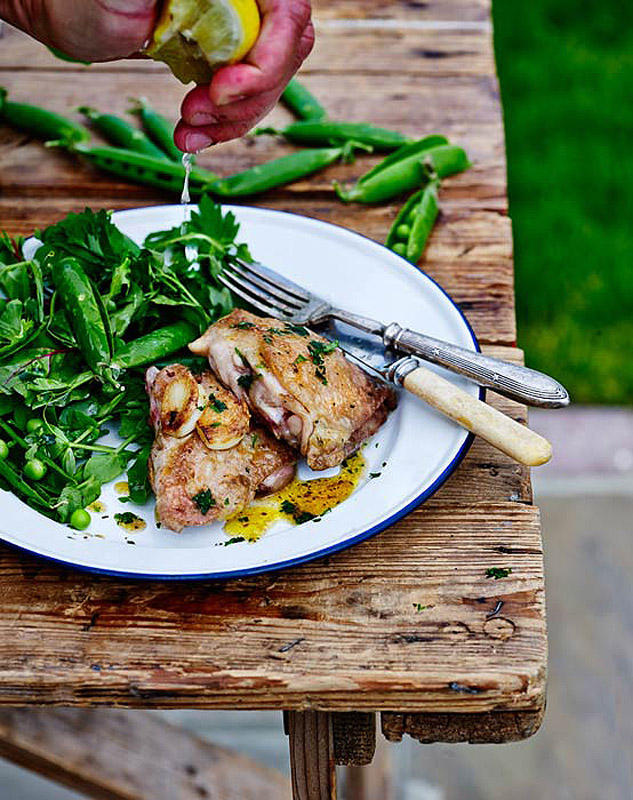 Ingredients:
4-6 all of the chicken pieces to your taste, two tablespoons of olive oil, a few cloves of garlic, fresh lemon, lettuce, salt, freshly ground pepper, any herbs to your taste
Preparation:
1. Wash chicken, dry and place in a bowl.
2. Carefully baste the chicken with olive oil and leave for an hour so she marinated. Then lay the chicken on a baking sheet.
3. Add a few cloves of crushed garlic, pour the lemon juice and cook for 30 minutes over medium heat (chicken should not be overcooked).
4. Serve with salad leaves and herbs, watering it all the juice of the chicken left over after roasting.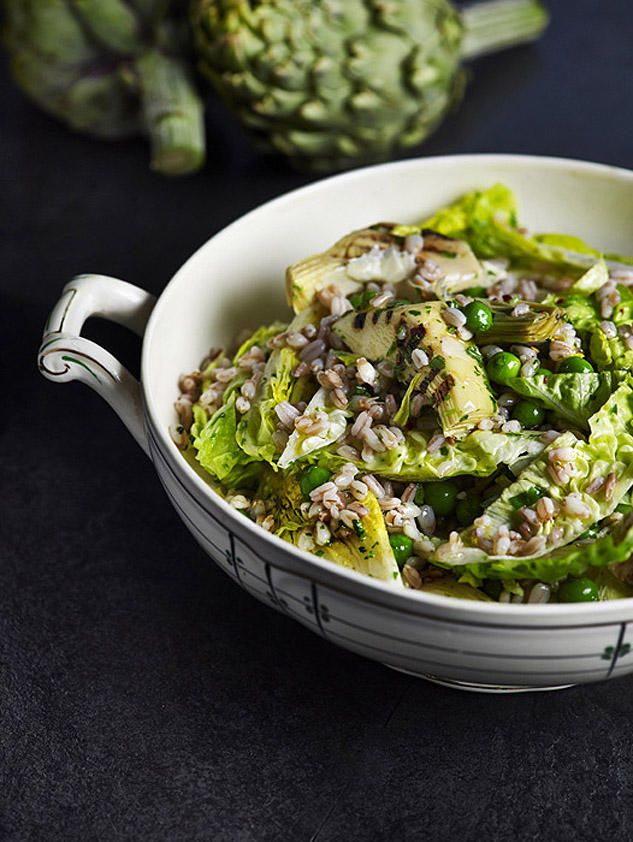 This salad can be called one of the most useful in this list, but cooking it is not as easy as others.
Ingredients for 4 persons:
3 large artichokes, 4 medium lemon, 2 Bay leaves, 2 sprigs fresh thyme, 4 garlic cloves, peeled and thinly sliced 125ml white wine 60ml olive oil 150g green peas, fresh or frozen, 100 g pearl barley, washed, 20 g parsley, finely chopped, 1 small lettuce, cut in half lengthwise, and then cut into 4 pieces, salt and black pepper, a little chili pepper.
Preparation:
Preheat oven to 200 degrees.
Cut most of the stalk from the artichokes and remove the tough outer leaves.
When the leaves become soft, sharp serrated knife, cut 2-3 cm from the top. Cut the artichoke in half lengthwise to get to the core and removing it.
Pour the core with a teaspoon of lemon juice to stop discoloration, then slice each artichoke into 5mm pieces, place in a bowl and drizzle with lemon juice.
Place the artichoke in a pan, add the remaining lemon juice, thyme, garlic, wine and butter, cover with foil bake for 45 minutes.
Then, remove the foil and let the dish to cool.
Then fill a medium saucepan with cold water, bring to a boil, add the peas and soak in for a minute.
Remove the peas and place in cold water, then drain the water and let it dry.
Cook the barley for 20 minutes (you can use the same water where you cooked the peas).
After that, drain the water and allow the barley to dry.
Place the artichoke and their juices in a large bowl, add the peas, barley, parsley, lettuce, half a teaspoon of salt and some black pepper, gently stir, add a little chili pepper — and serve.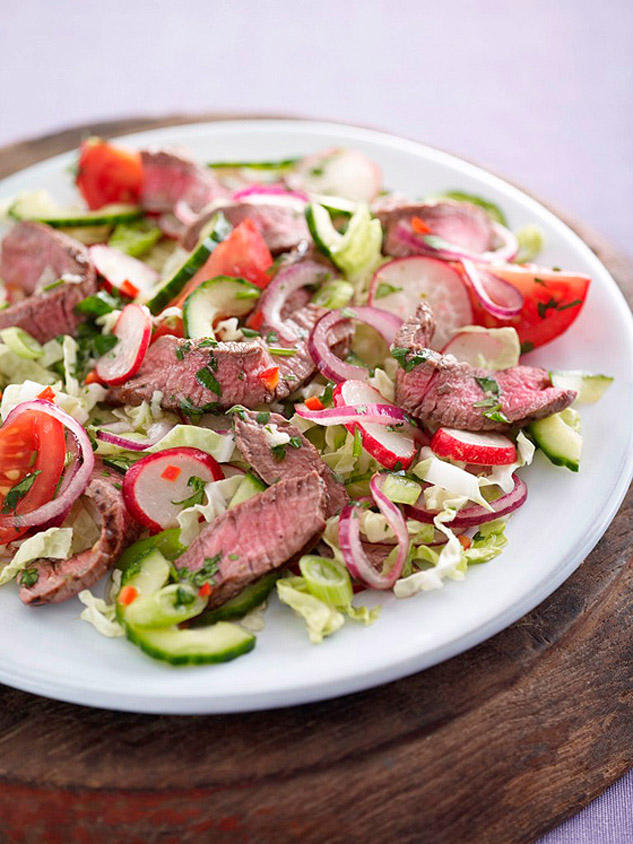 Ingredients for 4 persons:
For the sauce: 2 tbsp Thai palm sugar, Thai fish sauce to 2 tbsp, juice of three limes, 3 cloves garlic, minced 1 chili pepper, without seeds and well chopped, 6 tbsp fresh chopped coriander.
For the salad: 1 small red onion, thinly sliced, escape 3 green onions, finely chopped half cucumber, finely chopped, 8 heads of radishes, thinly sliced, 4 tomatoes of medium size, divided into four parts, 500-gram piece of beef, 1 tablespoon of rice oil, half the lettuce, chopped.
Preparation:
Mix together all the ingredients for the sauce in a small bowl, wait until the sugar has dissolved.
Place chopped onion, cucumber, radish and tomatoes in a bowl and pour over half the sauce.
Let the sauce sit while cooking the beef.
Brush the steak with oil, sprinkle with salt and black pepper.
Heat a frying pan, then add steak, cook for 3-6 minutes each side, or fry to your taste.
Put on a plate and allow to cool for 5 minutes, then thinly slice.
Before you serve, add lettuce to the components of the salad.
Split up between 4 plates, place the beef on top and pour the remaining sauce.
After that serve immediately.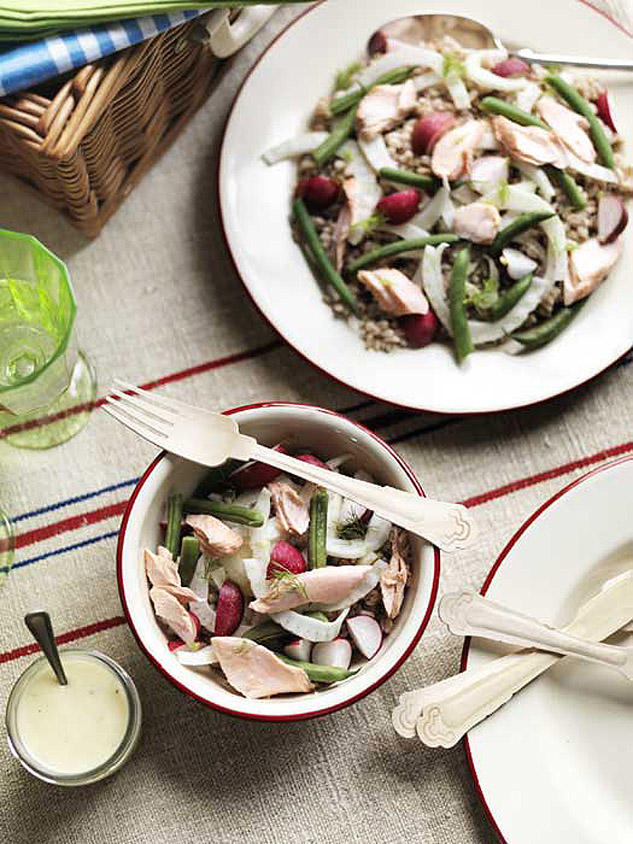 Ingredients:
400 g salmon 200 g barley, 1 large, or 2 small vennela, 1 bunch of radishes 1 handful of cooked green beans, 1 tsp horseradish, 1 tsp mustard, juice of 1 lemon 100 ml vegetable oil, canola, or olive.
Preparation:
Sprinkle salmon with salt and pepper and cook in the oven at 200°C for 20 minutes, or until the salmon will not be fire protection fluid.
Squirt the fish with lemon juice and set aside to cool.
Cook barley by following the instructions on the package.
Let the cooked grits to cool.
Carefully slice the fennel and place in a bowl along with divided into two or four pieces of radish and sliced, cooked green beans.
Make a sauce of horseradish and mustard, mix with the rest, season to taste and pour over the fennel, radish and green beans.
Add barley and stir everything together to distribute the components.
Cut the salmon into pieces and add to the salad — do this carefully so salmon has not lost its structure.
Serve with lemon slices and fresh herbs of your choice.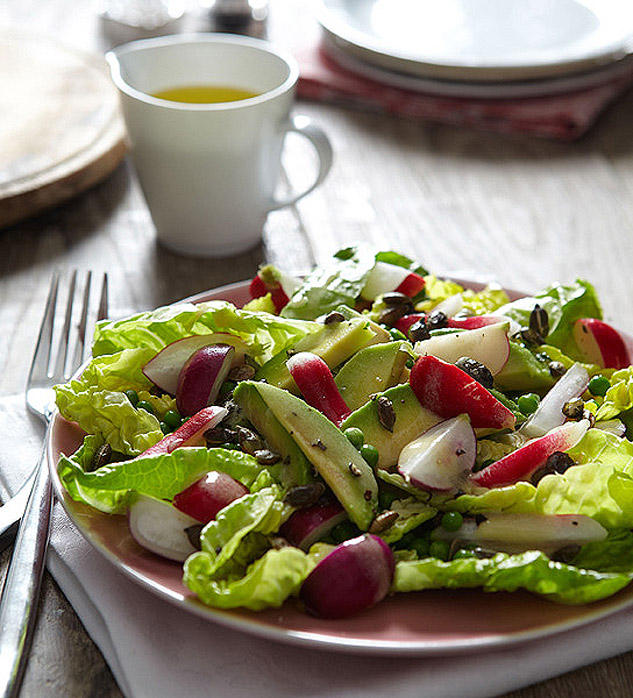 This is a quick and easy, but incredibly nutritious salad. Avocado and pumpkin seeds are rich in many elements that is good for the heart, skin and nervous system. Crunchy and spicy radishes — a great contrast to the silky structure of the avocado.
Ingredients:
For the filling for 1 person: olive oil cold-pressed 1 tbsp. Dijon mustard on the floor tsp, lemon juice 2 tsp, salt and pepper.
For the salad: 8 redek, cut into quarters, 1 small lettuce, divided into leaves, 1 tablespoon of thawed peas, half an avocado, peeled and chopped, a little lemon juice, pumpkin seeds, 1 tbsp, fried in a dry pan, salt and pepper.
Preparation:
Thoroughly mix the components of the sauce.
Lay out the components of the salad on a flat plate.
Squeeze lemon juice on avocado to prevent discoloration.
Pour over the dressing and serve.
Like it? Want to be aware of updates? Subscribe to our page in Facebook and a channel in the Telegram.