USA
Despite pandemic, three LA college students pursue their dreams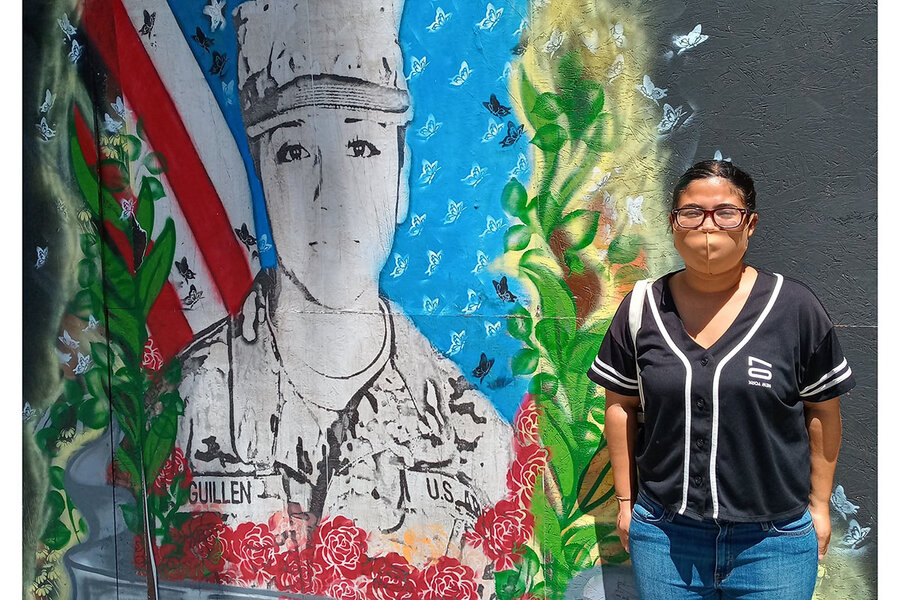 Racheal says she has no intention of letting this delay in her schooling stop her from graduating. She is saving up to buy a laptop and plans to return to college.
Still law school bound
Stephanie Zacatares, 23, is persevering, too. She was shocked when she found out her dream school, University of California, Santa Barbara had shut down on-campus classes because of the pandemic. That meant she would likely complete her undergraduate studies via remote learning from her home in Los Angeles. Despite this change in circumstances, Stephanie still plans to attend law school and become a lawyer.
Stephanie's father, Mario, inspired her passion for social justice. "My dad is a TPS [Temporary Protected Status] holder from El Salvador and has had TPS for over 20 years. He is currently awaiting his green card and hopefully will finally become a U.S. resident."
The road for TPS recipients recently became more precarious when the Trump administration ended TPS status for people from El Salvador, Haiti, Nicaragua, and Sudan. However, a lawsuit opposing the decision has been filed and an injunction has halted implementation of it for now. Stephanie doesn't think the ruling will affect her father, but she believes immigrants overall would be treated more fairly under a different administration.
"For the past four years, the current president has demonstrated through his actions and his words [that] he is not willing to work with undocumented immigrants," Stephanie says, "especially not people of color."
Outside of school, Stephanie works with the National TPS Alliance, an advocacy group formed, as its website explains, "to save Temporary Protected Status for all beneficiaries … and to devise legislation that creates a path to permanent residency …"
Overall, she says, "We could be doing a much better job if we would all agree that others' safety is just as important as our own."
That conviction drives her determination not to let the pandemic prevent her from achieving her goals. She may have lost the rich campus experience she'd hoped for, but she's not giving up on her higher education.
Always moving forward
Meanwhile, on the other side of the world in South Korea, demonstrators took to the streets in solidarity with the Black Lives Matter movement and in acknowledgement of the racism immigrants experience there. That's the context where U.S. Army Specialist Anthony Caro, 23, finds himself living out his dream.
Always on a fast track, Anthony began taking community college classes at the age of 16, went on to study philosophy at UC Berkeley for a couple of years, and is currently taking online classes at Arizona State University. On Nov. 18, 2018, Anthony married Mitzi Pérez-Caro, a teacher. He entered the military two days later.
"Because of the pandemic, I'm restricted to staying on base here at Camp Humphreys," he explains. "l haven't seen my wife … since February. … I had plans to travel all [around] Asia, but those were put on hold. My Mexican grandparents were also due to visit me, but those plans have been postponed for now."
Because of the high number of COVID-19 cases in the U.S., Anthony is not allowed to travel home to California either, but he finds a lot to appreciate about his current location. "South Korea is a very disciplined country," he says. While South Korea was in shelter in place, the United States was still fighting over toilet paper. People here think of the collective rather than just of themselves."
That focus on the collective rings true to Anthony. It's part of the reason he founded Citizens Power Network, a nonprofit educating citizens about the importance of voting and civic engagement. Doing what's best for others also helps him make peace with the roadblocks the pandemic has put in his path. Even if his military experience isn't exactly what he'd imagined, he's still living his dream of being a soldier.
Editor's note: As a public service, all our pandemic coverage is free.