Fashion
Fatty and skinny: guys against stereotypes
Two beautiful, but at the same time, different models — the Australian Georgia Gibbs and Kate Wesley published a joint photo in Instagram. However, the negative reaction of the users was a complete surprise. The girls were shocked after receiving a barrage of hard-hitting criticism and angry comments.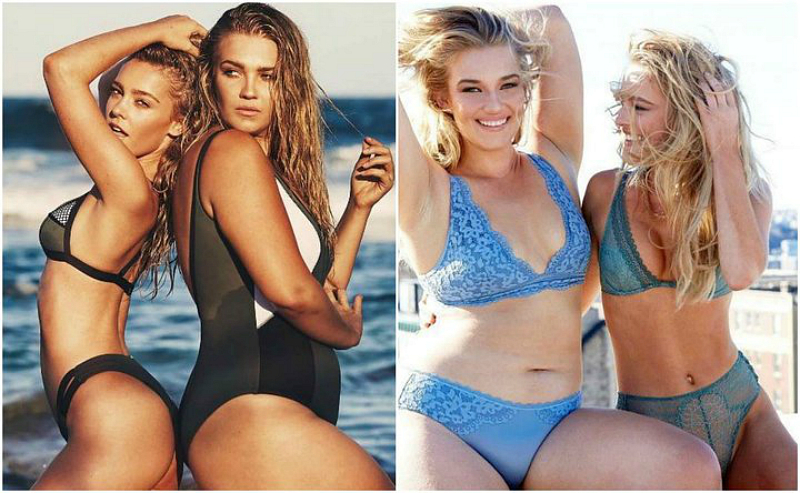 It all started here with this photo, which the girls made during trips to Sydney. 21-year-old Gibbs, who wears clothes of the 44th Russian size, posed for a picture with girlfriend, 22-year-old Kate Wesley. A friend of models, which has a 56-d, is also involved in the filming as a model for plus-size ("forms").
"People called Kate too fat, and too skinny to me, says model Georgia Gibbs. — Many claimed that I used photoshop to reduce his weight or increase the figure of the friend to appear on her background slimmer. One of the comments just broke my heart because Kate and I are best friends, why would I have done with her?"
"Then we realized that people are just not used to see girls of different builds. The fact that photos of two persons became so popular only because of their shapes (the girls even wrote the network media. — Approx. ed.), struck me… Then we created a joint account on Instagram Any Body Co ("Any body") to convey to the people one simple truth: no one should face such a reaction, it should not become the norm. All I see in this photo is the two girls. Not "one skinny and one chunk". Stop already to compare people with each other, take each person is beautiful in their own way."
Creating a joint account, the guys decided to share with women around the world for their powerful charge of energy and inspiration and to prove that real beauty has no shapes and standards.
For a short time on a page of girls signed up 185 thousand. Women from all over the world under the hashtag #loveAnyBODY send them stories about accepting your body.
22-year-old Kate, Wesley, and 21-year-old Georgia Gibbs — the best friend and supporter of the movement bodypositive, which aims to encourage people to take their body and shape others as they are.
"We created this project to pay tribute to our differences, encourage girls to quit comparing and learn to love yourself says Georgia Gibbs. — I hope that the day will come when Kate and I will be able to walk down the runway hand-in-hand, and not in a different show."