Politics
Diggy asks SP candidate to back out from MP bypolls, audio leaks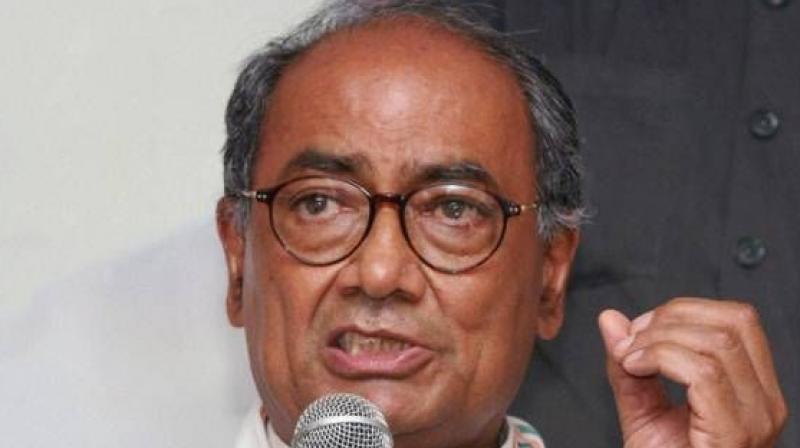 Bhopal, Oct 29: An audio in which Congress veteran Digvijay Singh was heard persuading Samajwadi Party (SP) candidate from Gwalior assembly constituency Roshan Mirza to withdraw his nomination by offering him party ticket in the upcoming local urban body elections in the state, on Thursday went viral in social media, triggering a political row.
In the 1.57 minute-audio clip, the former chief minister was heard giving the offer to Mr Mirza to make him bow down from the contest in the November 3 by-elections to Gwalior assembly constituency.
"Why are you contesting (in the by-elections)? Do you want to ensure the victory of BJP (candidate)? We will look into your interest. You withdraw your nomination today. We will give you a ticket in the coming local urban body elections" Mr Singh was heard telling the SP candidate in the audio.
The audio triggered a political row with chief minister Shivraj Singh Chouhan accusing Congress of indulging in electoral malpractices by asking the SP candidate to withdraw from the contest.
"The audio has exposed corrupt practices being resorted to by Congress to manipulate elections", Mr Chouhan said.
In his reaction, Mr Singh confirmed that he had contacted the SP candidate to persuade him to withdraw from the contest.
"I admit that it was my voice in audio. I have nothing to hide. I have done nothing wrong by persuading him (Mr Mirza) to withdraw his nomination. As a Congress leader, I have the right to ask a Congressman who has filed nomination as an independent candidate to withdraw his nomination in the interest of my party", Mr Singh said.
Mr Mirza has quit Congress to contest the by-election as a SP candidate.
Meanwhile, Mr Mirza said he would not buckle any kind of pressure to withdraw his nomination.
"I am a serious candidate and will not withdraw my nomination", he told reporters.