Europe
No bookstores or haircuts? Europeans question pandemic edicts.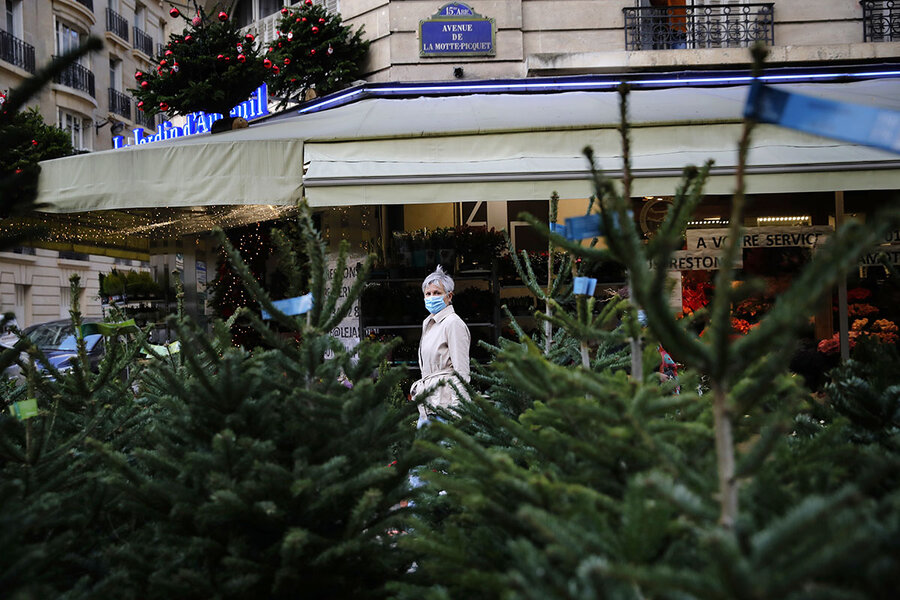 There they were, wedged between the sprinkles and the chocolate chips: a set of candles. Niamh O'Brien knew they weren't vital to her boyfriend's birthday celebration that evening, but they were mere inches from reach. Unfortunately, a stretch of red-and-white tape prevented her from going down this supermarket aisle; a plastic sheet draped over the shelves. 
With candles deemed a nonessential item in France's second lockdown, Ms. O'Brien had a choice – buck the tradition this year, or duck under the tape and grab them.
"I asked the shop clerk if I could get the candles and he said no, so I asked if he could take them for me, but he said he wasn't allowed," says Ms. O'Brien, who was shopping in an E.Leclerc superstore in Toulouse. "So I snuck under the barrier, lifted up the plastic and took them. I also grabbed a birthday banner." 
As France tapers off restrictions implemented to fight the second wave of the pandemic, the government has had the challenging task of making rules that the public could abide, without bringing the economy to a standstill. This past spring, residents were limited to one hour outside their homes, for any reason. But with "COVID fatigue" rampant, governments in Europe have been taking a softer approach to restrictions. In November, schools, transportation, and public services have remained open in France.     
In some parts of the U.K. and France, governments created lists of essential items, forcing small businesses selling products like clothing, books, and toys to temporarily close, and large chains to block off certain items to shoppers. The idea is to minimize people's close contact with others and keep residents at home. 
Post-truth politics: As Trump pushes 'fraud,' partisans pick their own reality
But many shoppers and store owners said the decision to close certain establishments was misguided, and unfairly targets culture, entertainment, and self-care. There is also concern that shoppers will increasingly move to online platforms or chain stores in the suburbs, a possible long-term consequence for consumption habits long after lockdowns have been lifted. 
"The government says if we open bookstores we'll have to open hair salons, florists and so-on, or that if people respect the lockdown we can have our small businesses back," says Pierre Dutilleul, the managing director of the French Publishers Association, SNE. "It's incomprehensible and absurd. When you can't explain a decision, it probably means that it isn't a good one."
OK, what if we do it like this?
The debate over essential items exploded in France at the end of October, when the government announced that independent bookstores would need to shutter while large chains and superstores – many of which sell books – were allowed to remain open. 
Booksellers called it a gross injustice, and the government finally decided that supermarkets and general stores would need to block off nonessential items – not only books but toys, clothing, and games – starting Nov. 3. 
A similar phenomenon in Wales saw supermarkets taping off nonessential items during a brief two-week "firebreak" or "circuit breaker" lockdown, ending Nov. 9. "It's a straightforward matter of fairness," said First Minister Mark Drakeford at the end of October. "We are in this together in Wales." 
But such attempts to appease small business owners have felt like small favors for many, who say that the decision to close their shops feels arbitrary and contradictory, given all they've learned about social distancing and hygiene after the first lockdown.
"People can congregate in large stores without anyone monitoring them, whereas we could easily allow just one or two customers inside at a time," says Christine Durietz, the manager of Le Dragon Savant, a children's books and toy store in the east of Paris. "In the end it's the responsibility of each individual. But I do feel like we've been unfairly reprimanded." 
That is the general feeling among garden store owners in England, who were placed on the list of nonessential businesses during the country's spring lockdown. When hardware stores – selling gardening products alongside building materials – were allowed to remain open, it caused "great unease in the garden industry," says Peter Hulatt, Camden Garden Centre's managing director in London. 
Most garden store shopping takes place outdoors, making it safer and easier to implement social distancing between customers. And, like bookstores in France, nurseries are considered sacred to British life; gardening, a British obsession. 
The home garden tradition stretches back to the 1700s and has only strengthened during the pandemic. Sales of houseplants have soared among apartment-dwellers, and garden stores have been a lifeline for those seeking community, acting as "a place of solace and meeting," says Camden Garden Centre employee Lawrence Tynan. 
The gardening industry was finally able to convince the government to add its stores to the "essential" list in the country's second lockdown, beginning Nov. 5 and ending Dec. 2. Garden stores "tap into the psyche of the British public," says Mr. Hulatt. "When the economy is difficult, everyone goes into nest-building mode. … It's about making where you live a better place to be. In lockdown, that's magnified 10 times." 
An eye on the holidays
While the U.K. recorded a COVID-19 death total on Tuesday that was the highest since early May, the new case rate has been falling. All nonessential businesses in the U.K., including gyms and personal care services, will be allowed to open next week, in the run-up to Christmas.   
And on Tuesday, French President Emmanuel Macron said that the worst of the second wave was over, and announced that nonessential businesses could reopen Nov. 28 under strict health protocols. But independent shop owners haven't waited for news about the end of restrictions to jump-start sales. 
A growing number on both sides of the channel have joined the Click and Collect system, where consumers can purchase items online and pick them up at the store. It's an alternative to online platforms like Amazon, which Paris Mayor Anne Hidalgo has said will be "the death of our bookstores and neighborhood life." In mid-November, Amazon had agreed to push back Black Friday sales to Dec. 4, in the expectation that nonessential businesses would be allowed to open by then. 
But Click and Collect isn't a cure-all to the concerns of independent shop owners. According to the CPME, a union that represents France's small and medium-sized businesses, only 15% of very small businesses are selling their products through online platforms, even if 82% of French people buy online.
And some French businesses are already abandoning Click and Collect, as the costs of employing more staff to accommodate the demand for online orders has caused more losses than gains.
"We'll reach 20% of our average monthly sales in November," says Ms. Durietz of Le Dragon Savant, "if we're lucky." 
Even as France lifts restrictions on nonessential items, some customers may have already changed their shopping habits. 
"If it takes two days to receive a book we've ordered online, or if all the local stores are closed and we have to drive 40 minutes to get to the superstore, we'll buy everything we need [there], including books," says Mr. Dutilleul of the SNE. "People will get in the habit, and in the future will start shopping this way." 
Small business owners across Europe are banking on consumers' love for tradition to carry them through this rough patch. In France, booksellers will rely on the continued desire for real books, in a country where e-book user penetration is only expected to reach 8.6% in 2020.
"Even if we can't say that all French people are interested in culture, there is certainly a great literary tradition in France and a love for real books," says Bruno Péquignot, a sociology professor emeritus who studies culture at the University of Paris Sorbonne Nouvelle. "People will never put books in the trash can; always next to it, in case someone wants to take them. It's a form of respect."