Technology
PS5 is finally out, here is your best chance to get one today – follow live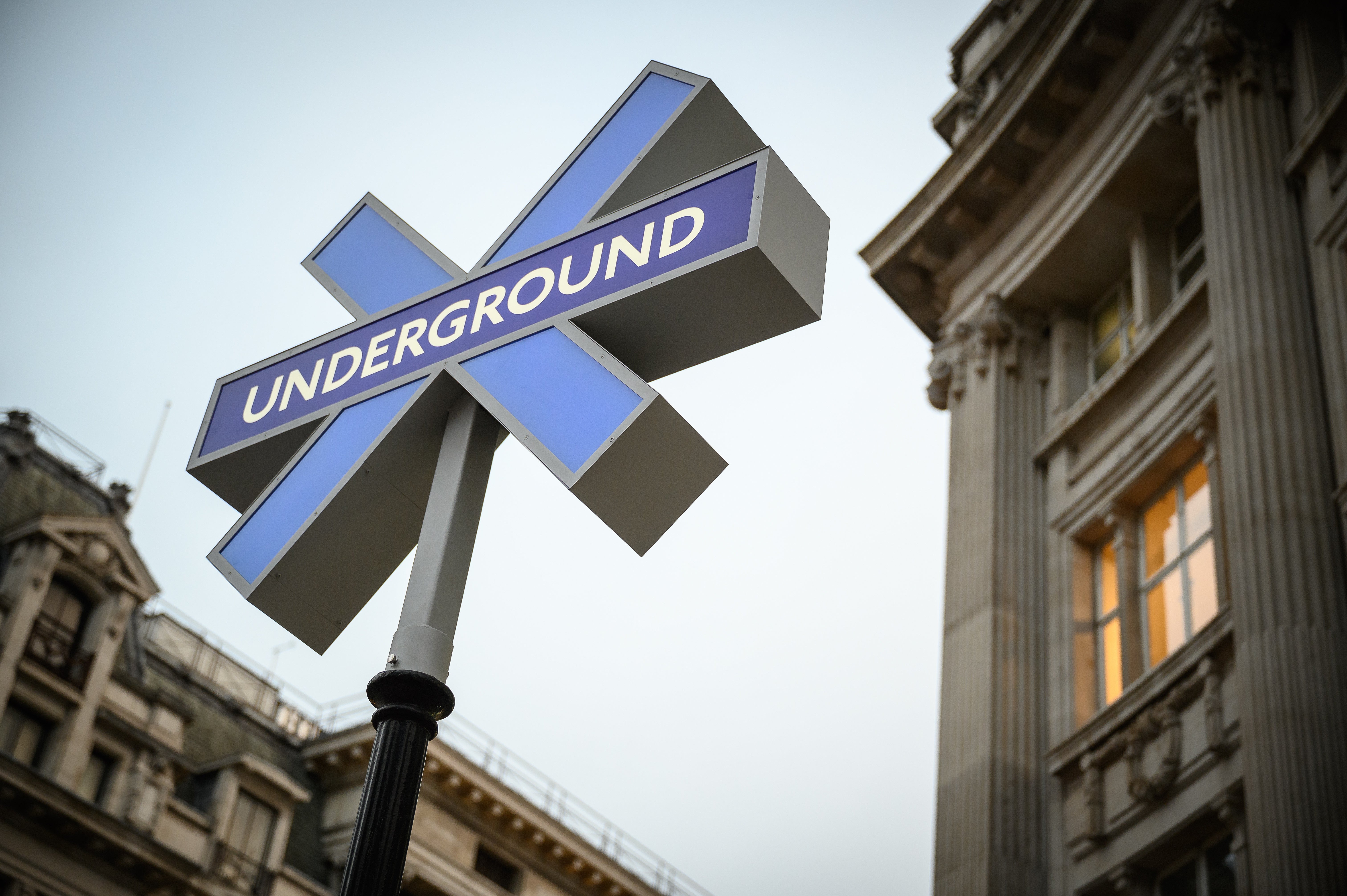 The PS5 has finally gone on sale in the UK – to the select few who can get hold of one.
The console was released in the US and some other select countries last week, but has finally had its global launch on Thursday.
The day will be marked by fans receiving deliveries of their new PlayStations. But it will also be a day on which those many people who were not lucky enough to be able to secure a pre-order will be poring through the listings from shops such as Amazon, Curry's and other retailers in an attempt to find in-stock consoles.
Here is all the latest on the release of the console.
Is there any stock left, and how can I get one?
Dimensions, specs and accessories: What do you get with the PS5?
Our review of the new PlayStation
Is the PS5 better than the new Xbox?
Black Friday early deals on Nintendo Switch
Show latest update 1605819323
PS5 launch day in review
Here's a wrap-up of everything that's happened today. It has been fairly stressful!
I hope everyone who got their consoles is enjoying themselves, and I hope everyone who hoped they'd get a console manages to sort that out as soon as possible.
It's been a very frenzied, anxiety-inducing privilege to spend the day with you trying to find PlayStations.
A full round-up of everything that has happened is here.
Andrew Griffin19 November 2020 20:551605811199
Game says that PS5's big size has led to delivery delays
Game sent an email to customers who bought PlayStations from its website telling them that their console could be late – because of its huge size. (It also blames Yodel, the delivery company; Yodel has denied it's to blame.)
"Due to the volume of PlayStation 5's in the UK market and the size of the product, the launch has led to UK wide delivery challenges for all retailers and couriers," it said in an email to customers. The PS5 is the biggest console in modern times, but it's box is not unprecedentedly huge.
Andrew Griffin19 November 2020 18:391605802511
When will the PS5 come back in stock?
How long is this situation going to last? Nobody has been very clear about that. But there are some clues to how and when it might end.
Full article here.
Andrew Griffin19 November 2020 16:151605801703
Game still showing some consoles to some users
Despite the earlier post about the Game queue, some who get to the front of it do find there are consoles seemingly in stock after all. They just might not be the one they were looking for.
One user says he eventually got to the front of the queue and clicked to buy the normal, non-digital, £449 PS5. But he was taken through to buy the digital edition and a headset, for £430.
Presumably the website is sending players through to whatever they have in stock, and perhaps adding some potentially unnecessary accessories for a bit of extra money. Which is annoying, but does suggest you maybe, perhaps, potentially could still have some luck at Game.
As before, those consoles will arrive "by the 10th December", according to the website, or "by the 5th December" if you pay £20 for "Priority Insured delivery".
Andrew Griffin19 November 2020 16:011605799898
People confused by new consoles
Those who have been lucky enough to get their new consoles today have run into problems too, though not quite as stressful ones.
How do you turn the console off? How do you put discs into it? How do you get your PS4 data onto your PS5? All those are answered here.
Andrew Griffin19 November 2020 15:311605797826
Game sells out of its bundles
People who have been waiting in the queue for hours have now been told that Game have sold out of the PS5s and bundles that were on its store earlier. The site is still keeping them in the queue, but while they're there they'll see a message warning them they'll not get a PlayStation when they arrive at the front of it: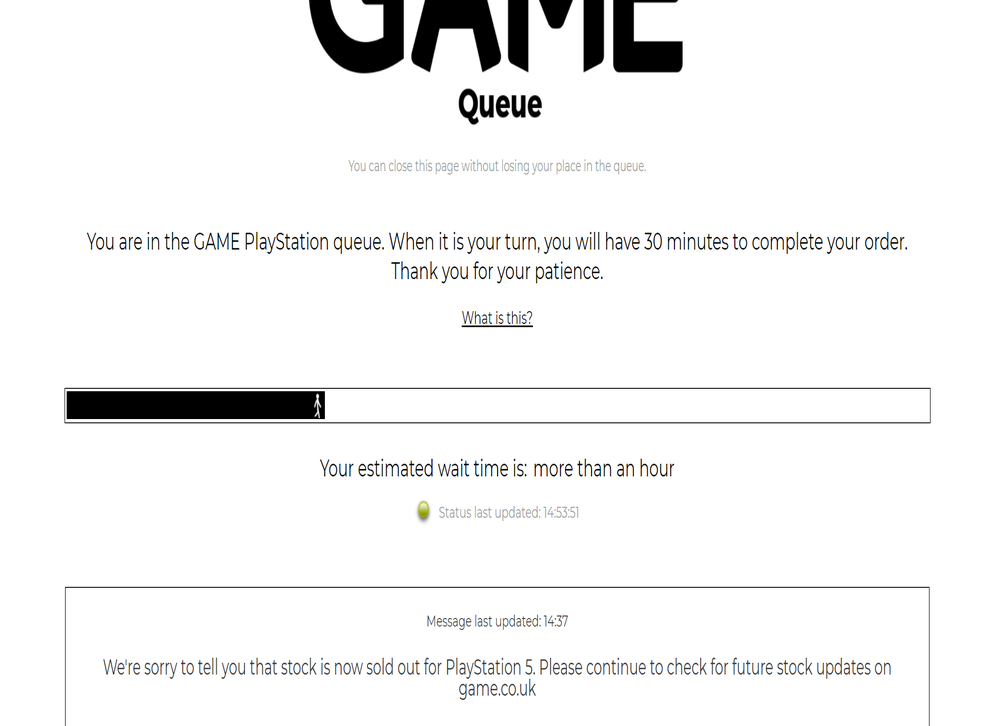 Andrew Griffin19 November 2020 14:571605797087
People confused by their new consoles
There's been a lot of frustration from people who didn't get consoles today, but a little confusion from people who did, too.
The audience team here tells me that a lot more people are searching "how to turn off PS5". Which to be fair is a good question, since it's not as obvious or straightforward as it was on the PS4 – it is both difficult to find and requires a lot of button presses from you even if you know where it is. (If you want to know, you press the PlayStation button so that the menu comes up, tap left so that you get to the right end of that menu, and press for the power options.)
Andrew Griffin19 November 2020 14:441605796615
"PS5" hashtag on Twitter includes a… mixed response
Sony appears to have paid to have #PS5 be a sponsored trend today, so that it appears on Twitter's trending bar.
Clicking it will first show you a couple of nice videos from Sony, about the publicity stunt it did to change the Underground roundels at Oxford Circus Tube station into the famous buttons from the PlayStation controller:
From one iconic shape to four. We've given the Oxford Circus Tube signs a #PS5 upgrade. 👀 pic.twitter.com/iw9qlEXR7B

— PlayStation UK (@PlayStationUK) November 18, 2020
But scroll past those, and into the other posts, and everything gets a lot more chaotic. People are complaining about stock shortages, about lost packages, about not being able to get onto websites to buy their consoles, and how silly they feel having spent a morning failing to buy anything.
But it does include a special button that means a DualSense controller will show up when you click to "like" a post that includes the hashtag.
Andrew Griffin19 November 2020 14:361605795010
Amazon help account says that all the consoles have gone – but that more might be coming
The account AmazonHelp – the official support page, which has been very busy this morning – has been apologising to customers in both the UK and Germany who have been frustrated to find they couldn't buy consoles.
"I'm sorry you couldn't place an order for the PlayStation 5," it wrote to one customer in German. "There was only a very limited number of items available that sold out quickly."
But other messages from the same account offer reason for hope.
"We don't currently know when the PlayStation 5 will be back in stock," one post reads. "I recommend that you check the website regularly as we may receive additional inventory."
It does suggest, as I did before, that Amazon's stock is seemingly being updated unpredictably, without notice, and potentially only in small quantities. So refreshing might be helpful, but it's also going to be painful.
Once again, here's the Amazon listing, if you need it.
Andrew Griffin19 November 2020 14:101605793055
Xbox Series X still very much out of stock
If all this frustration has led you to decide you might want an Xbox instead – then you're out of luck there, too.
Both the Series S and X are out of stock at every retailer and it's not clear when they're coming back.
Microsoft warned this week that they might not get readily available stock until well into next year. Sony hasn't been so transparent about when new consoles might be arriving, but it wouldn't be shocking if they were subject to the same limitation.
Andrew Griffin19 November 2020 13:3712345