DIY
Cute DIY office desk for remote work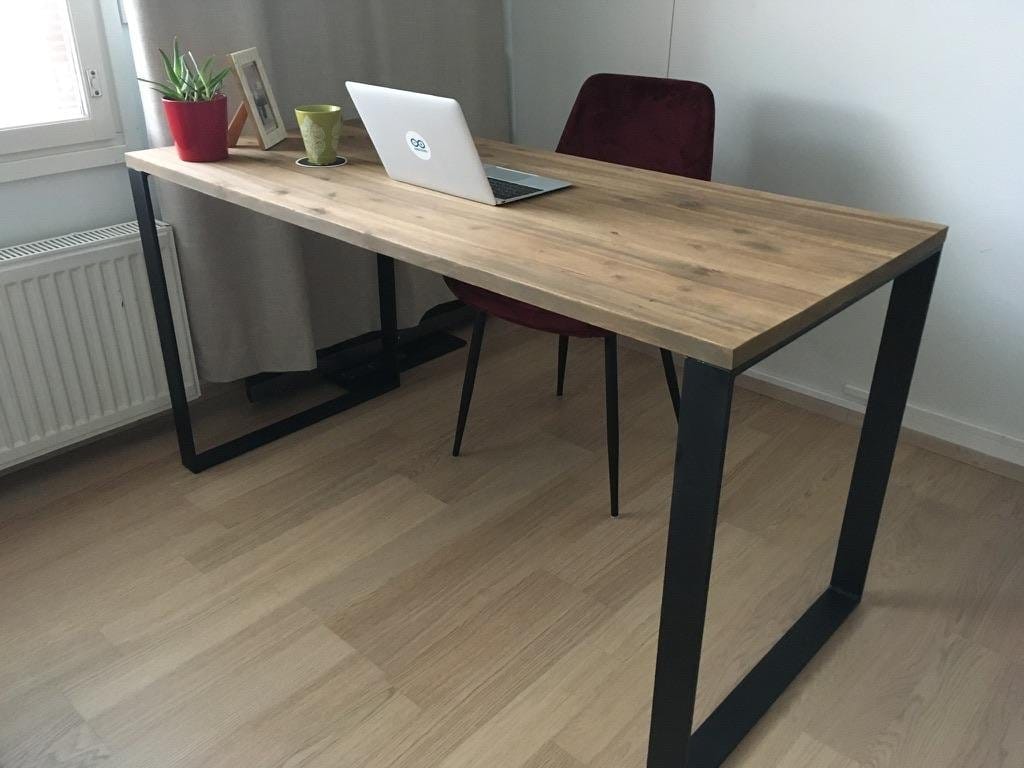 Everyone knows that in March 2020, due to a terrible pandemic, working citizens began to be transferred to a remote operating principle. Most of the people did not even suspect that this story would drag on so long, and few could predict the arrival of the so-called "second wave". But as time goes on, many are still working from home, and how long this will last is unknown. Office workers miss their offices, desks, ideally equipped workplaces, which, alas, do not exist at home. Wanting to create maximum coziness and immerse themselves in a comfortable working environment, the most resourceful citizens try to create a full-fledged study from their bedrooms, pantries, dressing rooms, spending a lot of time looking for a practical office desk that harmoniously fits into the overall dimensions. Why look for a needle in a haystack when you can make a comfortable modern office table DIY from the simplest materials? It is this homemade product that this article will be devoted to.
What style to make the table? Of course, in the most relevant at the moment, and this is "loft" or "scandi", with a table top made of natural wood and black matte metal knives. Perhaps the most difficult stage is metal welding; you will need at least some experience of working with a welding machine, or a familiar welder.
Overall dimensions of the future table are as follows:
– Length – 1400 mm;
– Width – 635 mm;
– Height – 740 mm.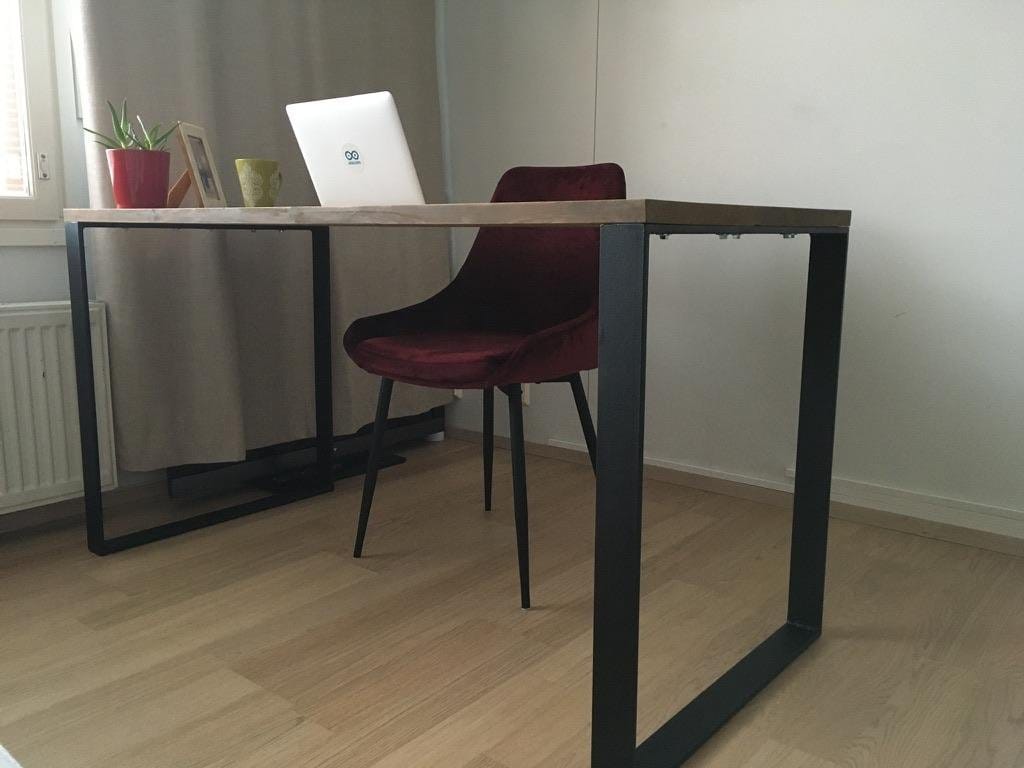 Materials and tools
List of materials:
– Solid wood furniture board;
– Hot rolled steel flat bars;
– Liquid filler for steel ("liquid metal");
– Sandpaper;
– Impregnation or oil for wood;
– Black matte enamel; < br> – Self-tapping screws 6×30 mm, washers;
– Degreaser.
List of tools
– Welding machine (electrodes, gaiters, mask);
– Electric drill; < br> – Cordless screwdriver.
Step 1. Blanks for the base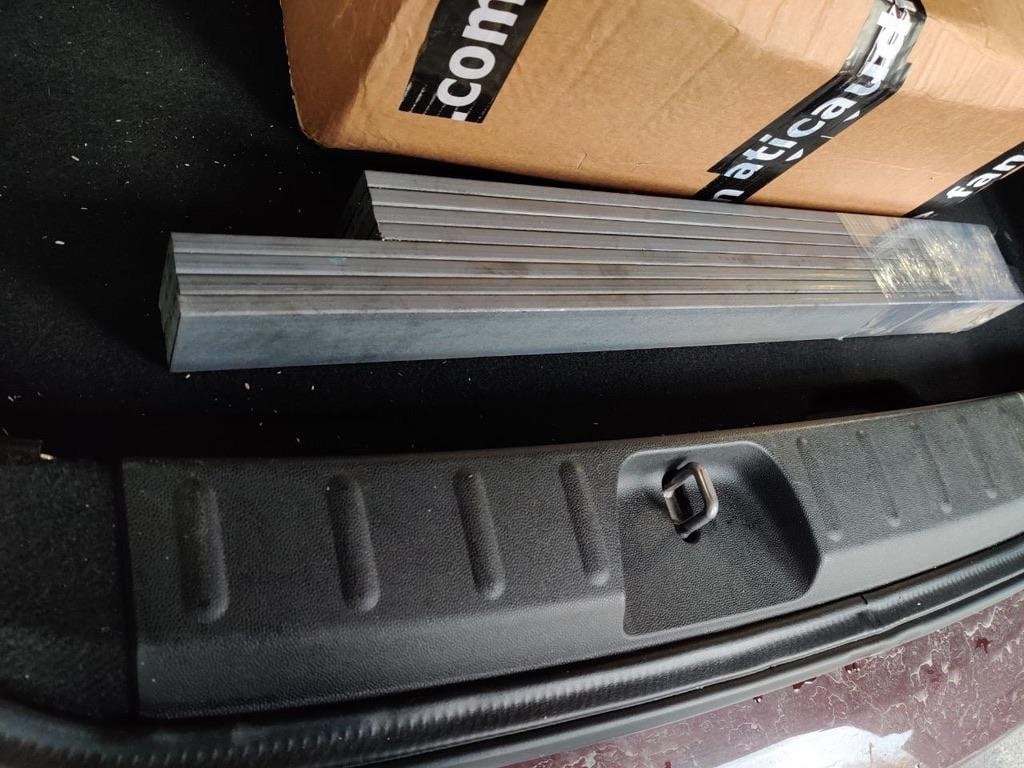 Table legs are made from flat steel bars 10 mm thick and 60 mm wide. Sold in any hardware store, however, not at all at a pleasant price. Rectangular shapes are welded from this material, therefore, steel strips must first be cut into pieces of the following length: 714 mm – 4 pieces (vertical parts for legs), 615 mm – 4 pieces (horizontal parts).
Step 2. Welding legs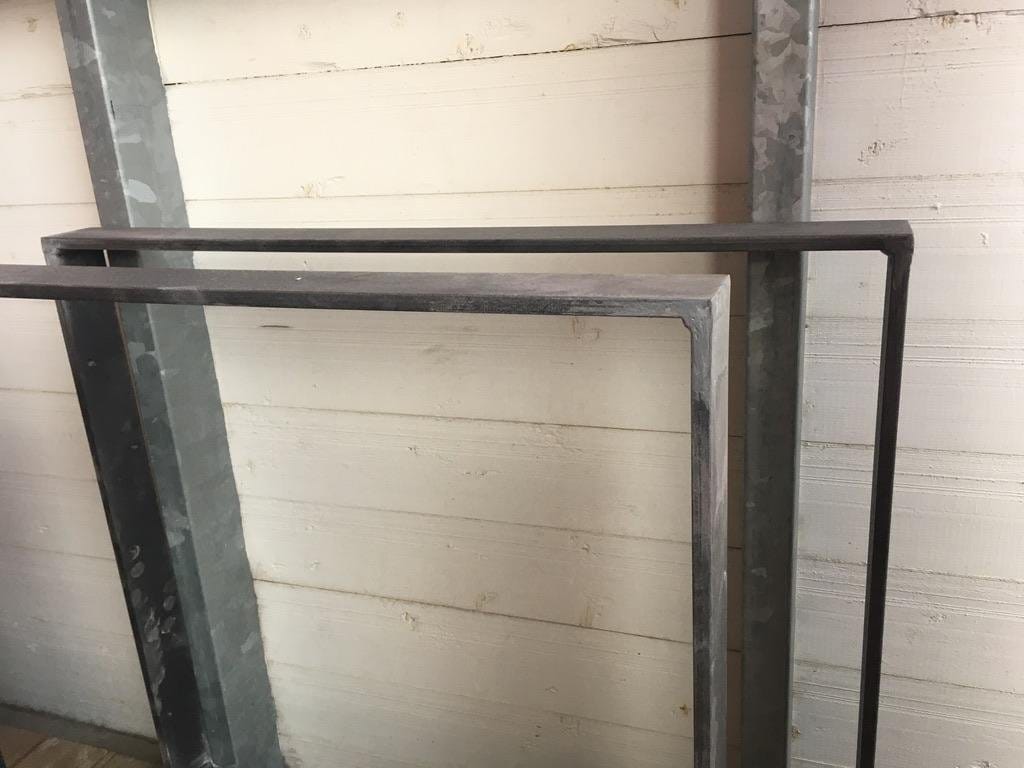 Perhaps the most difficult stage is to competently weld steel blanks into a rectangular shape. Having solved this problem, you should make five holes in the upper part of the resulting product, as shown in the figure. An electric drill and a drill for metal are used for work.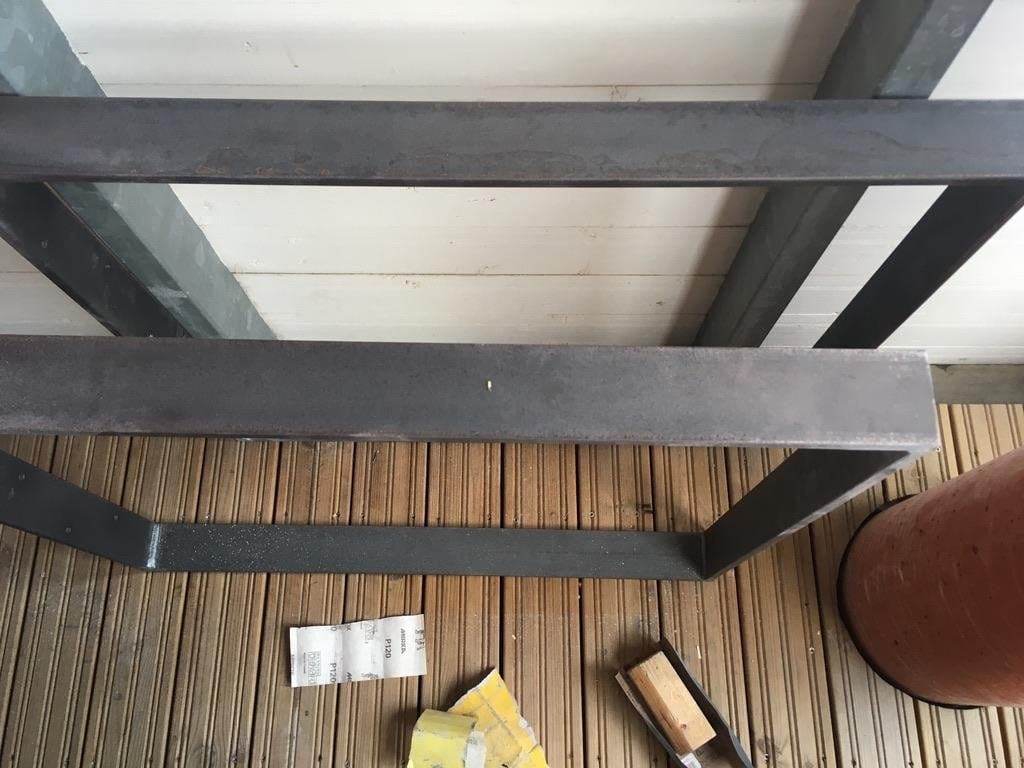 We clean welded seams and give the structure a neat finished look. You can also apply a liquid filler for steel ("liquid metal"), masking all the roughness and notches.
Step 4. Painting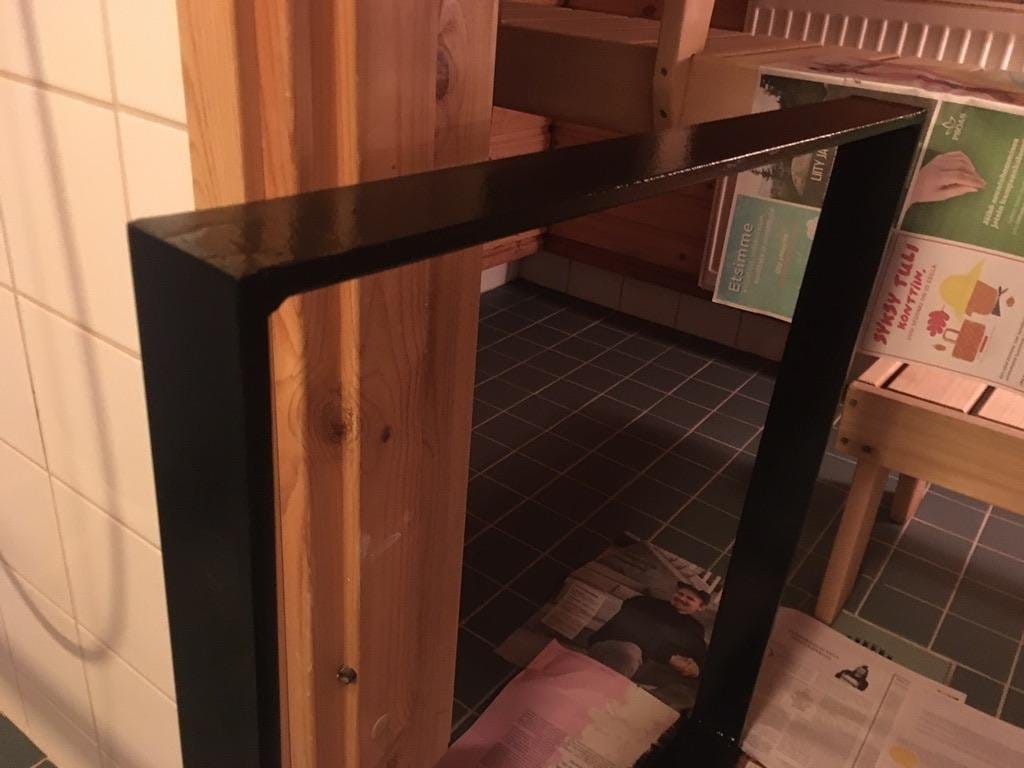 Sand all surfaces of the metal rectangles with sandpaper, then degrease them. If you are working in an open space, spray paint is ideal for adding color to the product. In this case, the procedure is performed indoors, therefore, liquid enamel and a roller are used.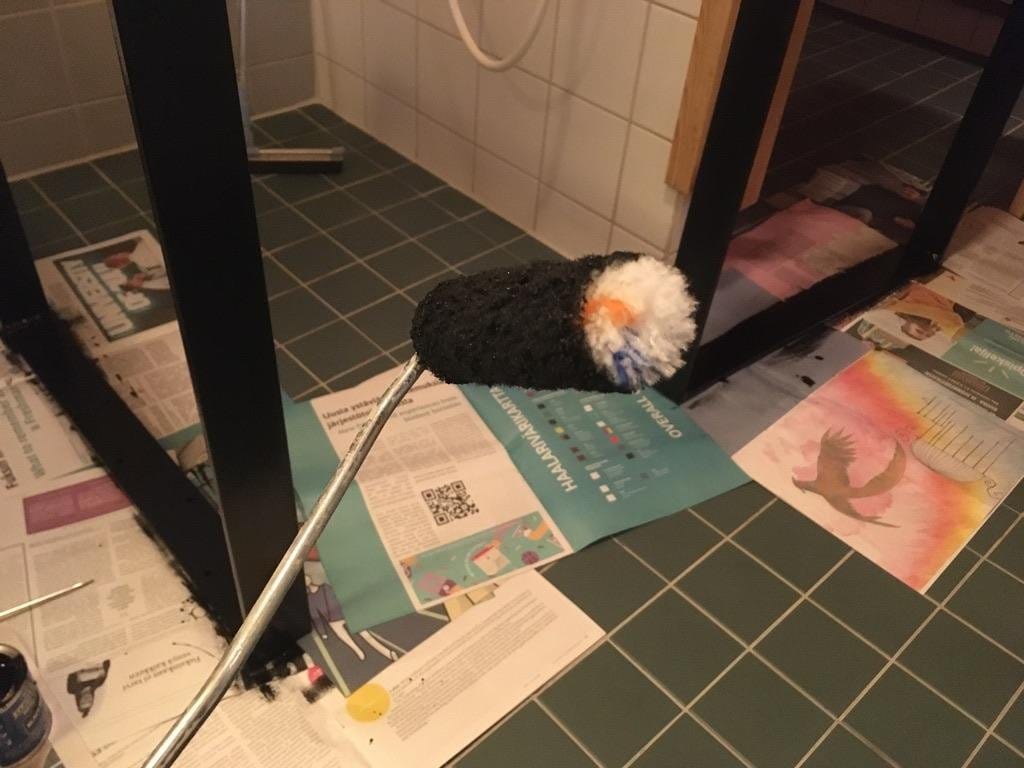 Apply a base layer and let the paint dry. The finishing layer must be applied carefully, carefully painting over all areas.
Step 5. Tabletop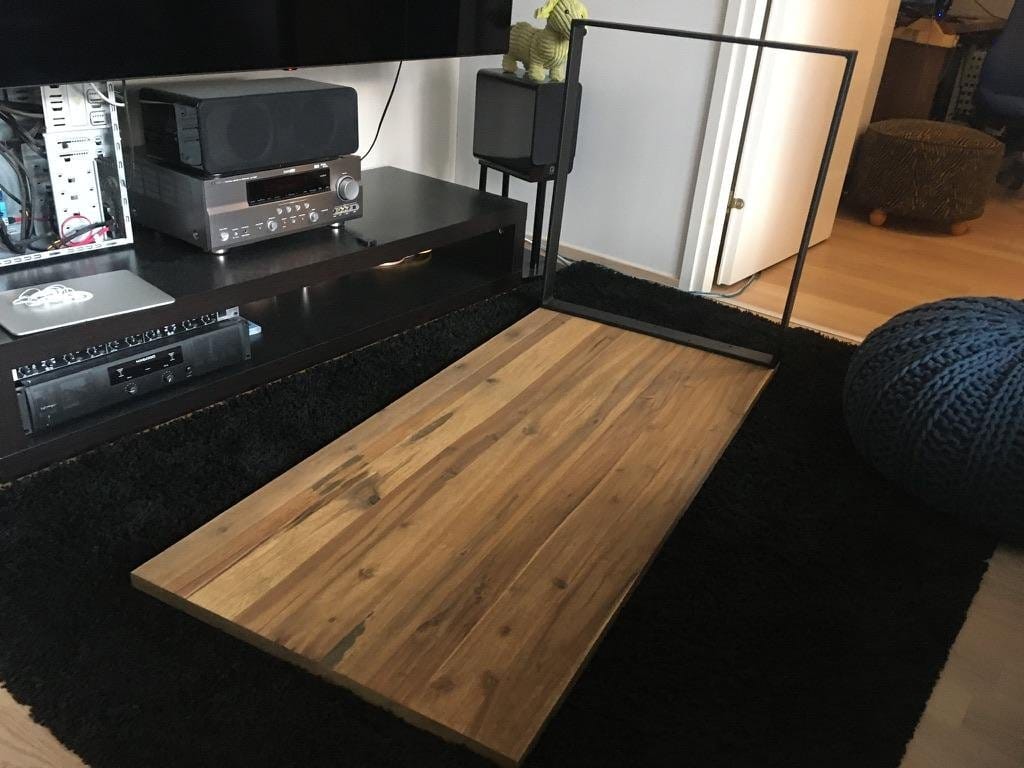 This homemade product uses a natural solid acacia tabletop of the following sizes:
– Length – 1400 mm;
– Width – 635 mm;
– Thickness – 26 mm.
Similar specimens of similar sizes can be found in construction hypermarkets, as a rule, they are called "solid wood furniture board". Avid carpenters can assemble such a canvas from boards with their own hands, using a circular saw, jointer, grinder. It is important to consider that the wood must be dry, otherwise deformation of the geometry is possible during operation.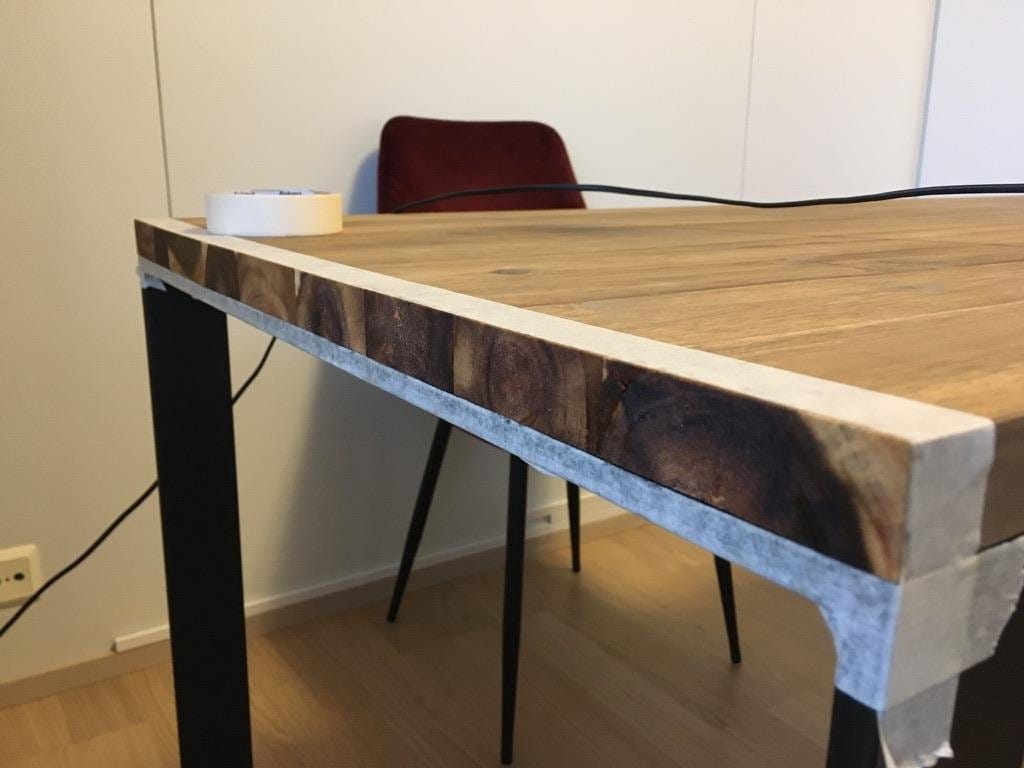 Apply wood oil or natural light shade balm to the countertop. Use masking tape to protect the knives from unwanted oil droplets.
Step 6. Build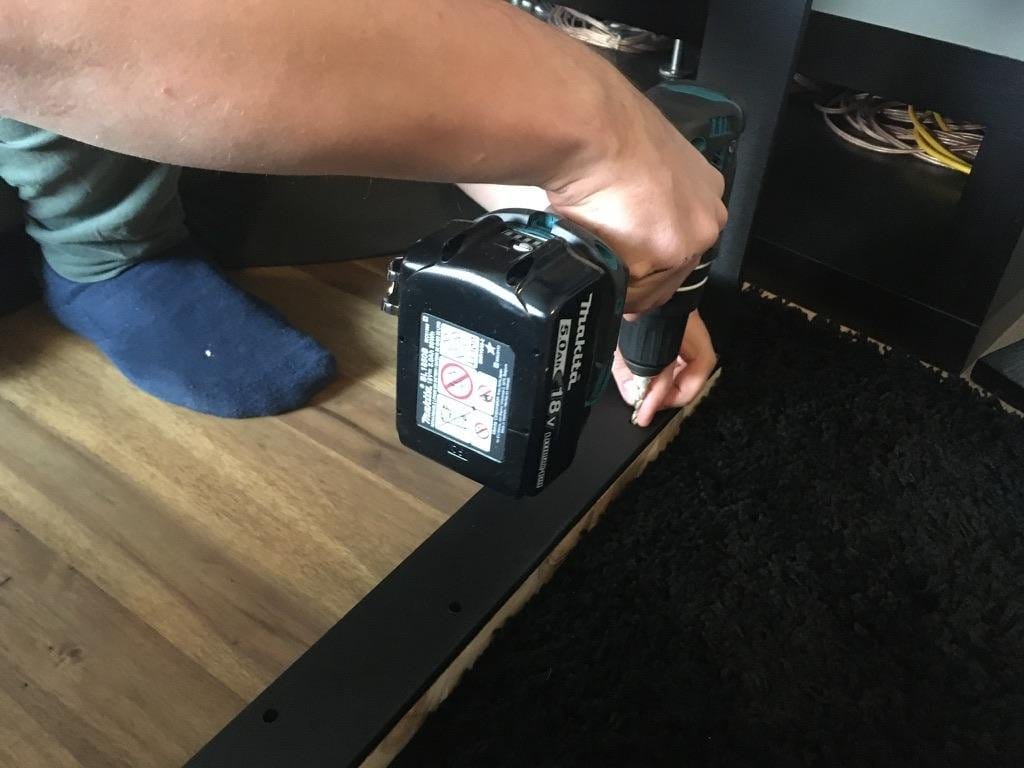 Fix the wood panel on the legs using powerful self-tapping screws turnkey 6×30 mm. Remember to put washers. A cordless screwdriver makes this easier.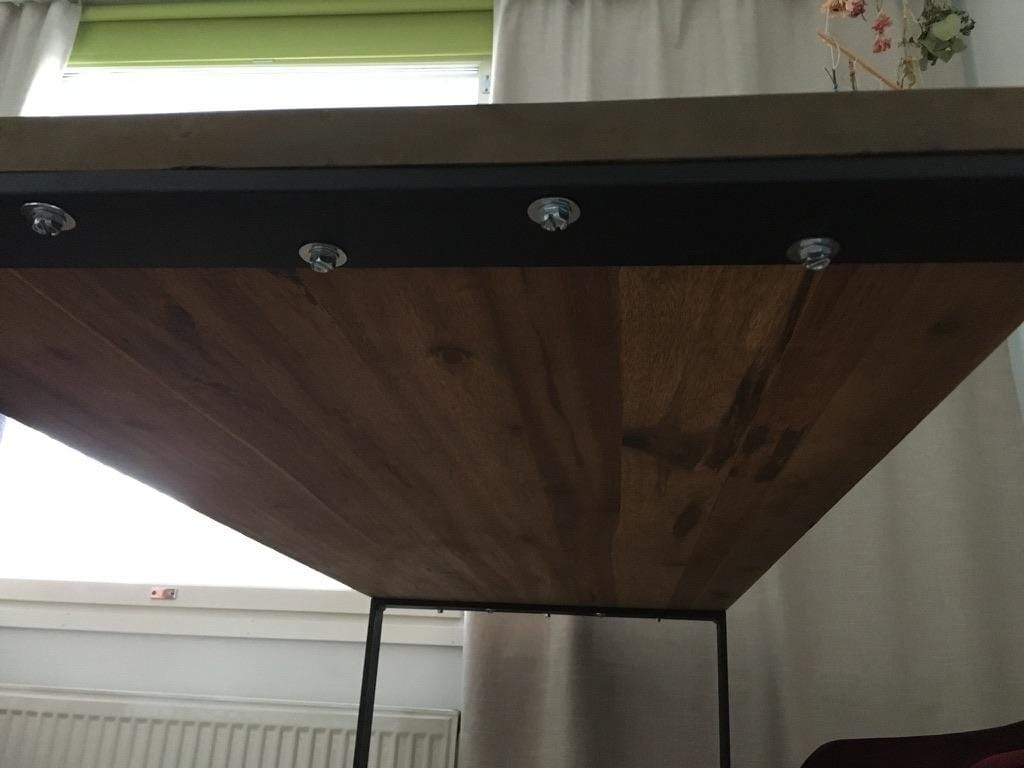 Congratulations, you have created the perfect workplace with your own hands! Natural wood and the fact that you made it yourself will cheer you up and delight with every interaction.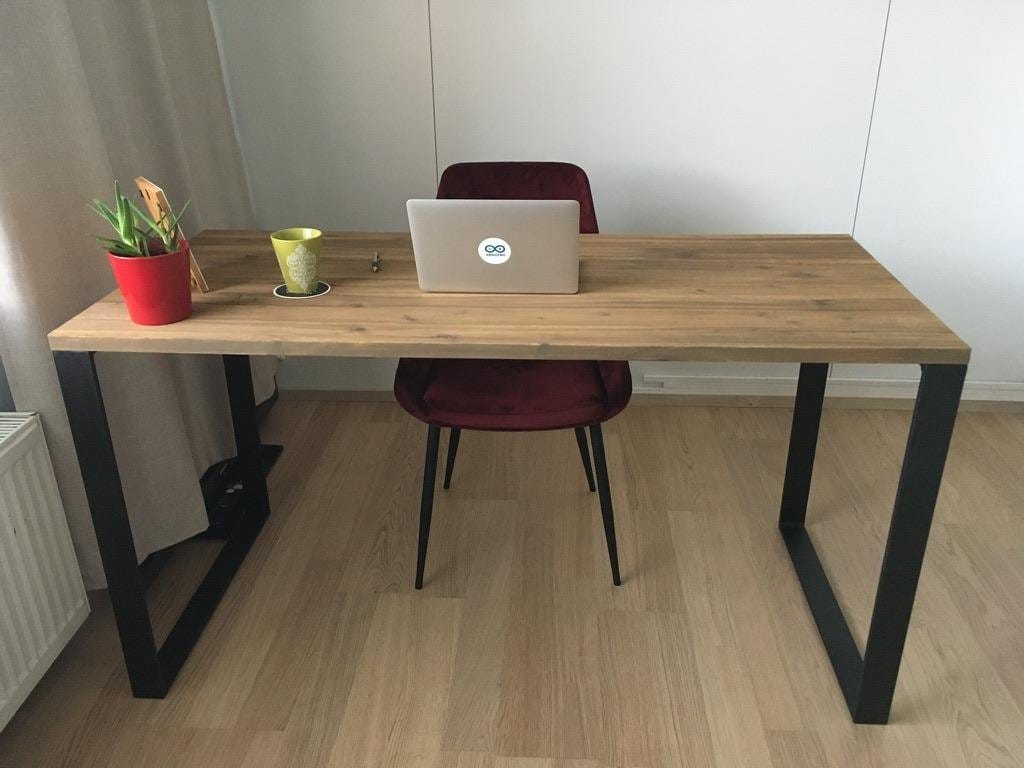 Enjoy remote work with your dream office table and stay safe.