DIY
Diesel locomotive exhaust valve knife
Attention !!! This homemade product is posted for informational purposes only.
It is forbidden to create and use as a cold weapon, according to Article 223.4 of the Criminal Code of the Russian Federation, imprisonment up to two years is threatened!
Hello dear friends. It was a free day, as always, spent it in his forge. In the summer when I bought the forge, the first forging work was carried out in the open air when there was no rain or wind. Then he built an annex to the house, two additional rooms and in one temporarily.
There are a lot of work on the Internet from bearings, files and valves, and I don't know quite normal work in terms of quality, but beautiful. There is a lot of controversy on the network about which valve to take inlet or outlet? I still think that the steel there is the same in general terms, but the exhaust valve still works more in aggressive environments and is still different in terms of the metal content, so I found one valve from a diesel locomotive there steel 40X10S2M that a hat that a stem made of one metal is the main problem in forging a valve is a hardening temperature in the region of 900 ° C, those who can determine by eye by color, I have not learned how to do it. To forge a knife from a valve, you need to take a valve that sticks to a magnet. And so from my valve you can forge 3 knives from the stem and 2 from the valve hat. I cut off a piece of 8 cm, then heated it to a dark yellow color, and let it cool in the open air, thereby making an annealing in simple words, removed the hardening, but after cooling, I heated it and proceeded to forging.
A tool will be needed: < ol type = "1">
Drill
Ushm
Blacksmith's tool
Green der with a set of ribbons
Quenching oil
Materials
Diesel valve
Wood for the handle
Oil for impregnation
After annealing, I heat the workpiece to a dark yellow color and forge it into a strip, forming an approximate thickness. I really liked the metal in forging; it heats up quickly, but also cools down quickly. The main thing is not to burn the metal, otherwise we will simply spoil the workpiece. After forging into the plate, I cut off the lugs at an angle from the reverse side of the future blade, so it will be better in forging the tip, the main thing is not to forge the tip immediately, otherwise it will burn out during hardening. In the side of the shank, I also cut a little what is in the way. I plan a knife with a rider handle and for this I forge the shank in thickness and width, it is not necessary for sure to be ground more than once.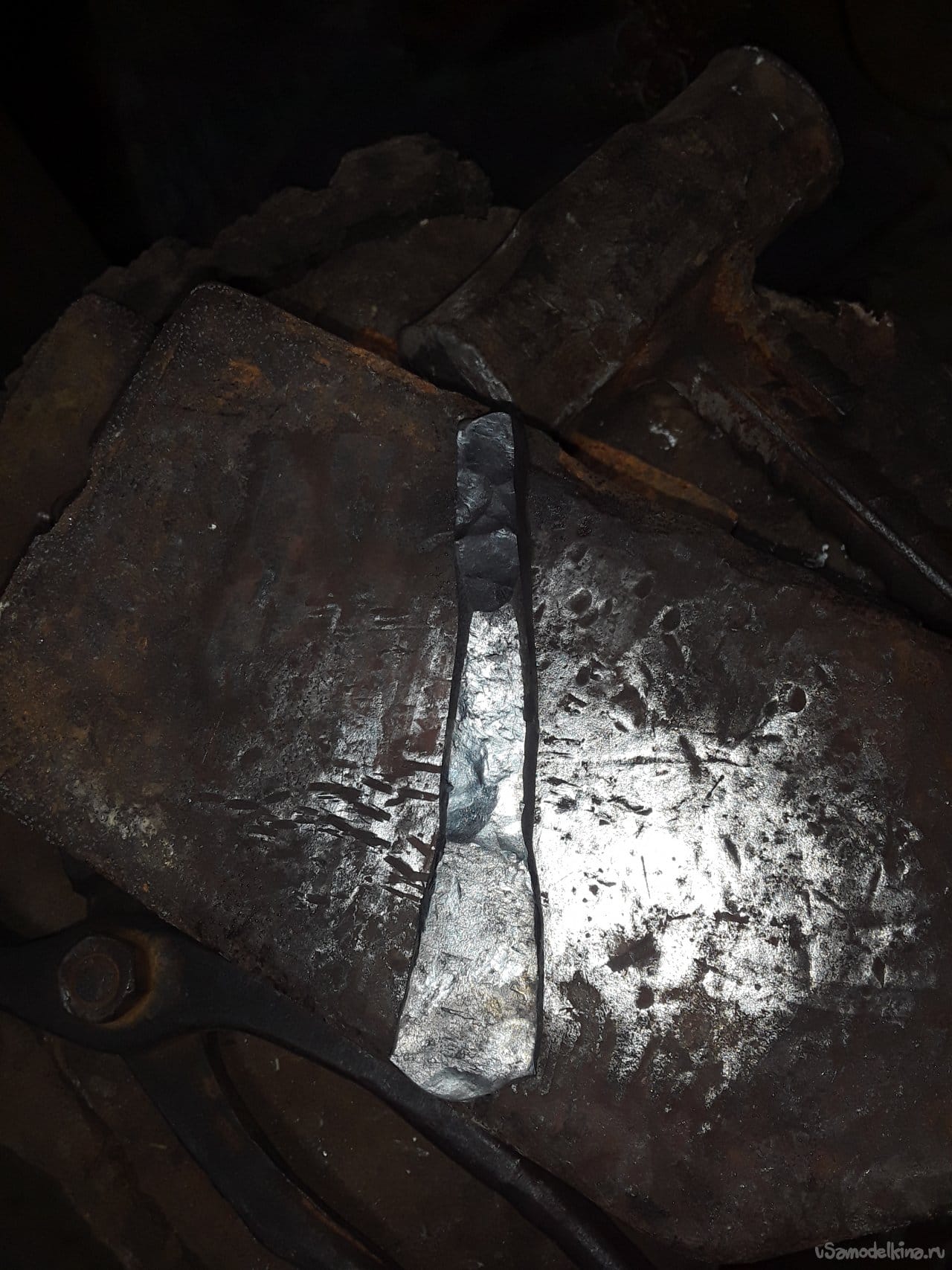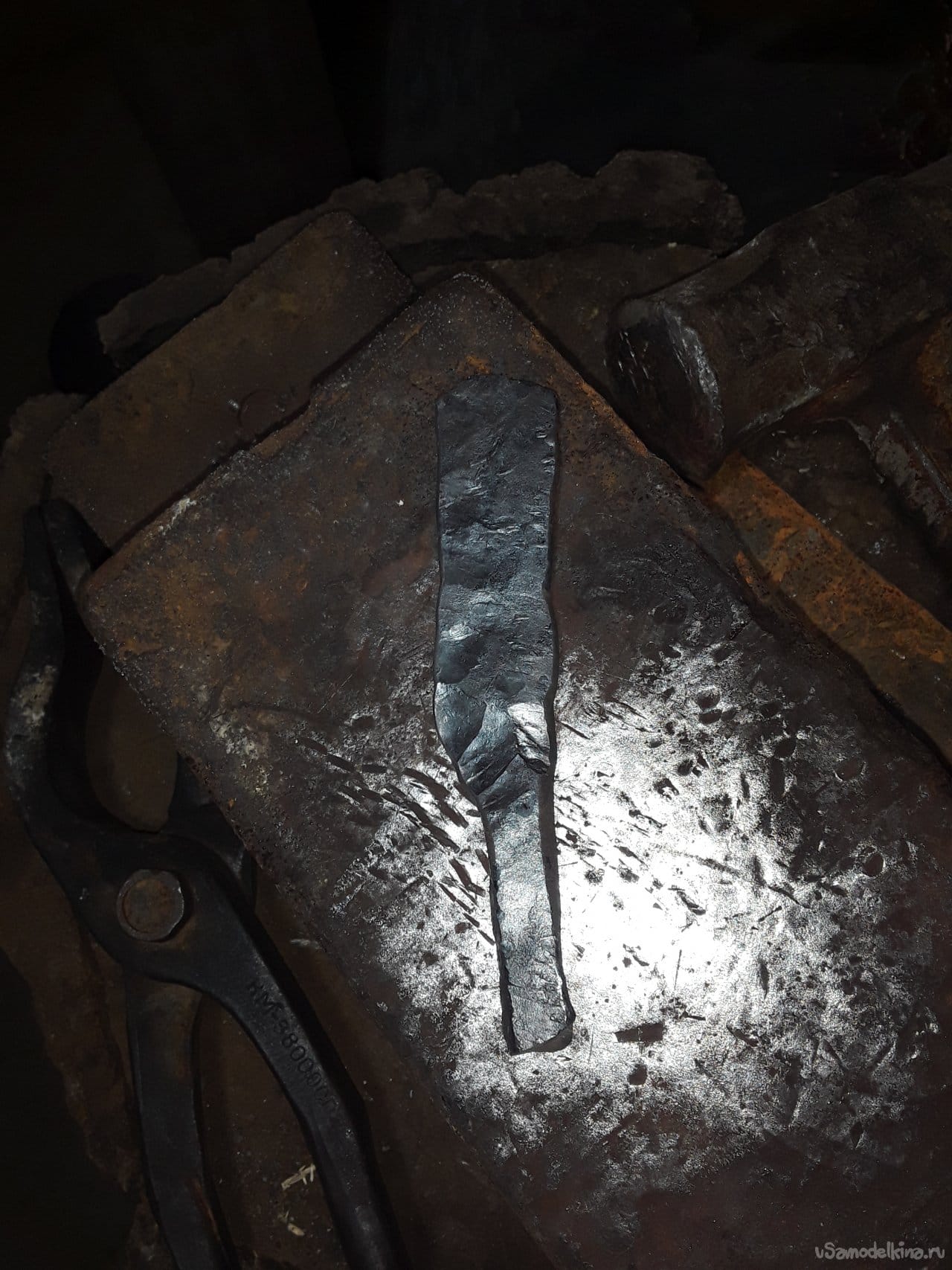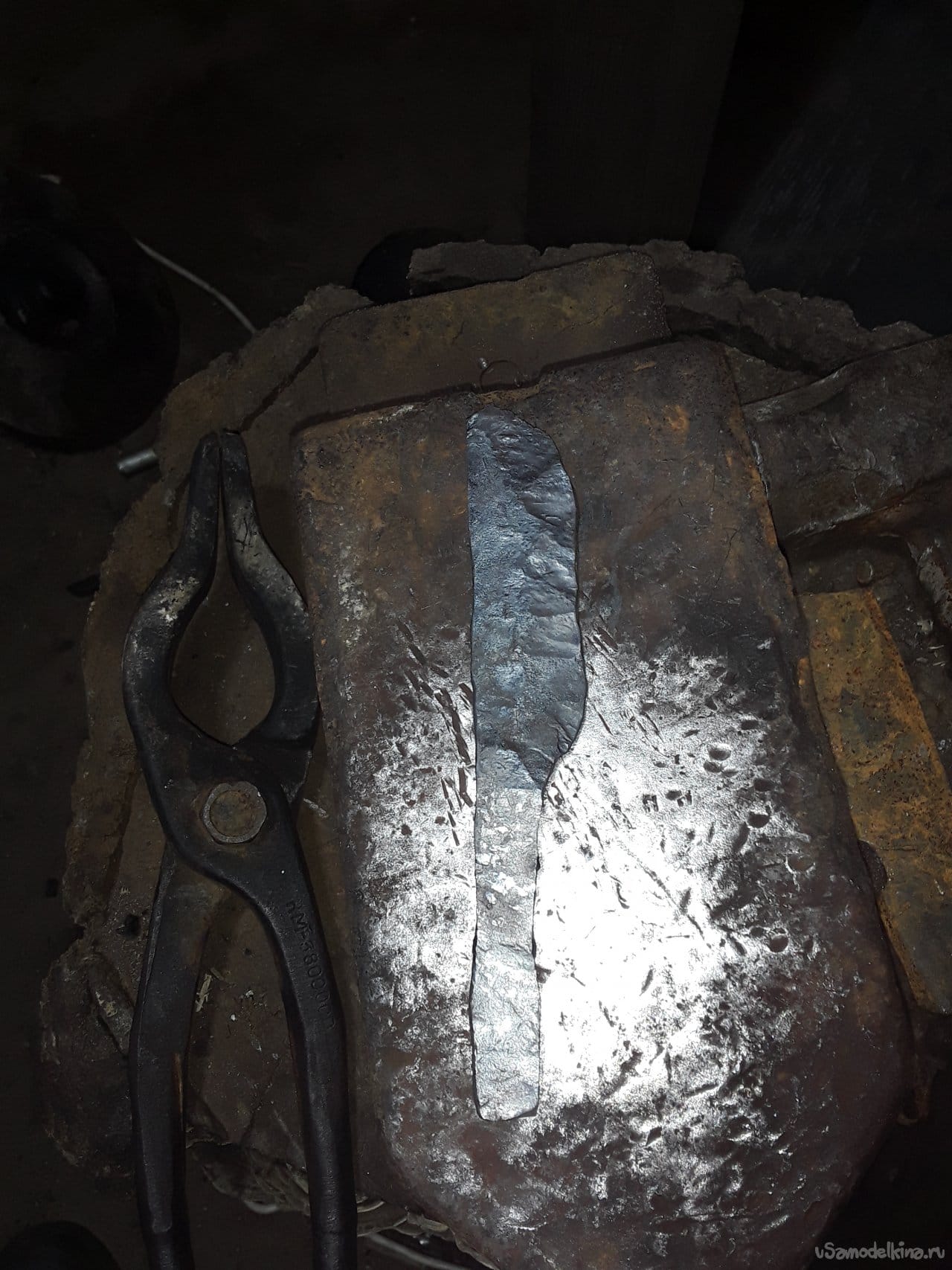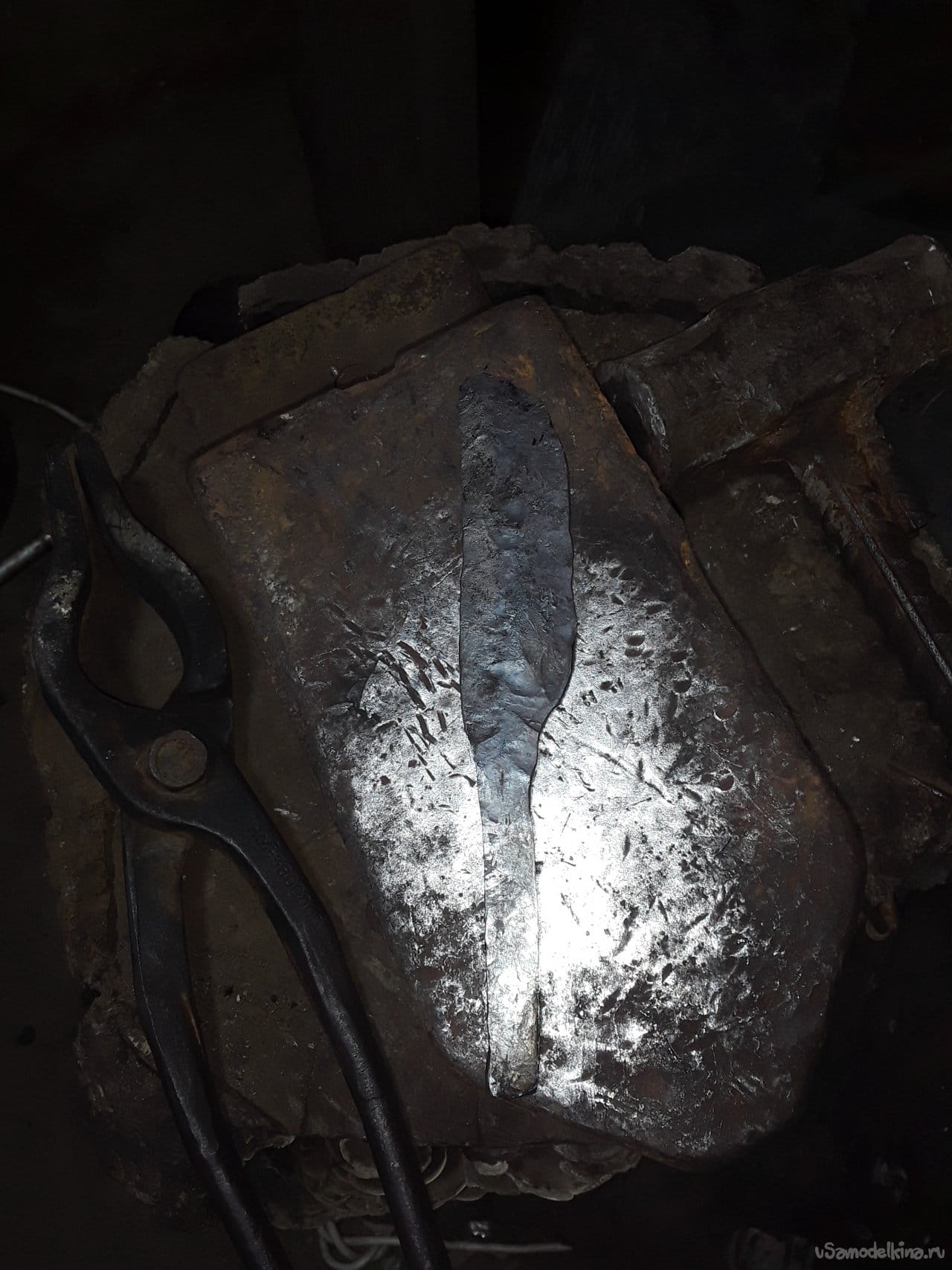 Well, forging is completed, now you need to harden and temper the blade, this is the most important thing in making a knife, since the quality of the blade depends on these two procedures. They say a lot about hardening on the Internet, and I don't even know who to listen to how to ruin steel by improper hardening. In general, I looked and found a more acceptable one. And so I quench in vegetable oil, heating the valve steel according to the advice, it is necessary to heat it up to 900 ° C, otherwise the steel is not hardened at a lower temperature. At this temperature, I heat the metal to have a light yellow color and dip it in oil, but not the entire blade, but only the tip of the zone hardening type. I dip it for 6 seconds, and then immediately light it in a vice so that the blade does not lead. After the blade has cooled down, I temper at temperatures up to 500 ° C for 2 hours in a resistance furnace with a thermometer. Yes, I forgot to write that after hardening I polished at the Green Dere before the vacation. Well, that's all the work with the blade and fire is completed here is a photo of the blade after quenching and tempering. I grind it into a rough blade and start making the handle.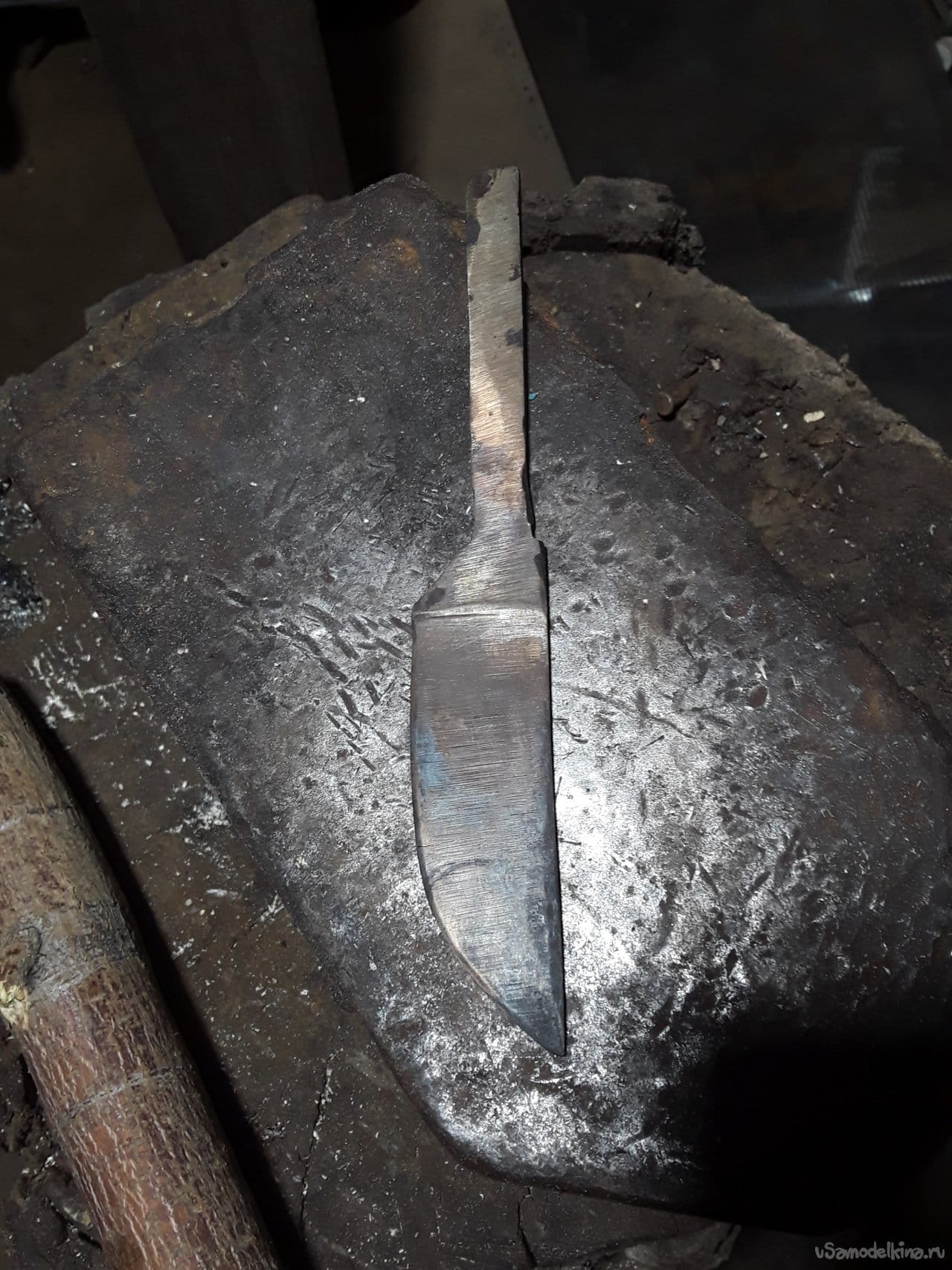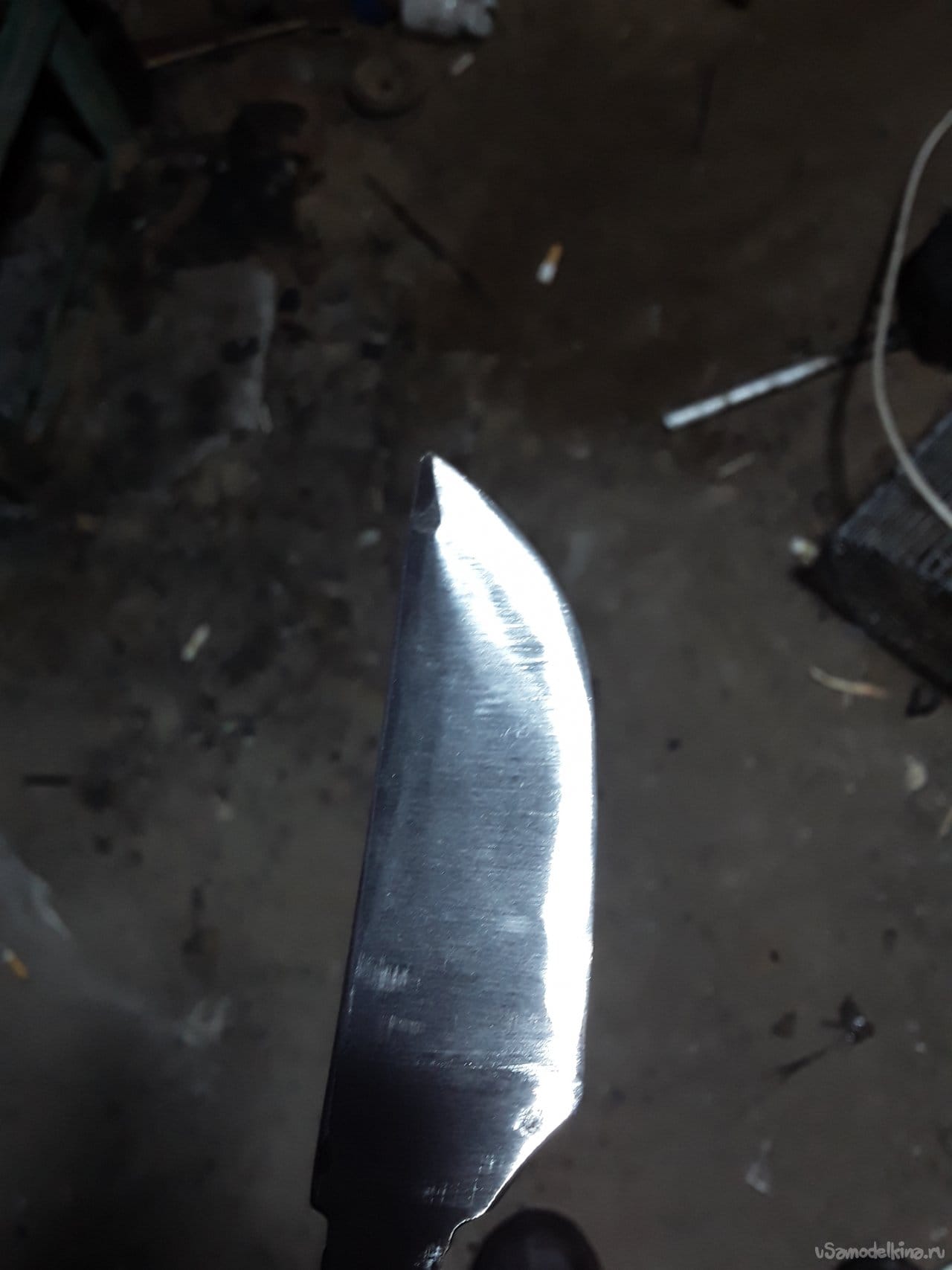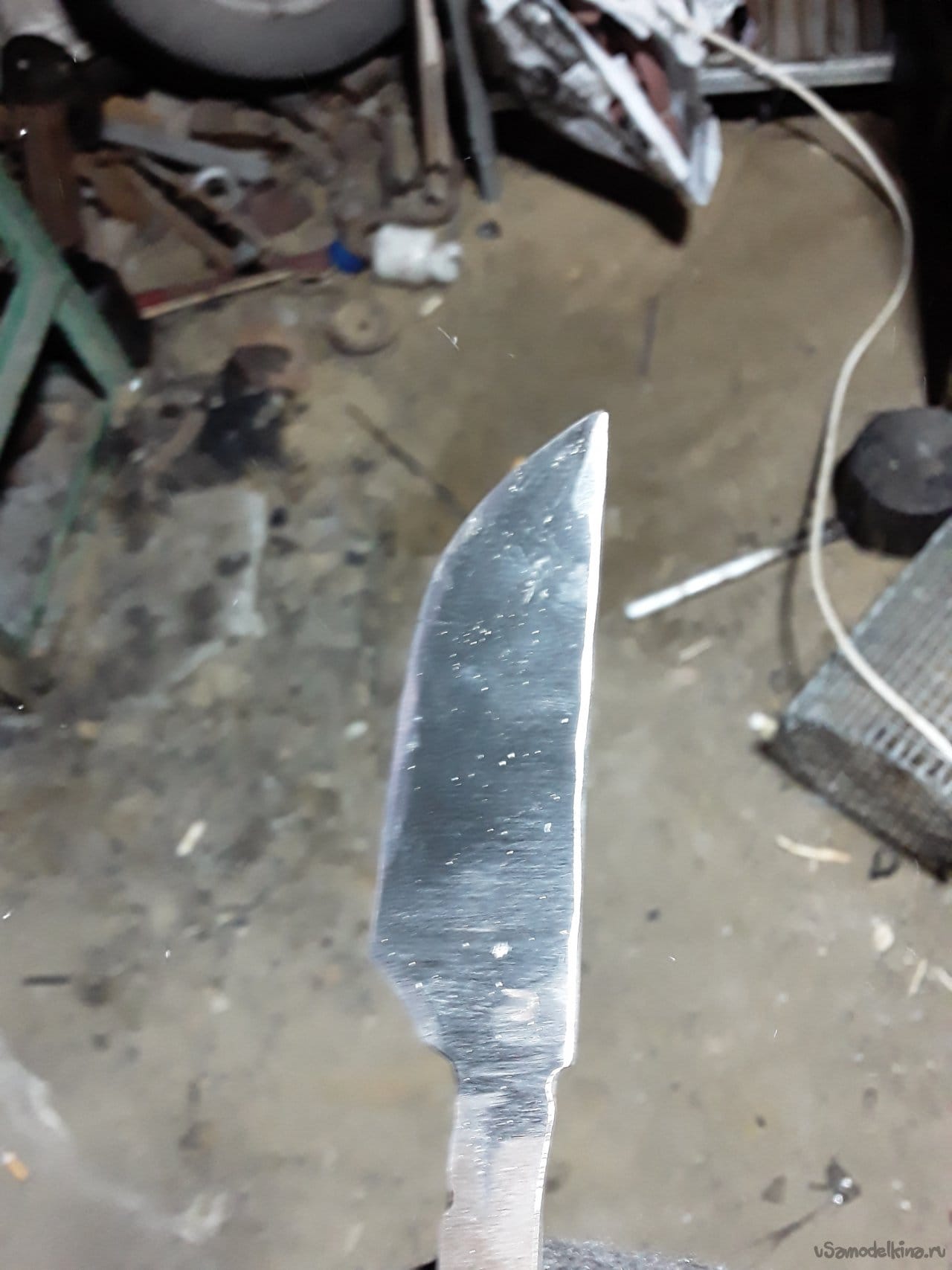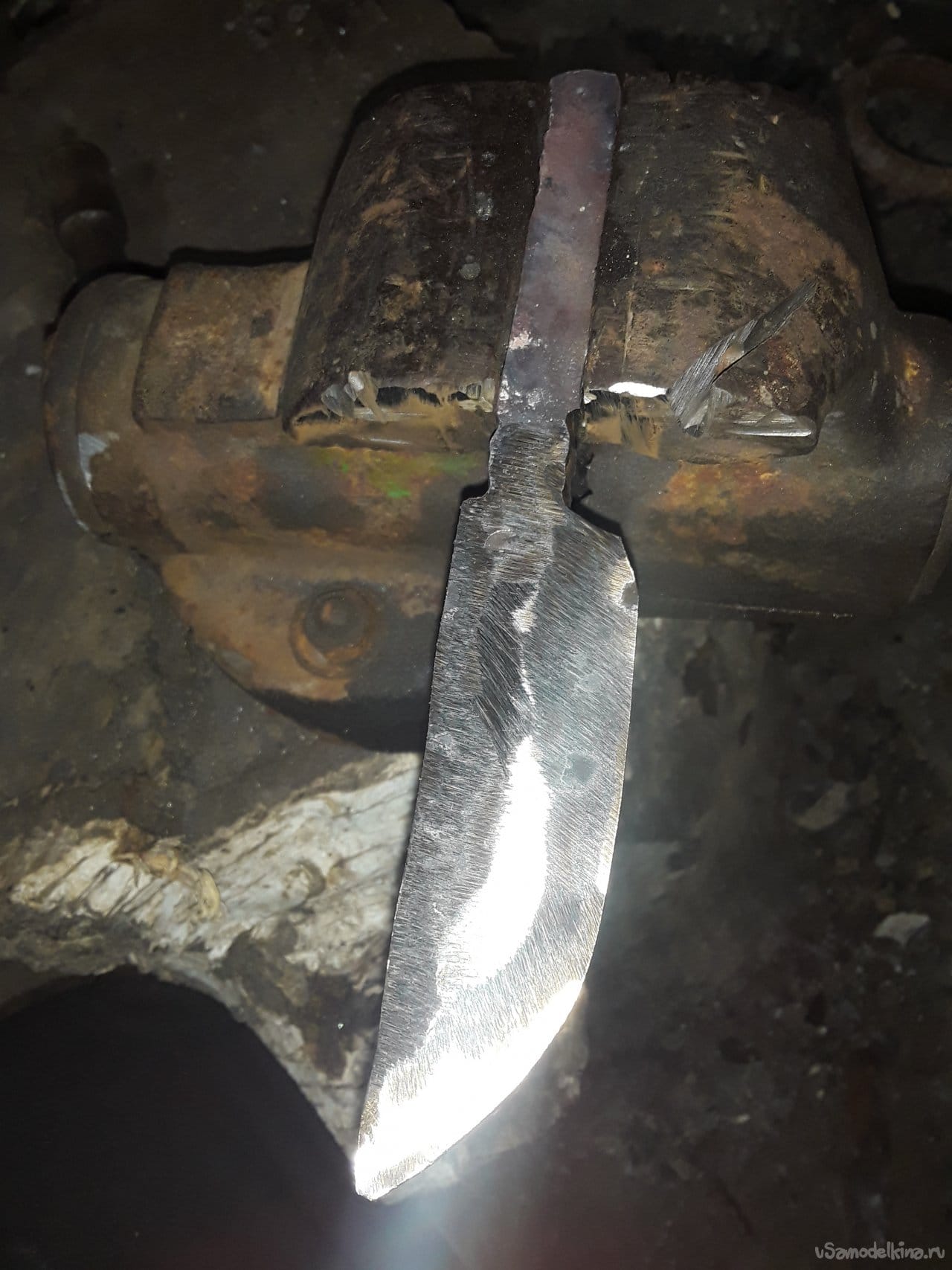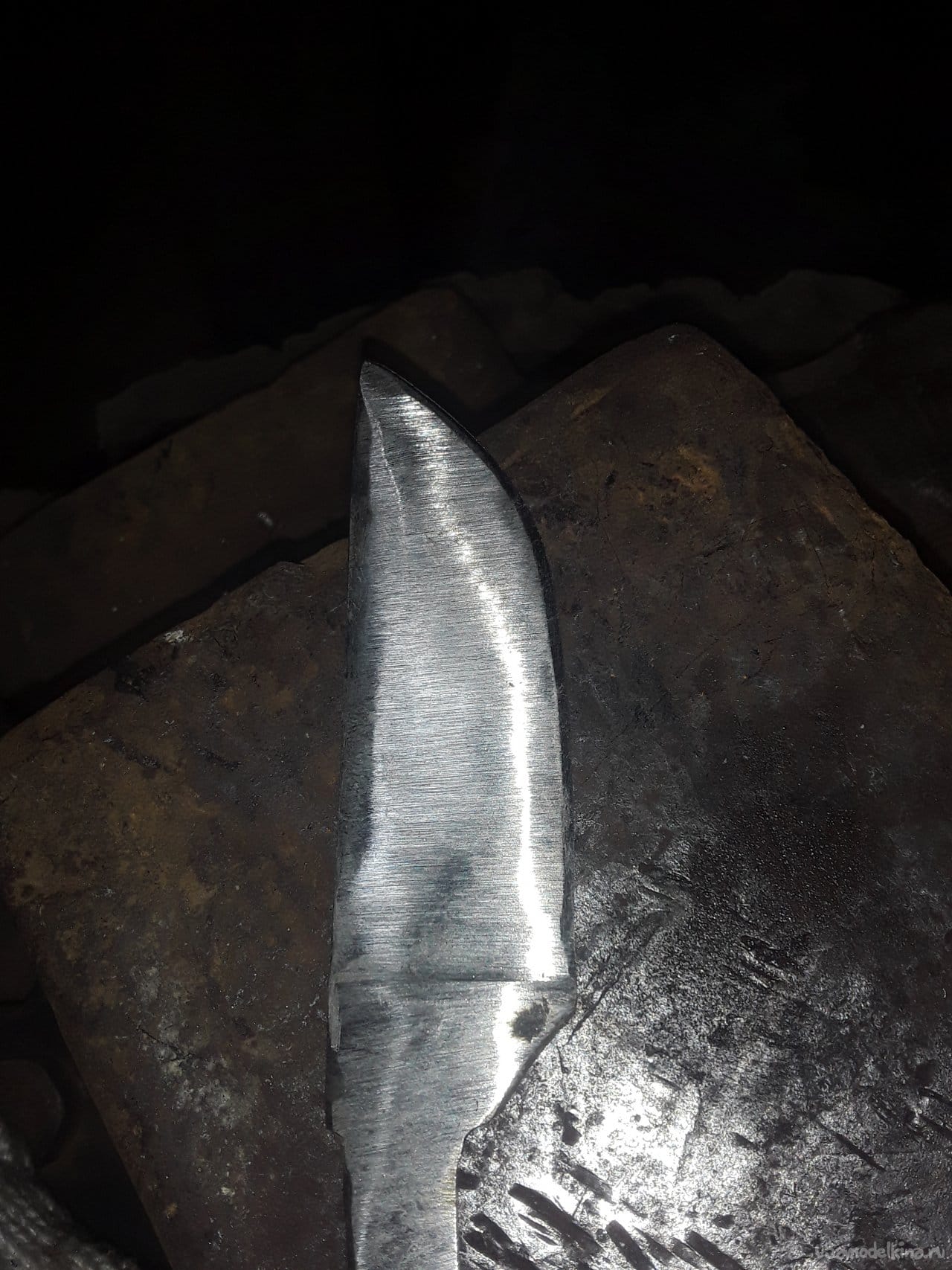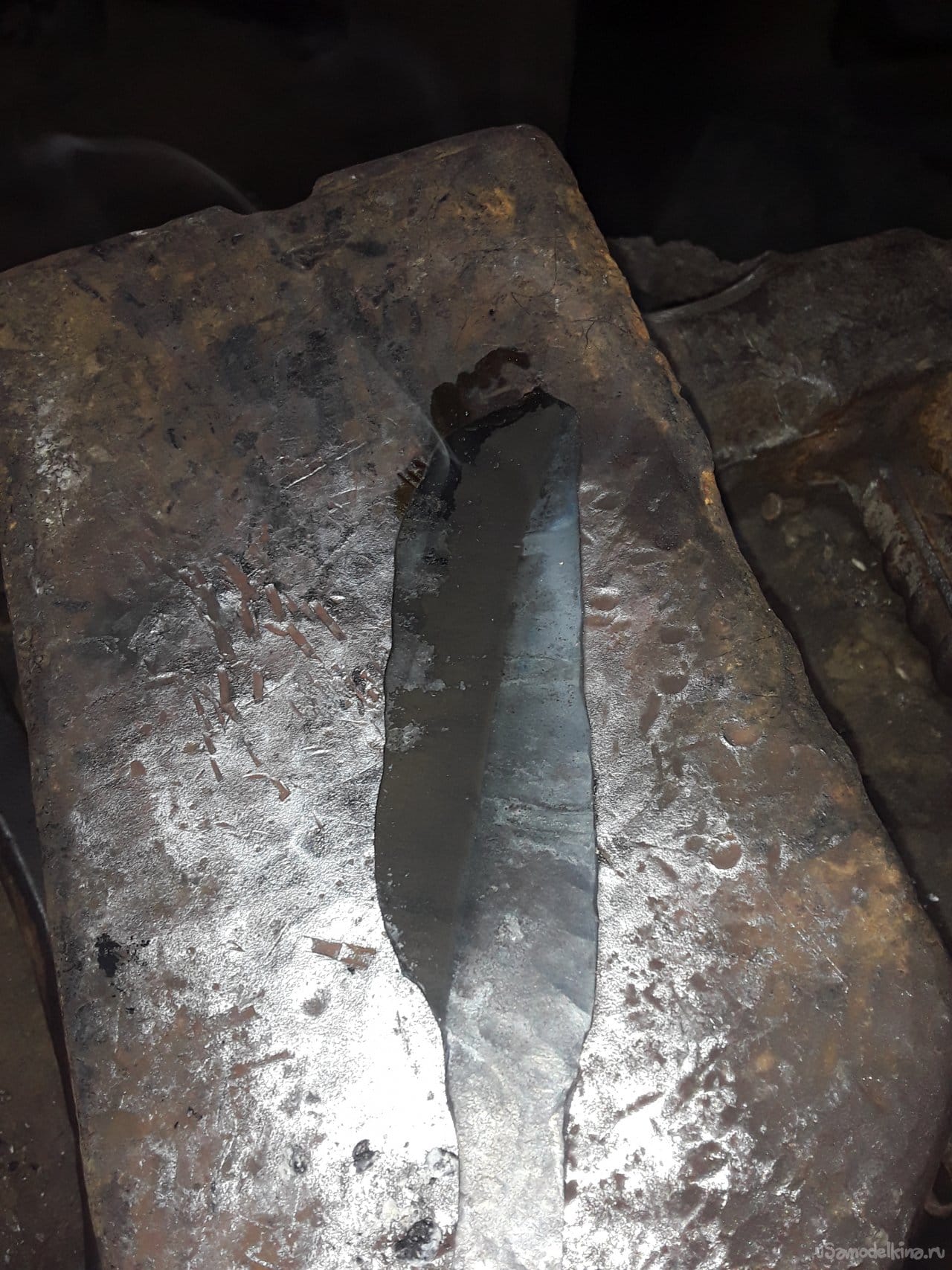 I make the handle of a knife from dried maple and boiled it in saline for 5 hours. For the bolster, I took a 5 mm aluminum strip, as if on occasion from an electrician friend. I cut off the cube I needed, drilled a hole and, for beauty, decided to fill it with a bat asterisk so for one thing and removed the gap between the blade and the bolster. I hammer the pipe onto the shank and proceed to the wood, dry, ready for processing, having made markings on the tree, drilled two holes of the required depth and prodded everything with a shelf, fill everything with epoxy glue, clamp it into a clamp and leave it to dry overnight. After drying, I transfer the desired shape of the handle on the tape. After grinding, I don't know what it's called, but I seem to cut out the back plate from the same plate, drill two holes and grease everything with glue with two nails and grind everything on the tape. That's all, the pen is ready, you just need to soak everything with linseed oil in a vacuum chamber for 2 hours. For Jan, that's all after the impregnation the wood has become stronger and more resistant to water and beautifully, and most importantly, it is comfortable in the hand.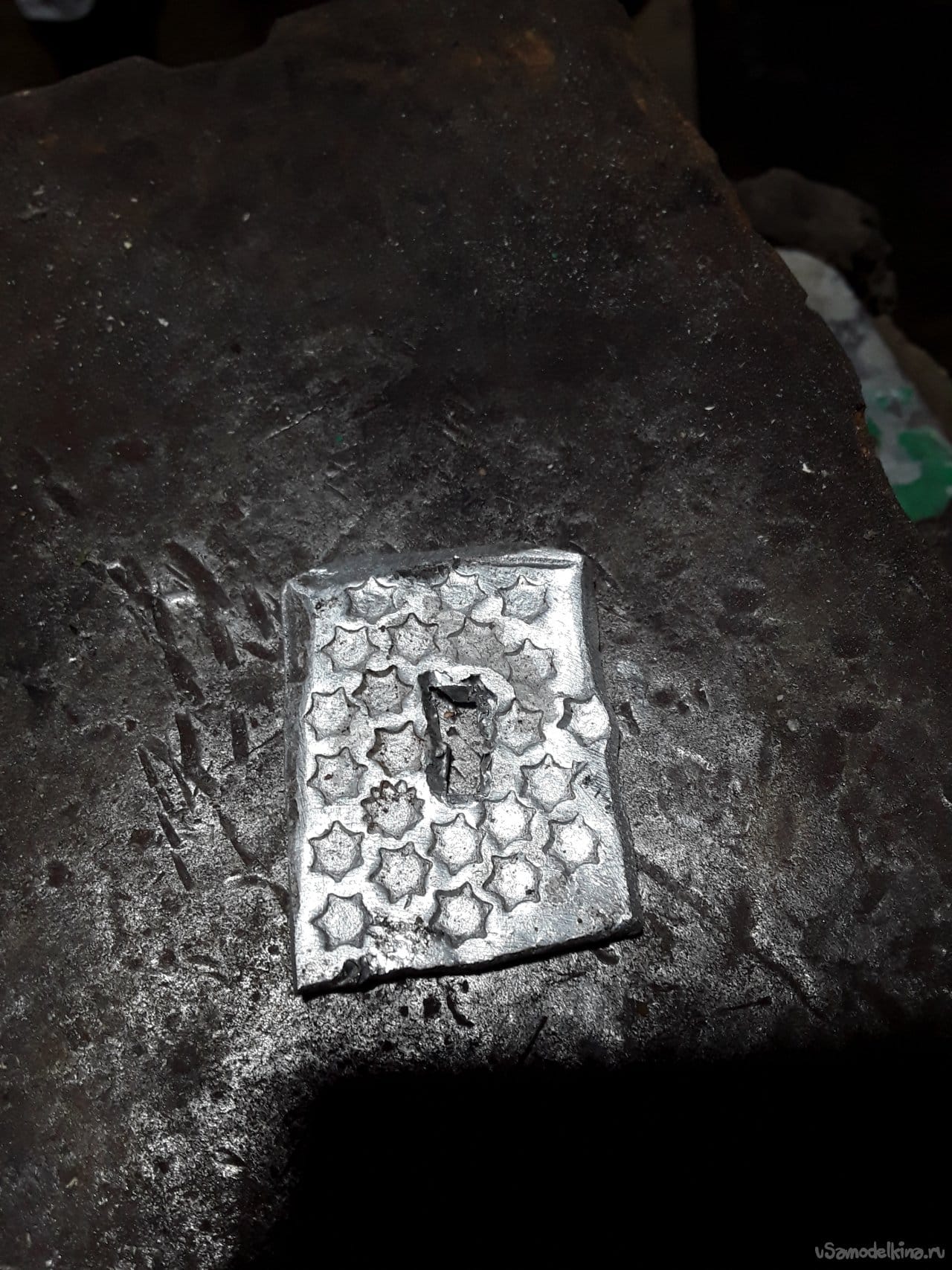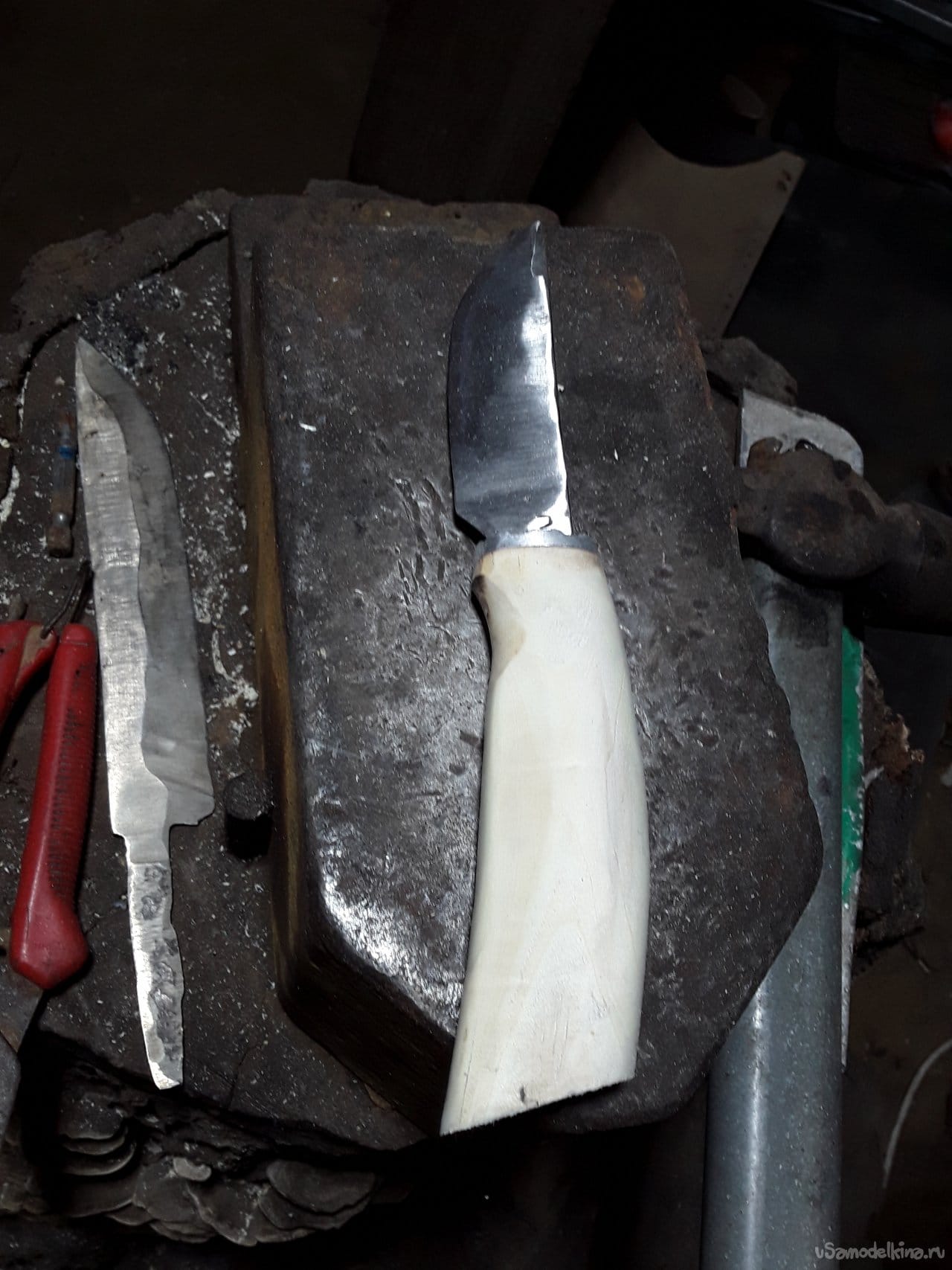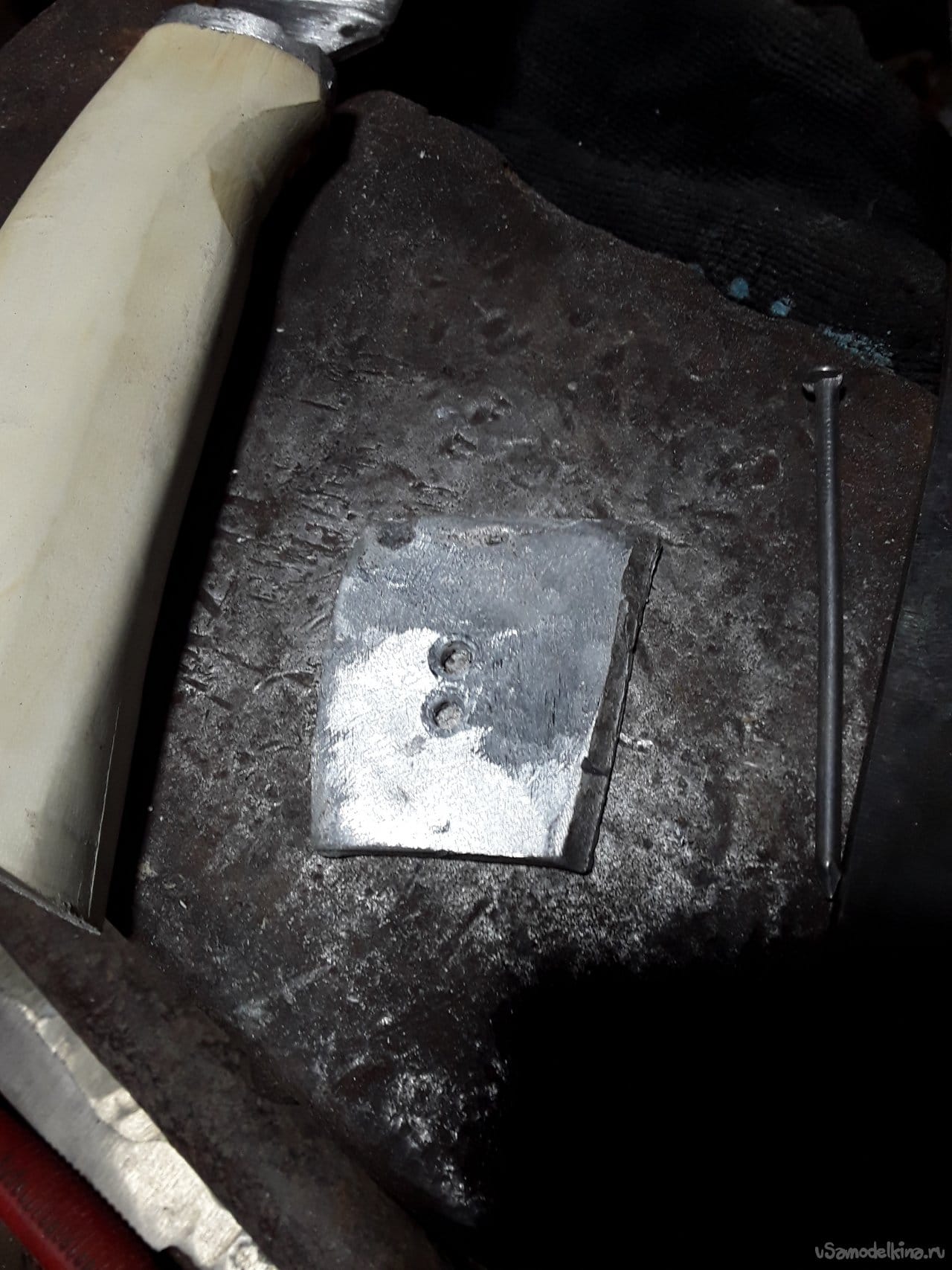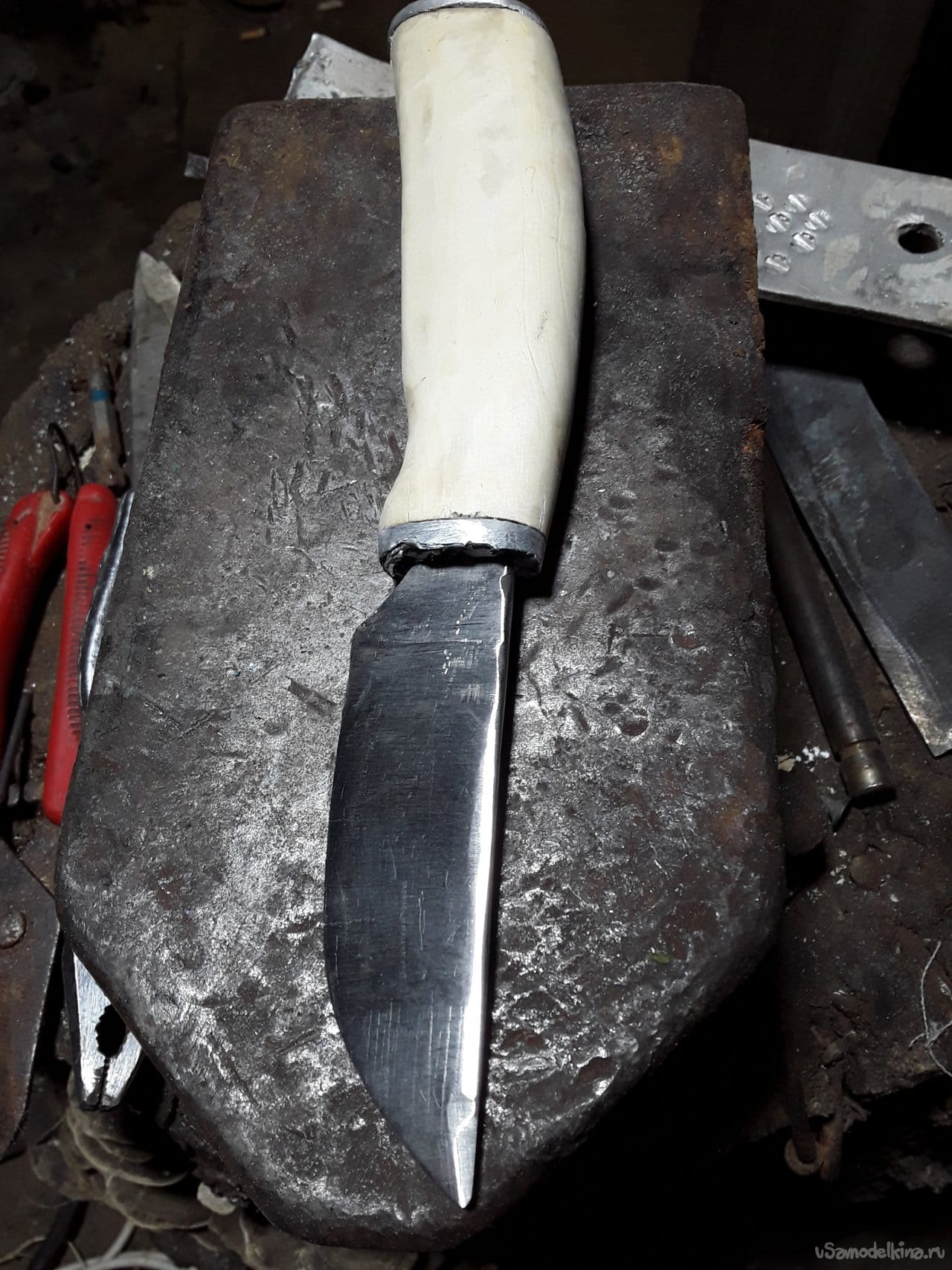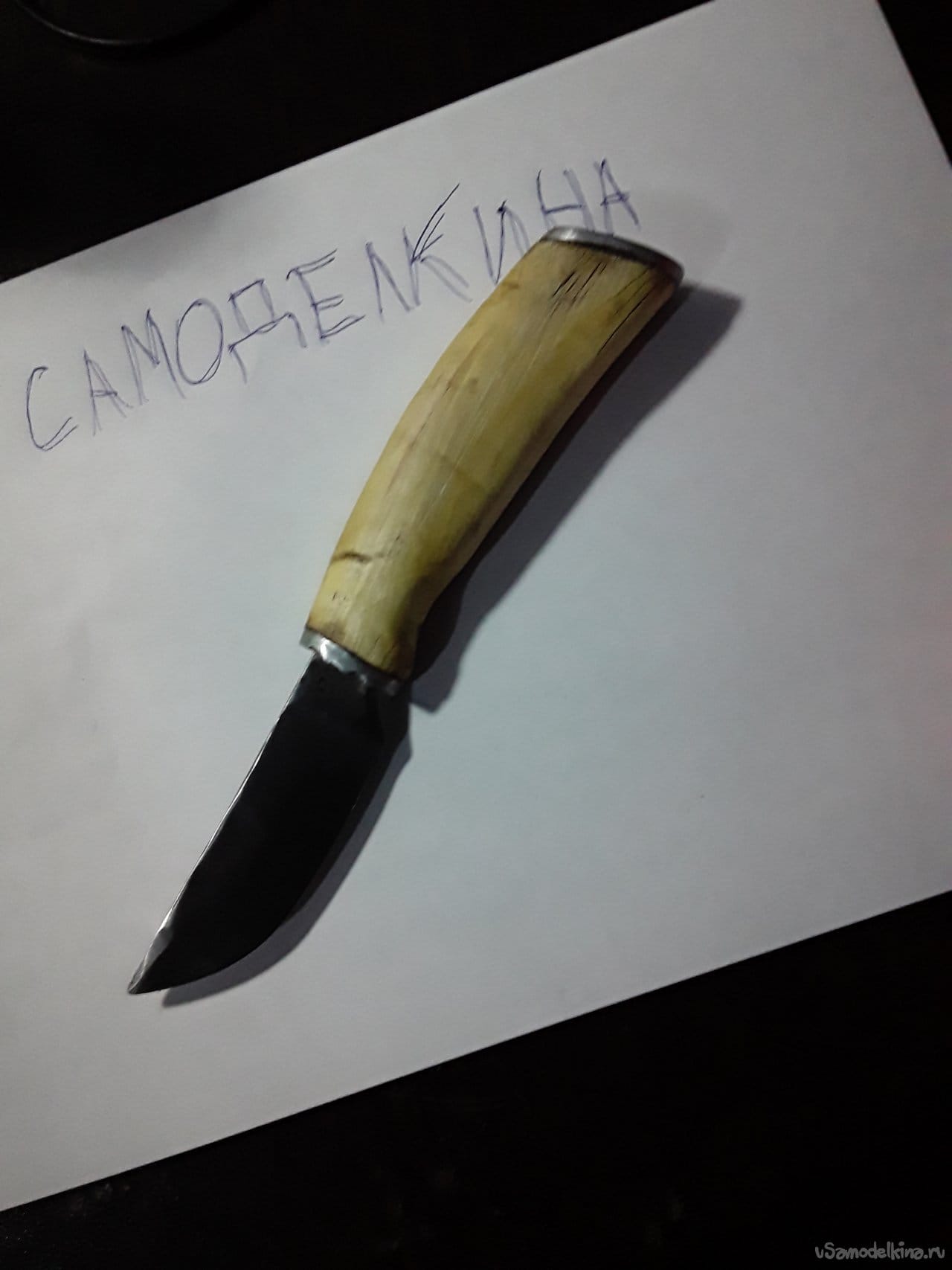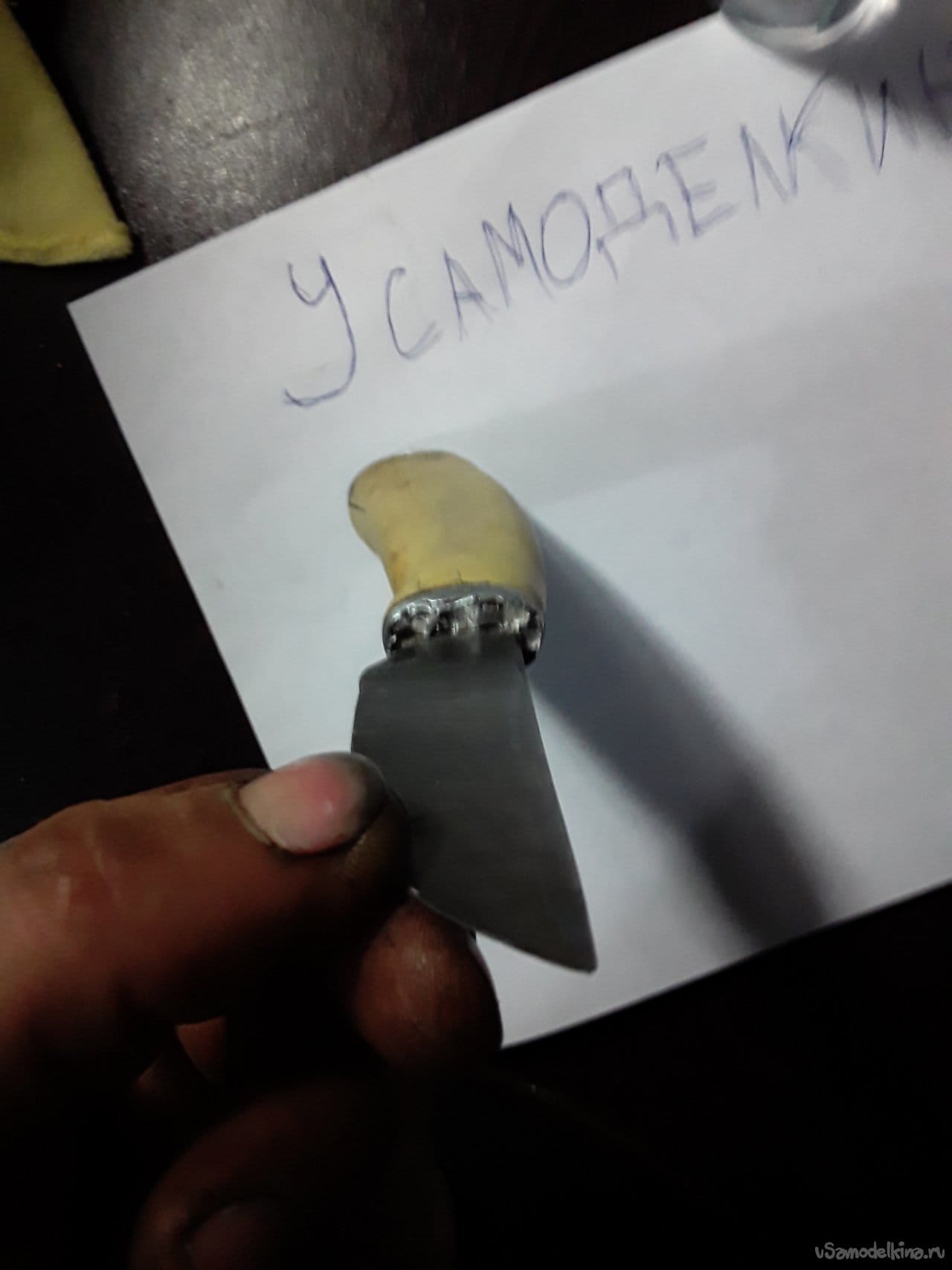 I almost forgot dear guests and colleagues, I need advice, when I kindle the forge by opening the damper, sparks fly out of the pipe, and I have a residential house next to it, what can you advise? On the Internet, I asked them to say buy a flame arrester, and he in my dear cut, can one of you give advice that you can make a pipe length of 2 m and a diameter of 300 mm yourself. I am afraid to kindle something lately, especially when I try to forge Damascus on charcoal, and it sparks very abundantly. Hope someone can tell me.
Thank you all for your attention, friends and see you new Homemade . Attention !!! This homemade product is posted for informational purposes only.
It is forbidden to create and use as cold weapons, according to Article 223.4 of the Criminal Code of the Russian Federation, imprisonment up to two years is threatened!