Attention !!! This homemade product is posted for informational purposes only.
It is forbidden to create and use as cold steel, according to Article 223.4 of the Criminal Code of the Russian Federation, imprisonment for up to two years!
Hello, today I want to show you how I forged a knife from a car spring, as well as try wood carving. I want to try carving a snake handle. I looked a little on the net and realized that the steel of the spring is that the steel of the spring is a low-alloy alloy, medium-carbon or high-carbon steel with high ductility. I took the spring from the old cornfield, I don't know what year it was on the territory of the metal acceptance. Yes, metal acceptance a lot of necessary things can be found, I like the blacksmith teski found in perfect condition, only cleaned the rust and that's it. Sometimes it becomes sad what kind of things people hand over a lot and go into recycling. At the reception I already know the hard workers already see interesting things and specially put it off for me, I take it with a small surcharge at the price of metal that can get a second life with my help.
Friends do not pass by such things, especially the USSR is better than the Soviet one in the world and never will be. Basically, for the manufacture of springs, springs in Russia, steel grade 60g or 65g is used. Steel for a knife is good, keeps sharpening, sharpens rarely, and the most important of its properties is even if the blade is bent, it takes its shape back, that is, elastic. The most significant disadvantage of 60g steel is that it rusts very quickly and requires special attention during care after each use, it is wiped off and stored in an oiled cloth or in a sheath. This steel has a high quenching temperature in the region of 700-900 ° C and further high tempering at a temperature of 150-250 ° C twice for 1.5 hours with cooling in the open air. 60g steel is mainly used for forging throwing knives or even swords where the strength of the blade is important, and not the preservation of sharpness. If all these conditions are met, the knife will take on a hardness of 40-45 units. I had work with a spring, but I have not yet forged with a spring. Although they are the same in composition, this experience is invaluable for practice. As soon as there was time I started forging.
You will need a tool
Ushm
Drill
Forging equipment
Green der
Ferric chloride
Materials
A piece of spring
Wood for the handle
Oil or impregnation
Burner for decorating the handle
Glue

Aluminum for the guard
Forging
I cut off 17 cm of the springs, heat them in the furnace and level them. Steel 60g has a forging temperature of 850 or 950 ° C in this range and is forging. Before forging, I draw a template with the dimensions of the future blade in advance, and in the future I adhere to it. I heat the rod in the forge and start forming a 4 mm thick strip. I begin to forge from the edge of the tip, after forging the bar into the strip, I make cuts for the future shank and cut off the excess from the tip. Then I hammered the slopes immediately and extend the blade wide. I plan to forge a blade with a blade curved at the top, I do not know how it is called correctly. Well, I almost unraveled when forging the blade, I try to pull the blade up. I cut off all unnecessary from the shank.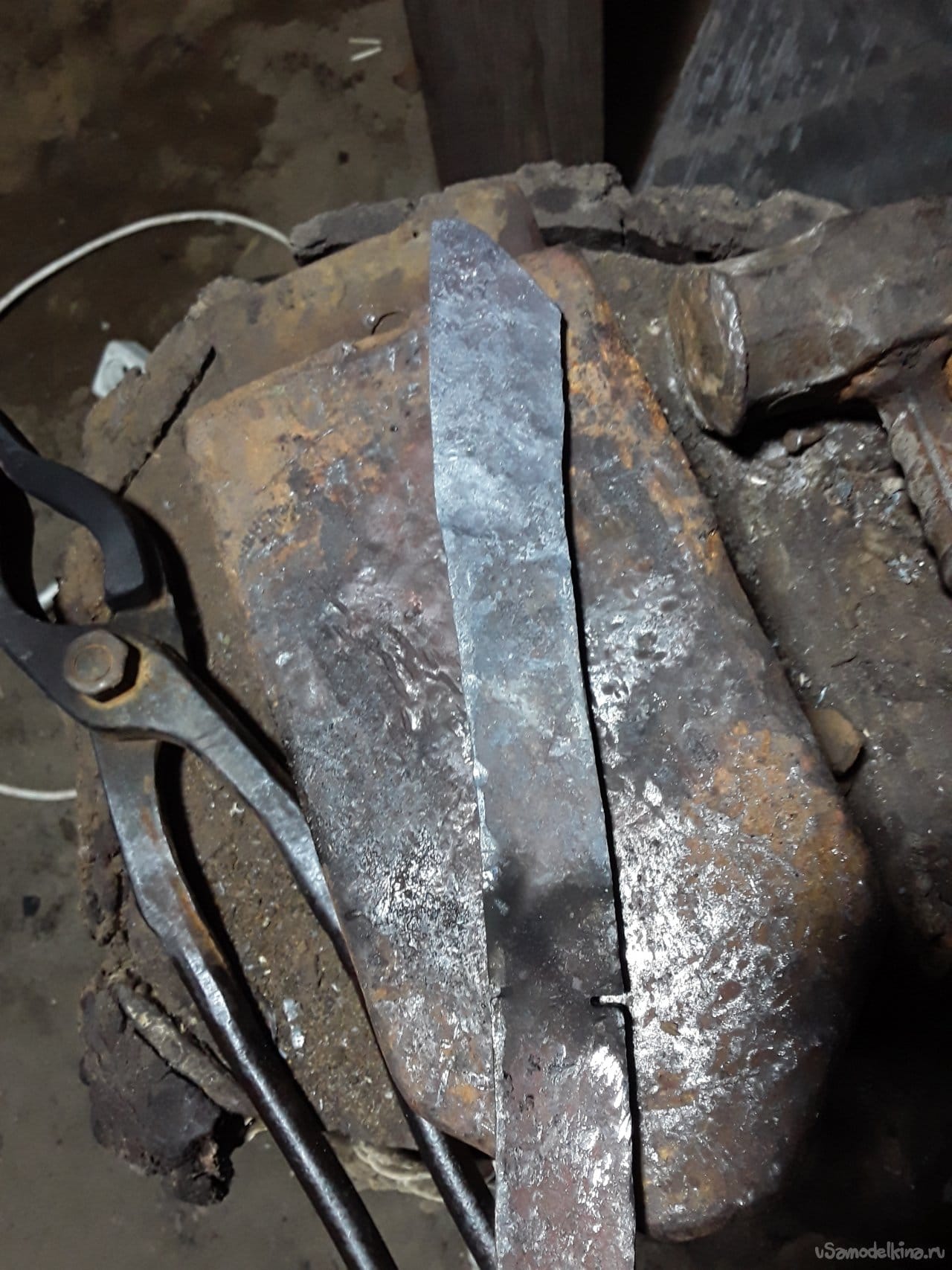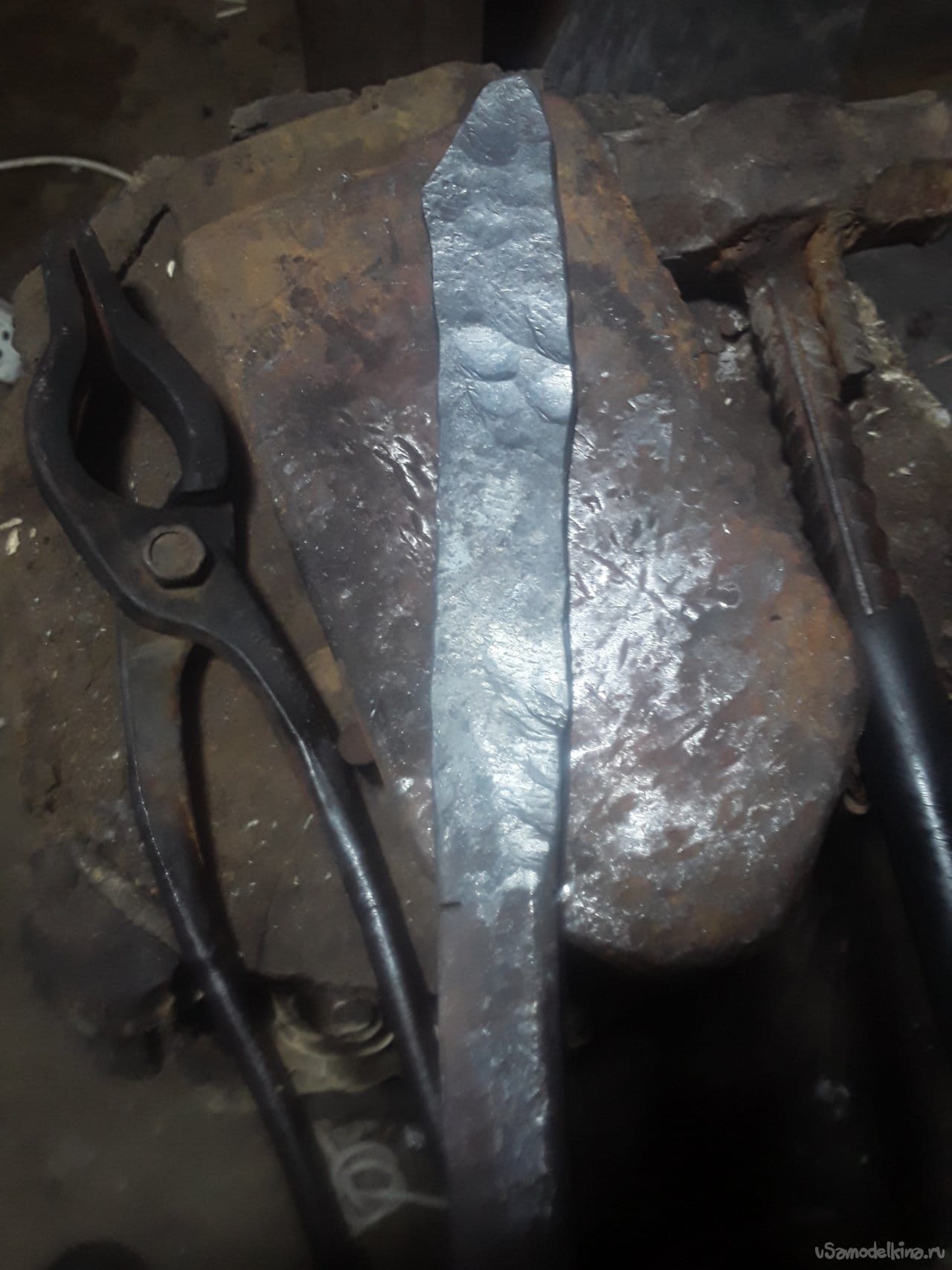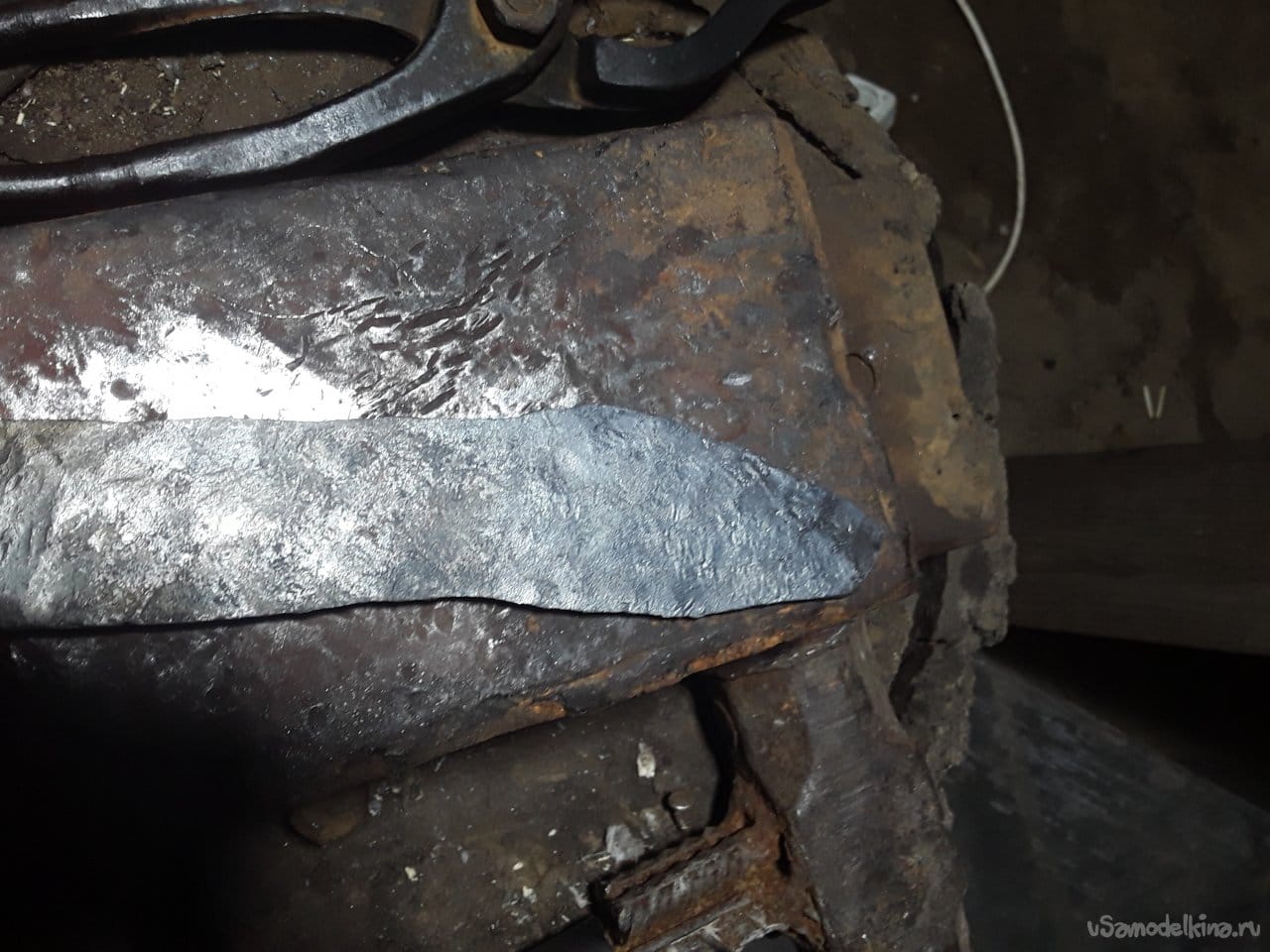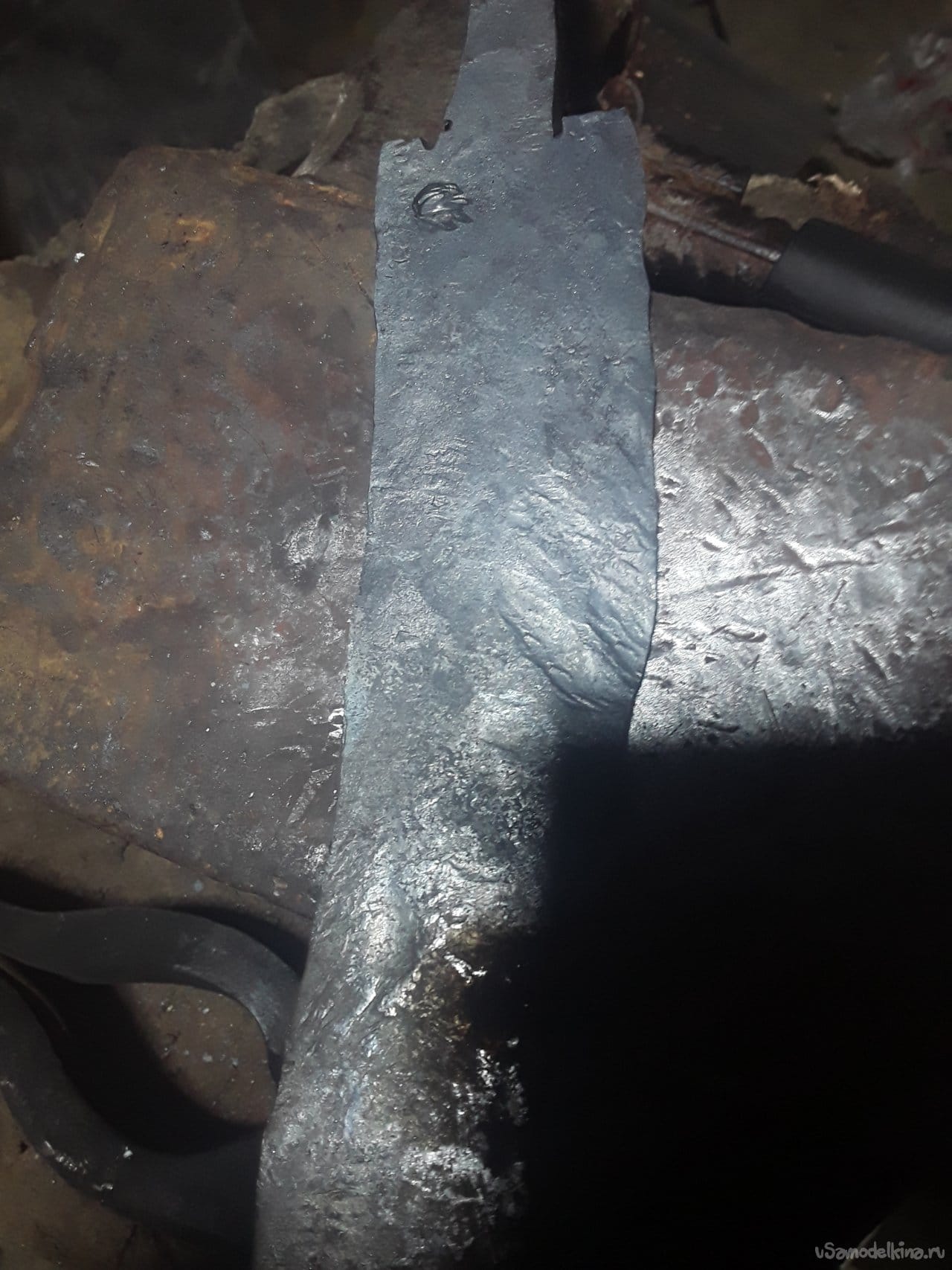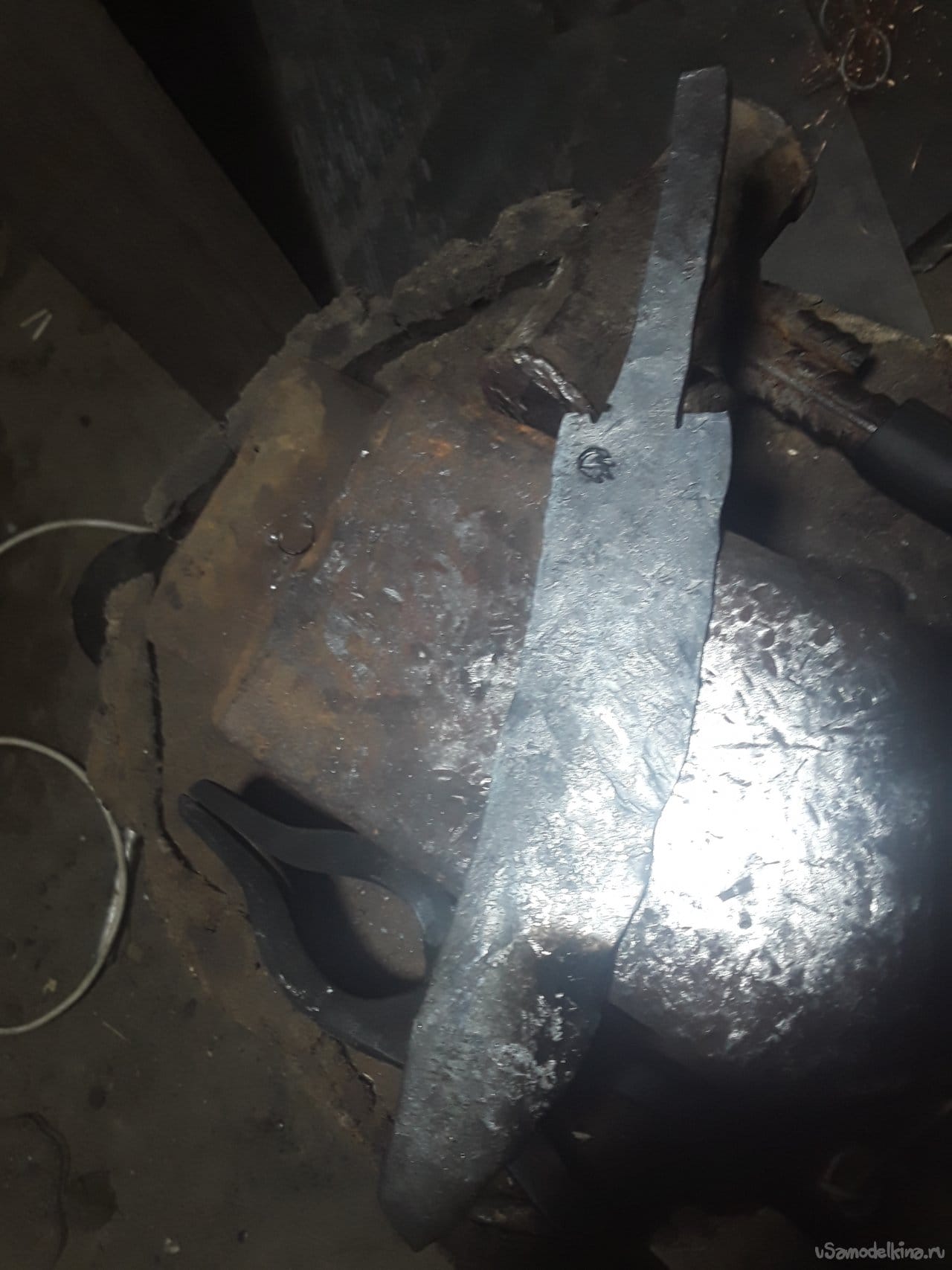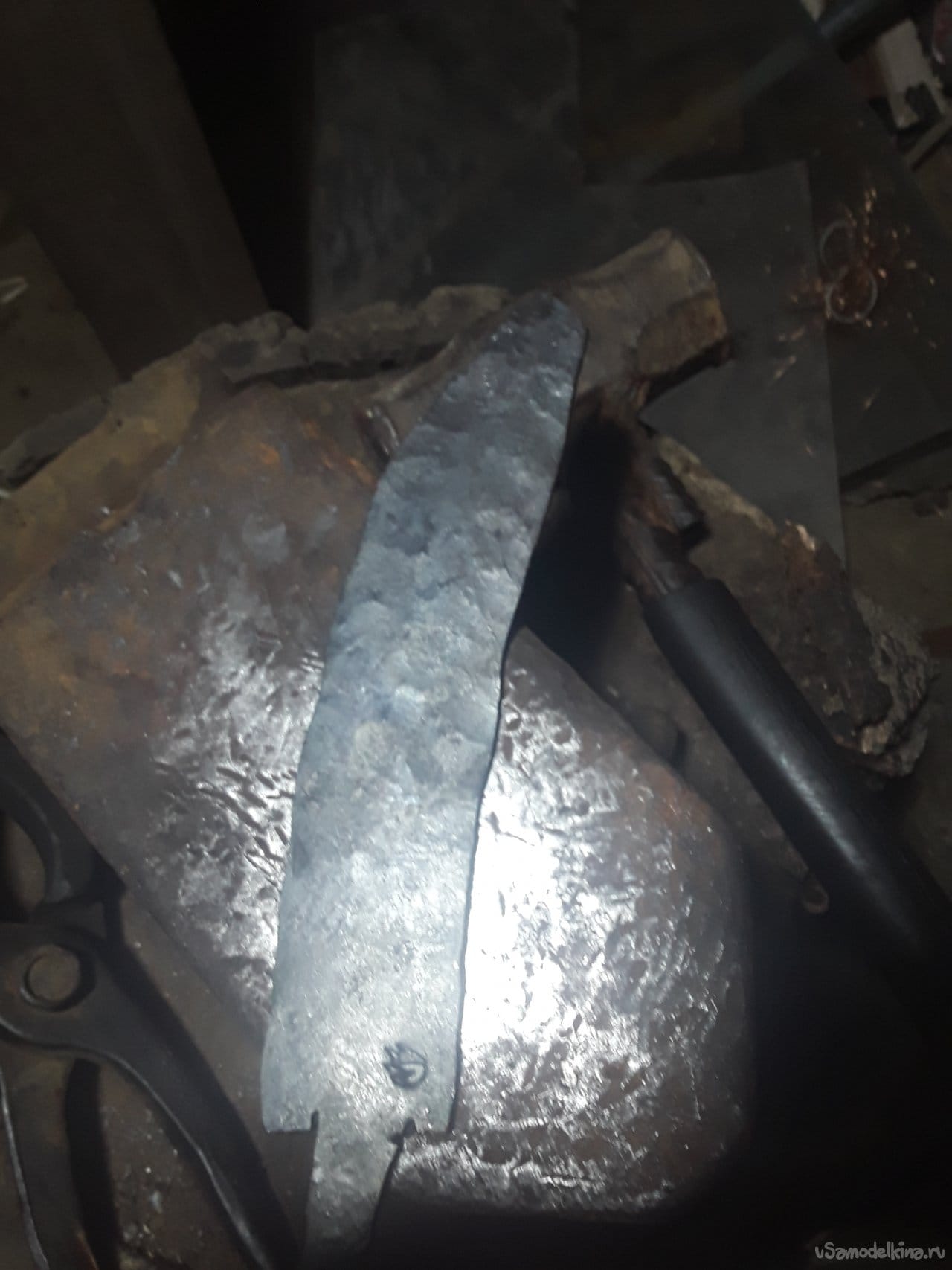 Stage # 2 Hardening
Hardening takes place in the region of 900 ° C – this is approximately the color of light yellow 60g, the steel does not particularly heat up until the glass is cut and after hardening the knife becomes elastic, and I need the burrow blade to be abrasion resistant in order to keep sharpening for a long time. In the network I found a way to harden the blade through oil into water. I pour water with table salt dissolved in it into a container and pour mineral oil into it. The oil rises above the water in an even layer so that the oil covers more of the blade than the water. Before quenching, it is necessary to ensure that the composition is heated to 40 ° C. I heat the blade to an approximate temperature of about 900 ° C, I hold it down when heated, as soon as everything is heated, I evenly harden the blade. That's all the hardening was successful after dipping, I clamp the blade in teski so as not to lead. As soon as the blade has cooled down on Green Deer, I grind the surface into a rough one and temper it in a muffle furnace for about 3 hours at a temperature of 450 ° C.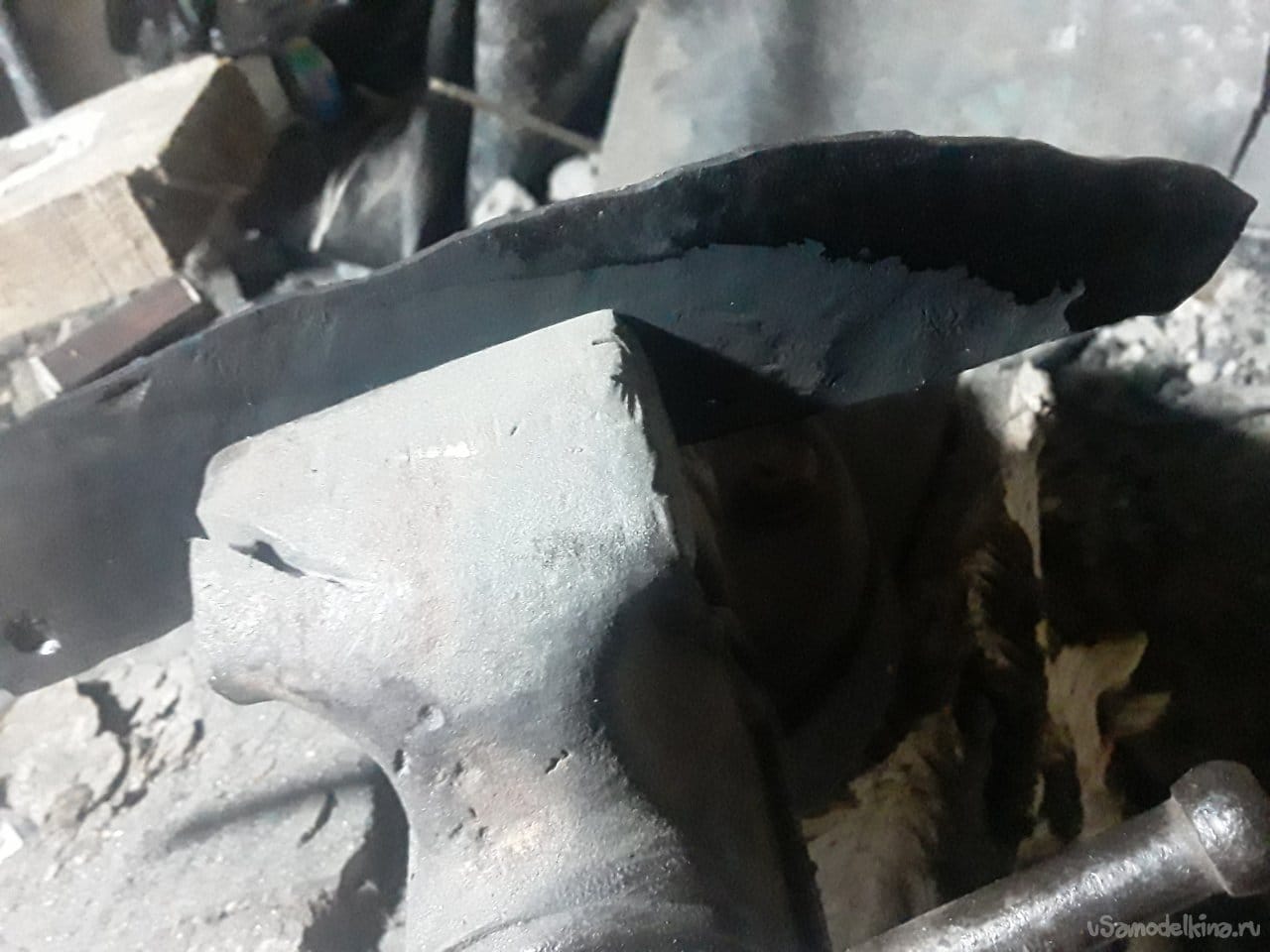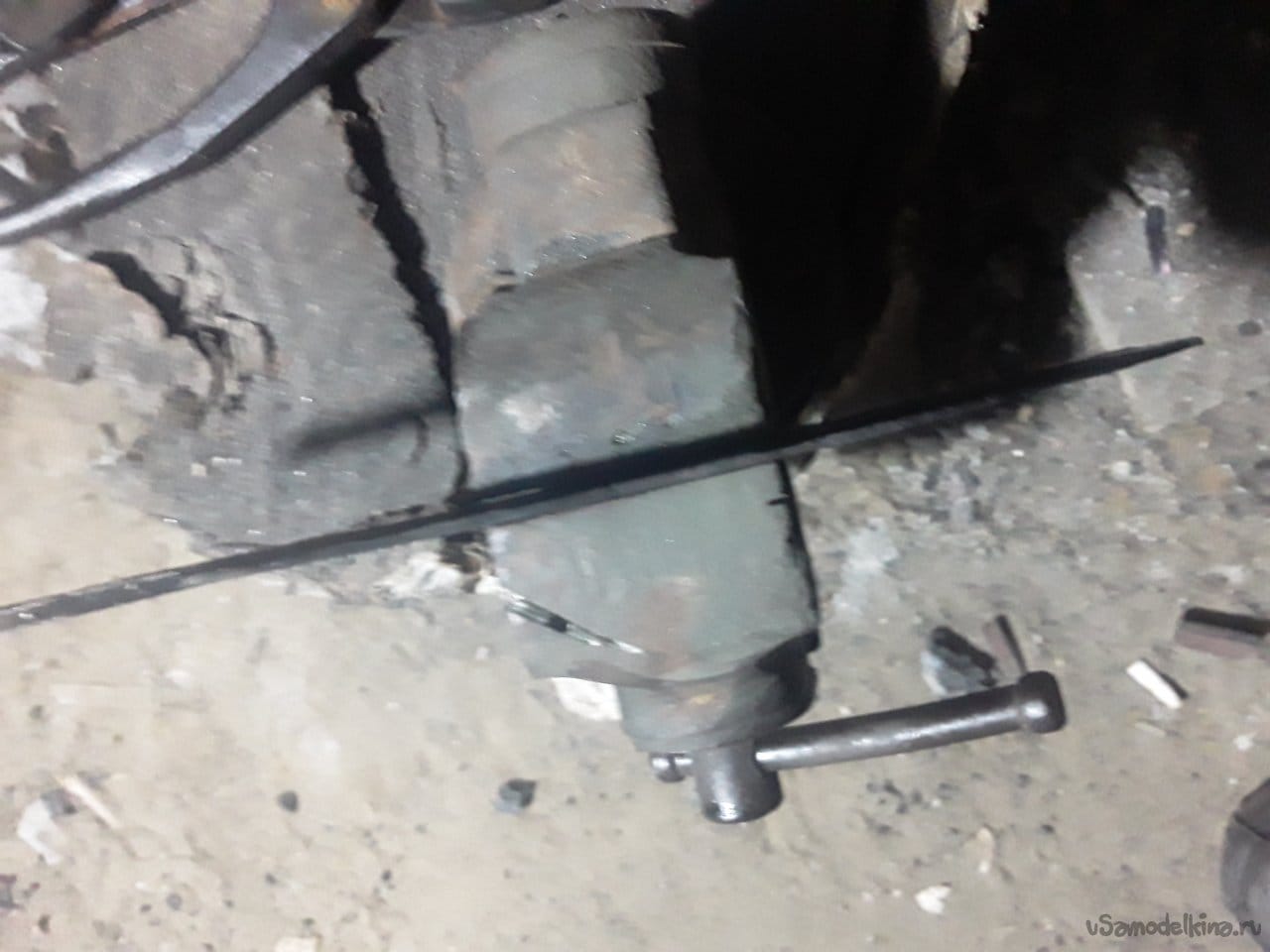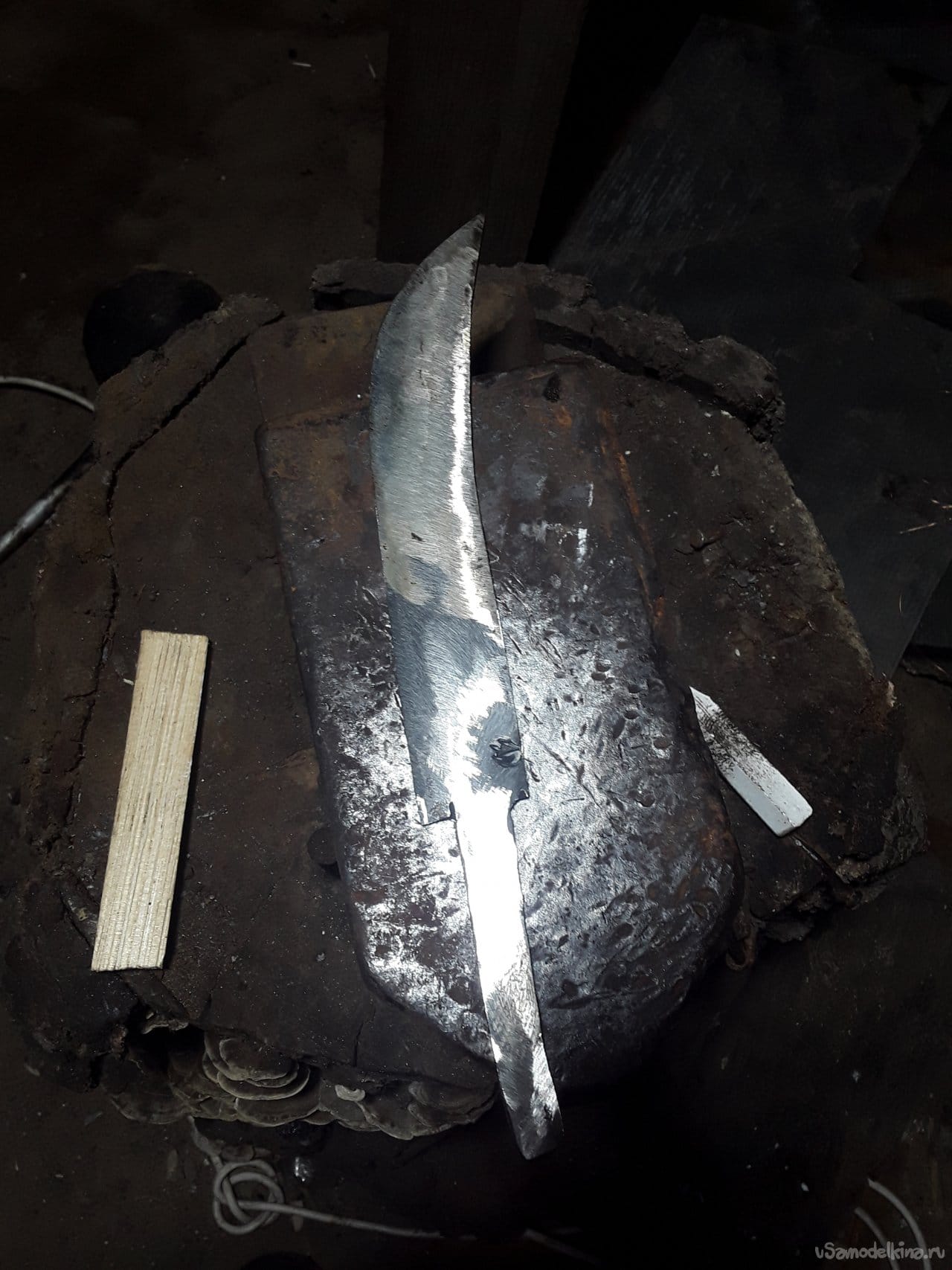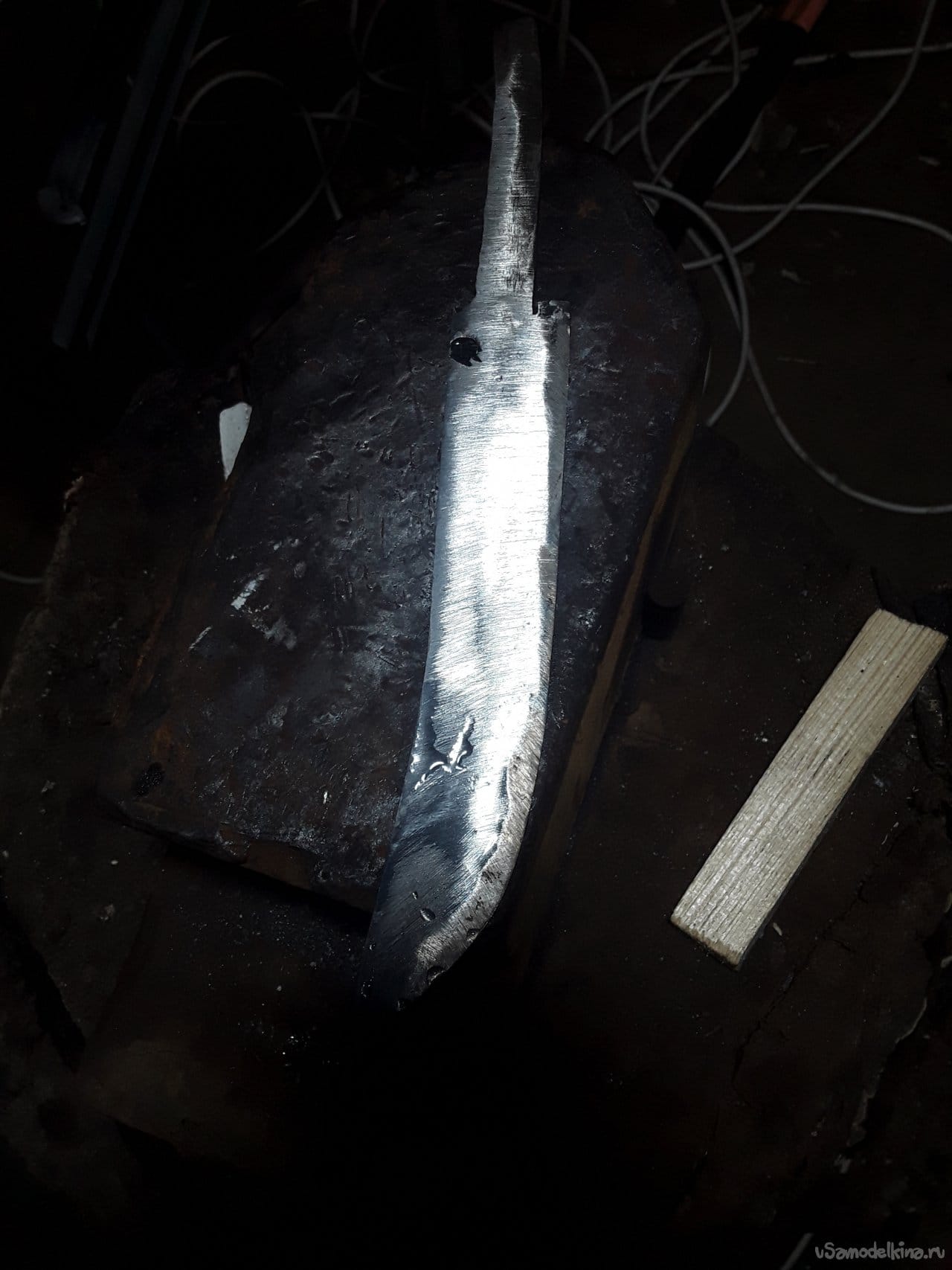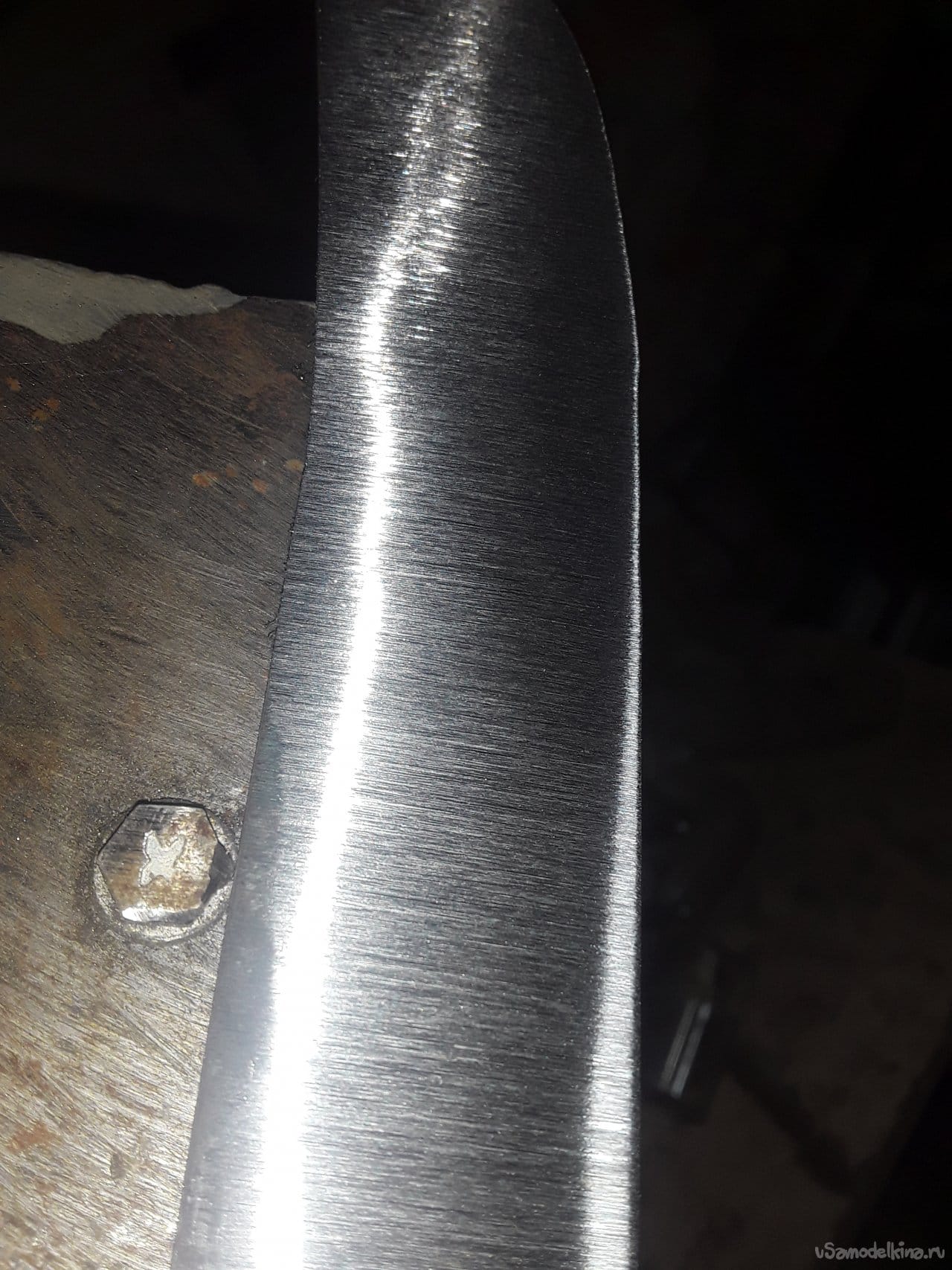 Stick Once I saw somewhere, then a knife with a handle in the form of a snake decided to try and make one for myself. Of course, it will not work out as beautifully, but something similar will come out. And so for the handle, I took a dried piece of wood like aspen and began to slowly carve out of wood a semblance of a silhouette of a snake for a long time, tormented by a knife, then an ax, and it seemed like the profile of a snake turned out. On the Grinder, I give the main look to the handle, and then I grind it with fine emery. Next, I draw scales with a pen, I wanted to cut out a drawing with a blade, but I caught sight of an old afterburner smoke instead of nichrome put a paper clip as I did not find nichrome and I burn everything according to the drawing. After all, I soak the handle in linseed oil with oak carafe for toning the wood color in a water bath. That's all with wood processing. To mount the handle, I mark the shank and drill a hole. For the guard, I took two pieces of 5 mm aluminum, drilled a hole and proceeded to install the handle. Clutching the handle in a vice, I spill it and coat everything with glue, put everything in place, clamp it with a clamp and leave it to dry overnight. While it dries, etch the blade in iron chloride, blackened it so that it would not rust.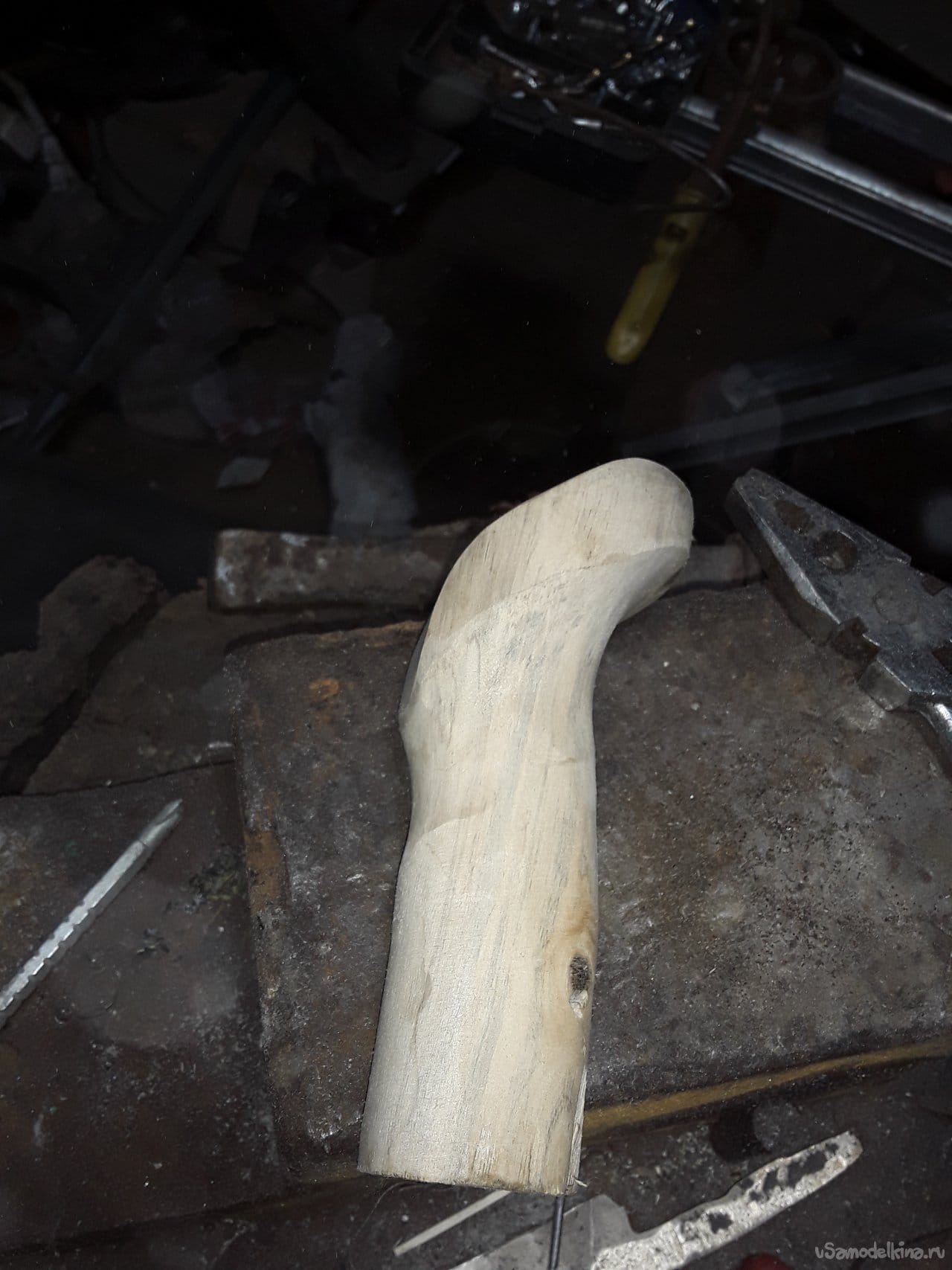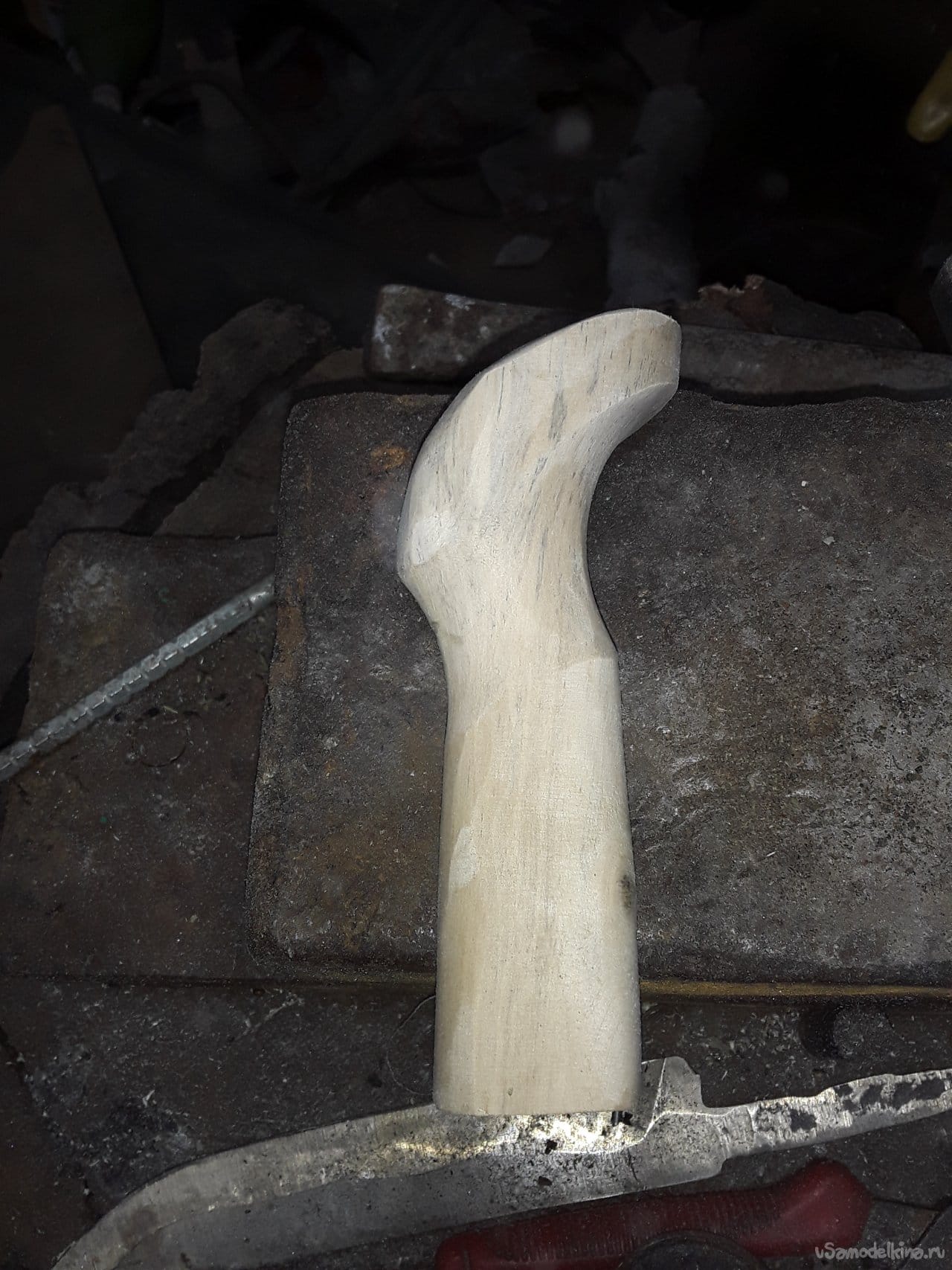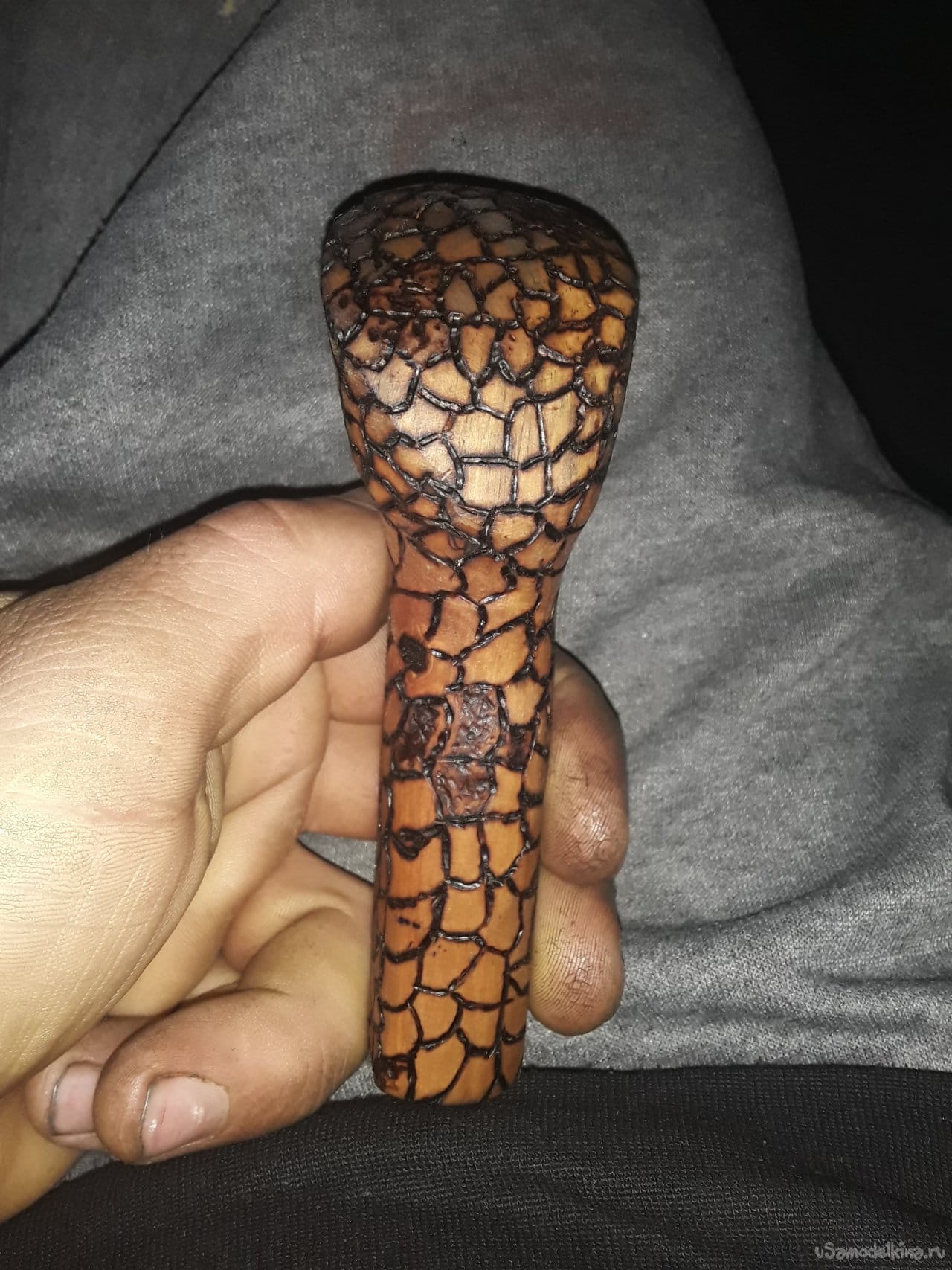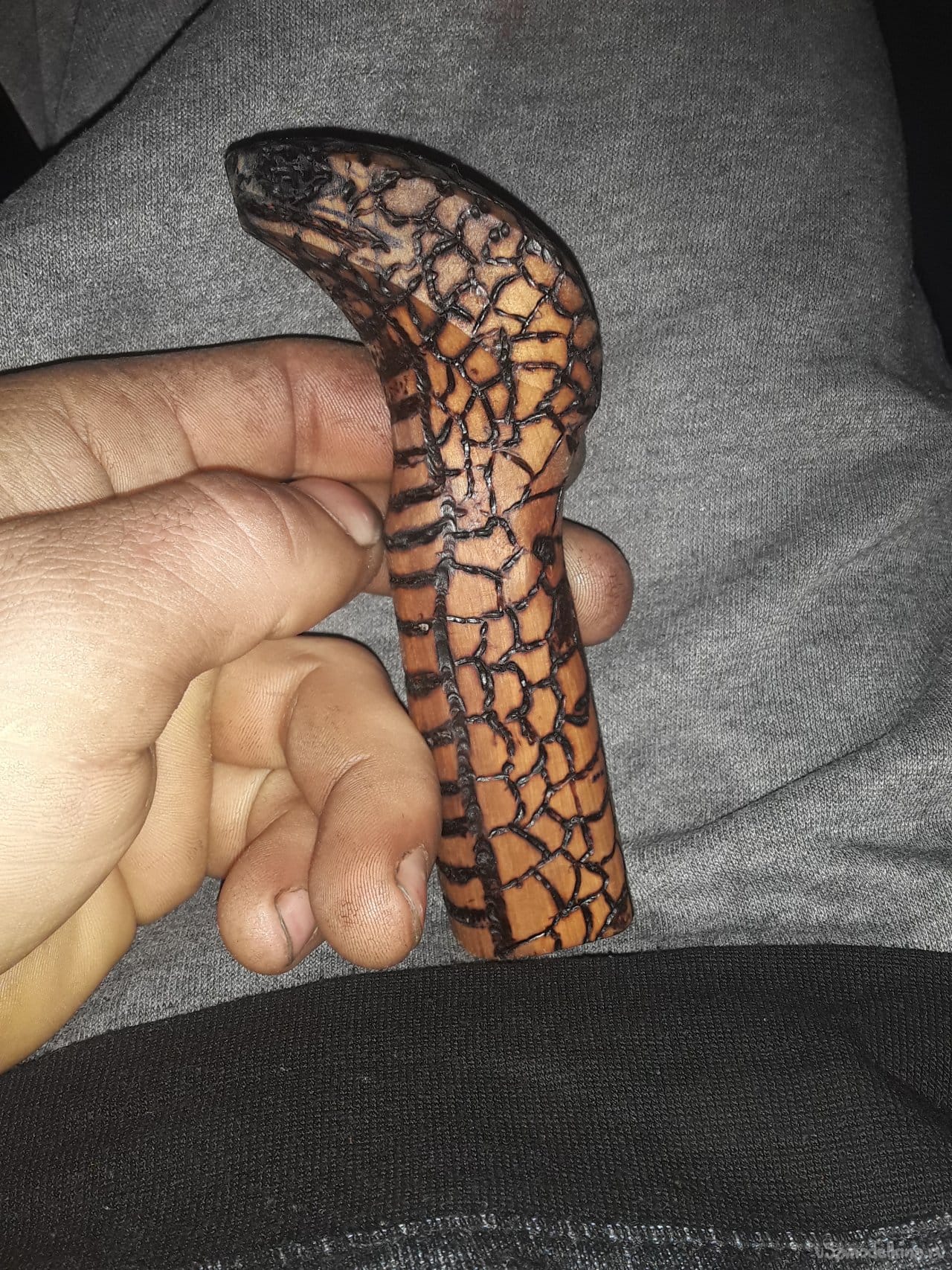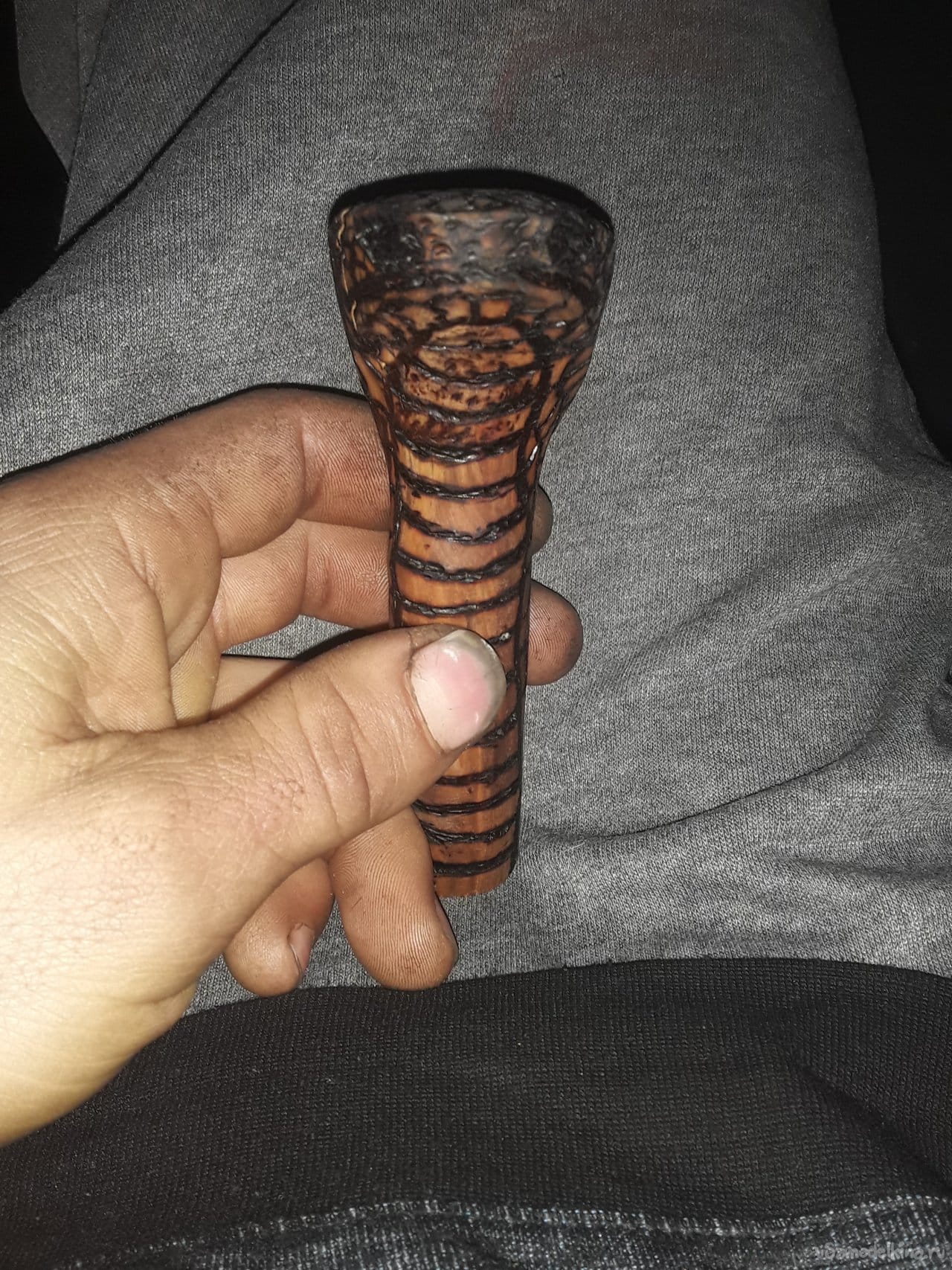 In general, steel for a knife is not special, but depending on what you need a knife for, if you need a knife for working in the kitchen, then such a knife is only a disposable toy. For the kitchen, you need to select stainless steel. Well, this knife is suitable for technical needs where it is not a pity. I did not polish it because it is useful for 2 cuts and he etched black in a weak solution so that the color was gently matte, so I will prolong his life at least a little. After all, I impregnated the handle with varnish and matted it so that it was not slippery next time I will not burn it out, but I will try to cut it with a chisel so it will be more beautiful, well, this is another article. That's all for today the knife is ready after just polishing the blade a little with 2000 paper a little bit dark blade and the handle darkened from oak. The handle is comfortable straight in the hand, in general, all friends are on it until new Homemade !!!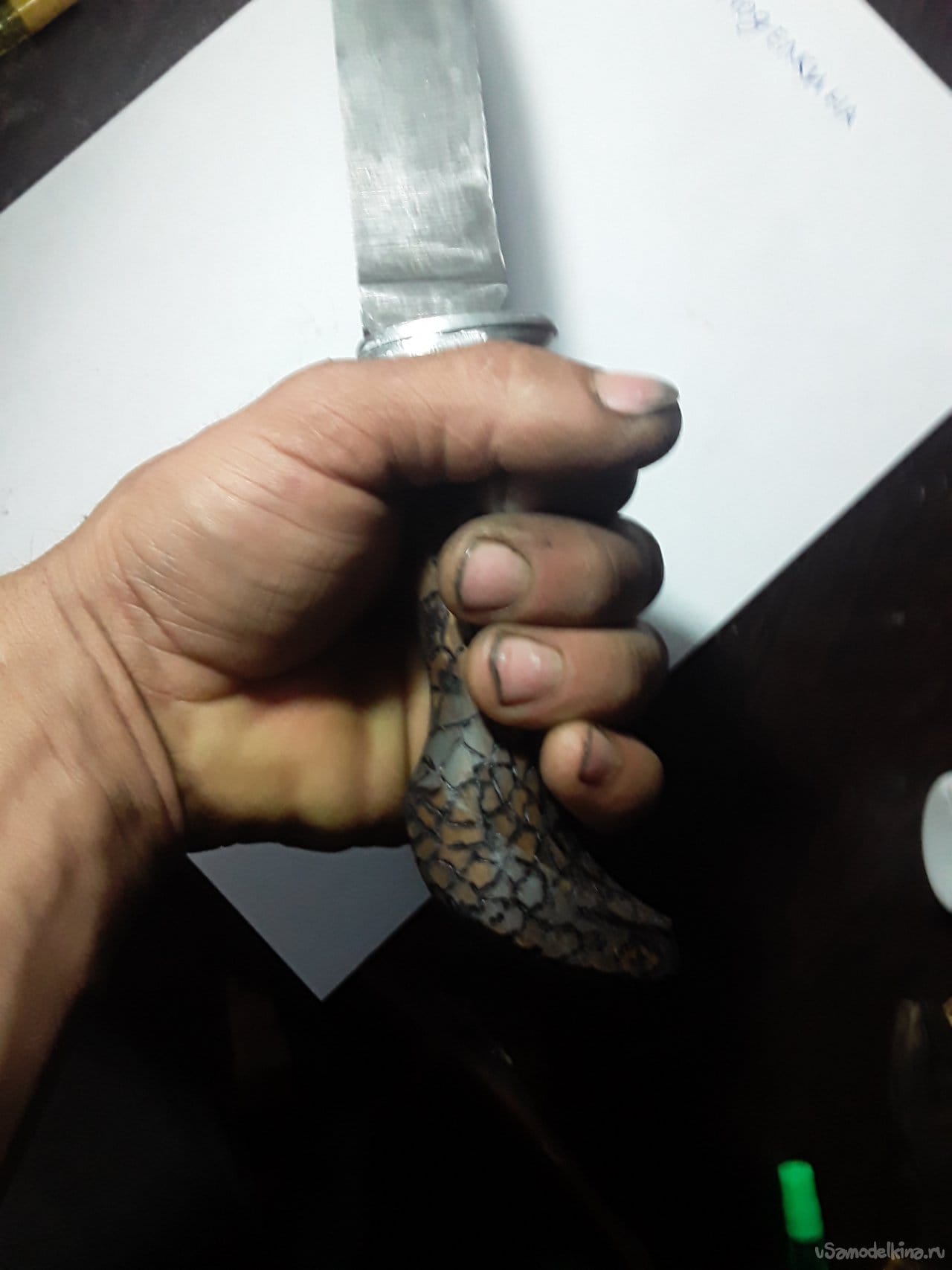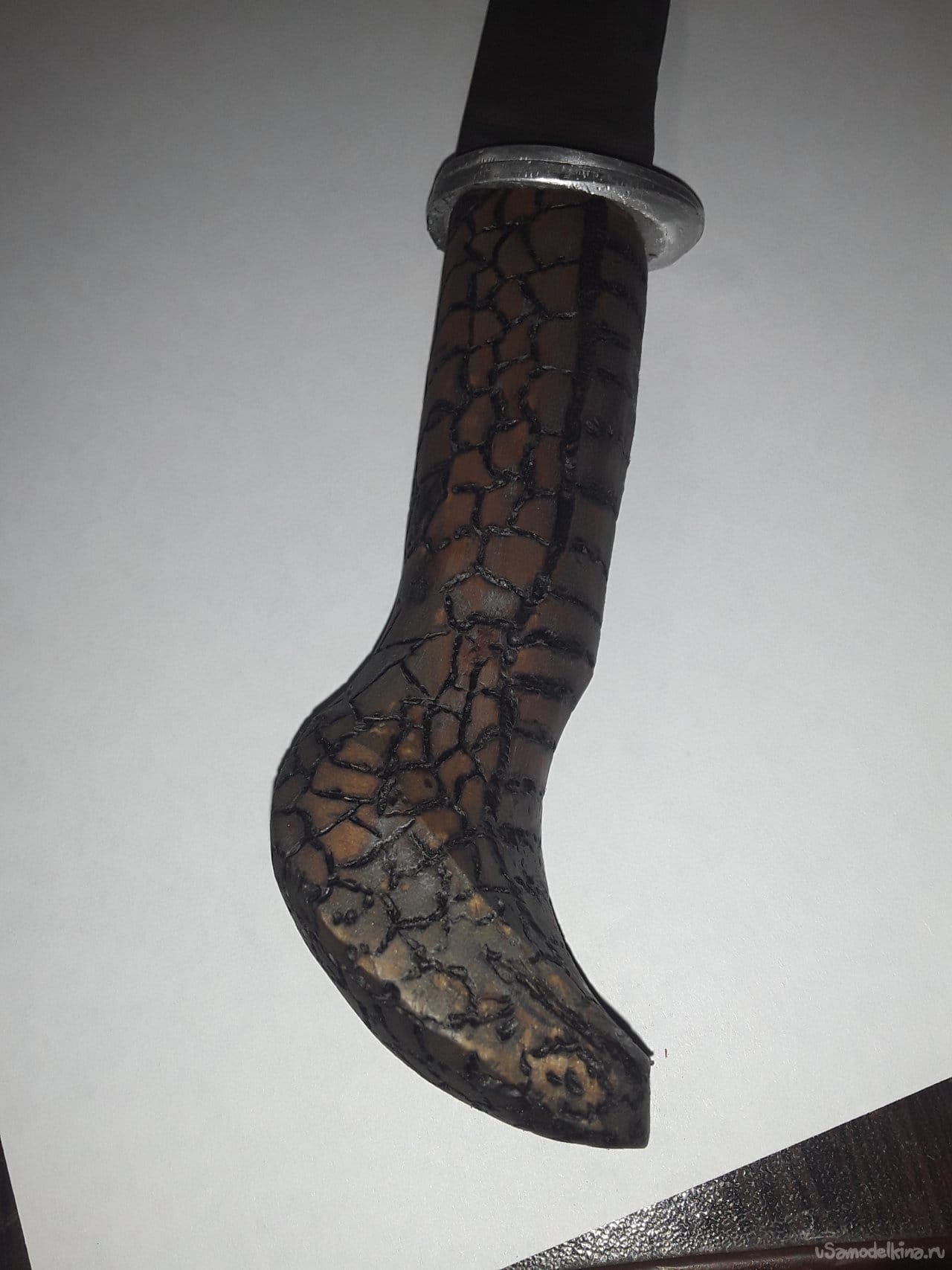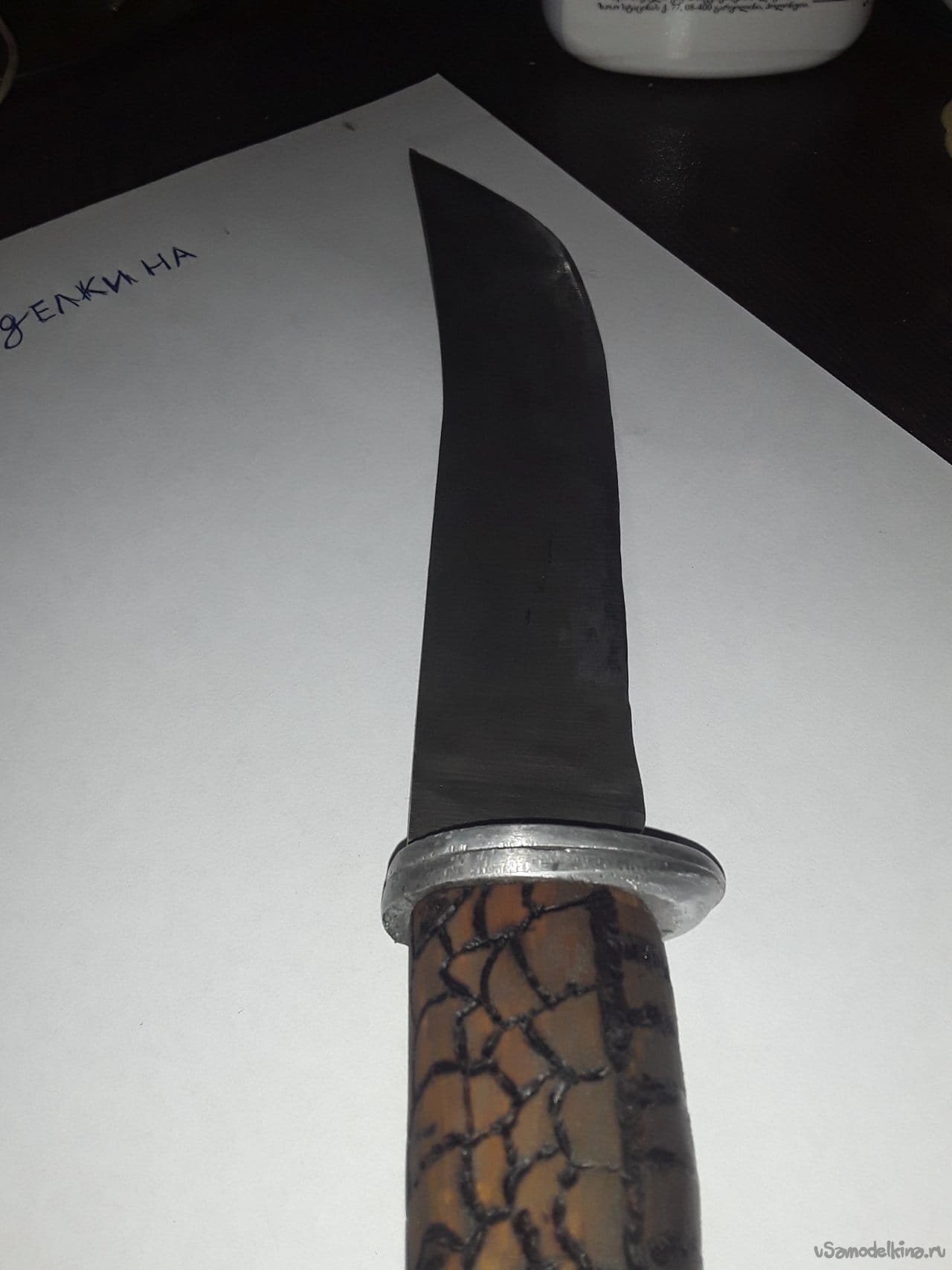 Attention !!! This homemade product is posted for informational purposes only.
It is forbidden to create and use it as a cold weapon, according to Article 223.4 of the Criminal Code of the Russian Federation, imprisonment for up to two years!