Asia
Miners rescued: Is China's mining industry becoming safer?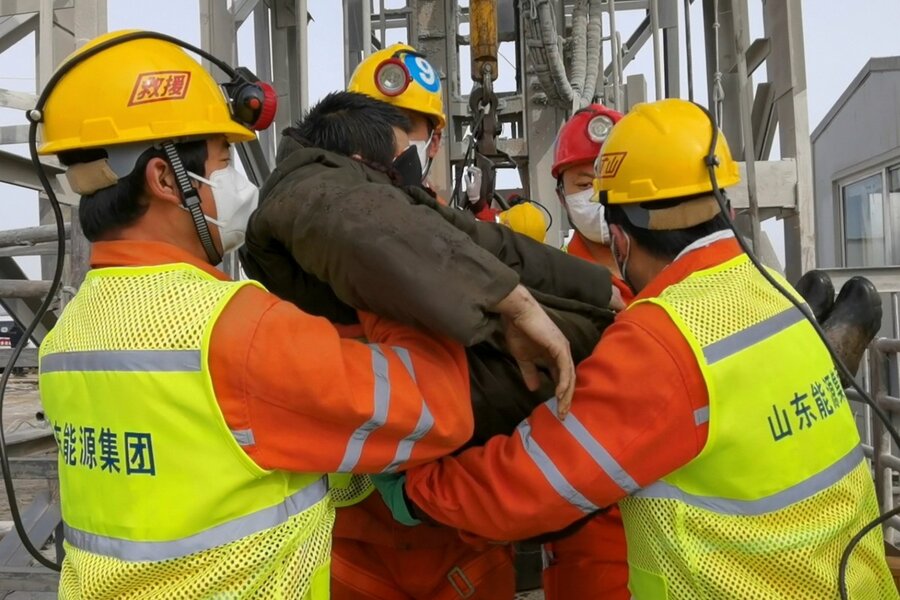 Eleven workers trapped for two weeks inside a Chinese gold mine were brought safely to the surface on Sunday, a landmark achievement for an industry long-blighted by disasters and high death tolls.
State broadcaster CCTV showed workers being hauled up one-by-one in baskets on Sunday afternoon, their eyes shielded to protect them after so many days in darkness.
Some brought their hands together in gratitude and many appeared almost too weak to stand. They were swiftly covered in coats amid freezing temperatures and loaded into ambulances.
Hundreds of rescue workers and officials stood at attention and applauded as the workers were brought up from the mine in Qixia, a jurisdiction under Yantai in the eastern coastal province of Shandong.
One worker was reported to have died from a head wound following the explosion that deposited massive amounts of rubble in the shaft on Jan. 10 while the mine was still under construction.
Truth, lies, and insurrection. How falsehood shakes democracy.
The fate of 10 others who were underground at the time is unknown. Authorities have detained mine managers for delaying reporting the accident.
The cause of the accident is under investigation but the explosion was large enough to release 70 tons of debris that blocked the shaft, disabling elevators and trapping workers underground.
Rescuers drilled parallel shafts to send down food and nutrients and eventually bring up the survivors, 10 of whom had been in a lower chamber and one in a separate area slightly closer to the surface.
The official China Daily newspaper said on its website that seven of the workers were able to walk to ambulances on their own.
Such protracted and expensive rescue efforts are relatively new in China's mining industry, which used to average 5,000 deaths per year. Increased supervision has improved safety, although demand for coal and precious metals continues to prompt corner-cutting. A new crackdown was ordered after two accidents in mountainous southwestern Chongqing last year killed 39 miners.
But The South China Morning Posts reports that some mining industry observers are skeptical of claims of improved safety in 
China's mines.
In China, mining accidents are common though authorities say safety has improved and they have declined significantly in the past two decades. There were 573 mining-related deaths last year – down from about 5,000 fatalities 20 years ago, according to the National Mine Safety Administration.

Han Dongfang, director of worker rights advocacy group China Labour Bulletin, said the decrease in mining accidents was likely due to the closure of small mines, which usually had poorer safety records, and the use of imported coal, rather than an improvement in safety practices.

"From the work we've done in the past few years, talking to labour unions in China and trying to hold them accountable, our observation is that the workplace safety monitoring has not changed at all," Han said. "One of the most important reasons for the drop in coal mining accidents is the reduction in coal production in China."

Since 2014, China has been steadily closing coal mines with an annual production of less than 300,000 tonnes because of environmental and safety concerns. In 2019, the proportion of the national coal output produced by these mines fell to 5 per cent – down from 22 per cent in 2010, according to the mining safety watchdog.