Lifestyle
New Cupra crossover has premium looks and performance – and now comes with a plug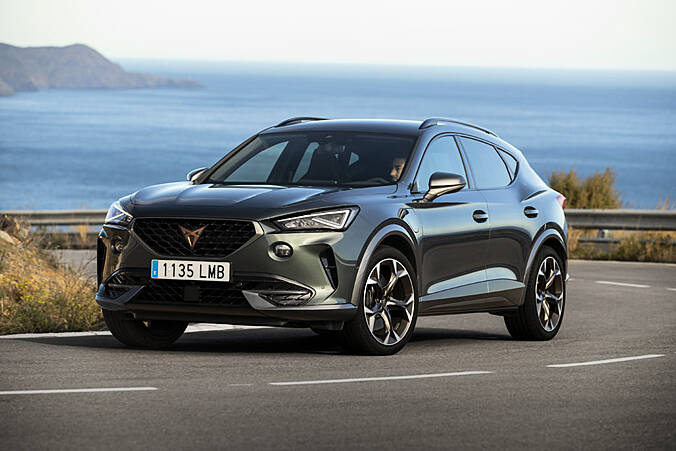 Cupra, the new performance brand spun out of Seat, has added a plug-in hybrid to its new Formentor crossover range. While many Irish motorists are still only hearing about the brand, the VW-owned marque is already busy adding to its fleet.
For those who missed the memo, grab a coffee, and I'll walk you through this.
Cupra was the performance arm of Seat (think of it as Spanish for GTi). Then some bright spark – an Italian actually – decided it should become a standalone brand, targeting those looking for a sportier, more stylised quasi-premium car.
Its first foray onto the market was in the guise of revamped Seat models (unsurprisingly), but now with Formentor, we have something built specifically with Cupra in mind. And it suggests great promise for what's ahead.
Just to complicate matters, Cupra now has a performance line-up for its range, known as VZ (think GTi, again). For the Formentor model, it will be called the VZ5, though it's only available in left-hand drive.
While classes and wallcharts will be needed to keep track of all this for anyone who cares, suffice to say you have a great looking car with a premium cabin and ample on-road performance.
From its sharp lines and creases to its top-end cabin, the Formentor is a welcome alternative to the boxy copycat crossovers currently on the market, including those from sister brands in the VW camp.
First up for Formentor was a growling 310bhp version, alongside a more sensible 1.5-litre 150bhp version. Now they've added what's likely to be the sweet spot for Formentor sales: a plug-in hybrid with a nice mix of power and eco-friendliness.
Plug-ins
Two PHEV variants are offered: either 204bhp priced from €39,895 after the SEAI grant for private buyers, or 245bhp at €50,130 after the grant.
While that seems like a massive price walk for 41bhp, you do get a host of additional standard equipment, including 19-inch machined alloy wheels, aluminium pedals, bucket seats, dynamic chassis control. And those extra horses, of course. That is a lot of cash though, so the 204bhp seems like best mix to lure in curious Irish buyers.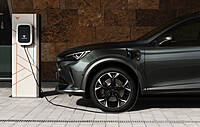 We managed a decent electric-only range from our PHEV test car, but the true sense of fun in this car came when it flitted between engine and electric to maintain a performance feel in 'Cupra' mode.
In terms of practicality – as we've already mentioned in an earlier review – there's a big boot and a lot of rear legroom.
Out on the tarmac, there's a lovely balance of grip and sharp steering. We initially tried the all-wheel drive 301bhp powerhouse that's got a hypnotic growl to add to the mix.
This time in the PHEV we got a flavour of what the electric future might mean for this brand. And that's really were its future is at: next up will be the Cupra el-Born, an all-electric hot hatch.
Different angles
After two different forays in the Formentor, I've finally got my head around this car and the brand. Basically it can be viewed from two angles. One is as an expensive Seat, albeit with proper premium finish and some lovely design touches. The other is as a better value alternative to an Audi.
I started out looking at Cupras through the Seat lens, but now I've come to see it through Audi eyes.
When you consider the performance, handling and finish of the Formentor, it actually seems like an eminently sensible buy, even at €40,000. Shop around for a high-end crossover of similar space, grace and quality, and you'll be left with little to show for your efforts.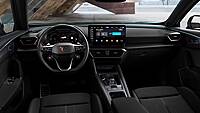 Originality
Of course no one knows the brand, and you might have to explain yourself a lot to friends for the first while. But if brand snobbery really matters to you, consider it this way: this car is for someone with more originality than the regular premium crew.
It's got all the practicality, a striking sense of style with a lovely interior, and it is great fun to drive. The price is the only hurdle it struggles to overcome, but viewed from the premium end of the car park, it actually seems good value.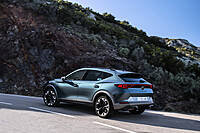 Not surprising then that the Formentor is a finalist in this year's Car of the year for Europe, the winner of which will be announced on Monday, March 1st.
It's hard to launch a new brand; it would arguably have been easier if it's not carrying the baggage of a heritage the public knows very little about. But in the upheaval of the electric age, buyers are more open-minded than ever before. That offers a great opportunity for this brand and if it delivers cars of this quality, then it has every chance to become a big name in the future.