Sports
Phil Healy clocks personal best snatching fourth in 400m final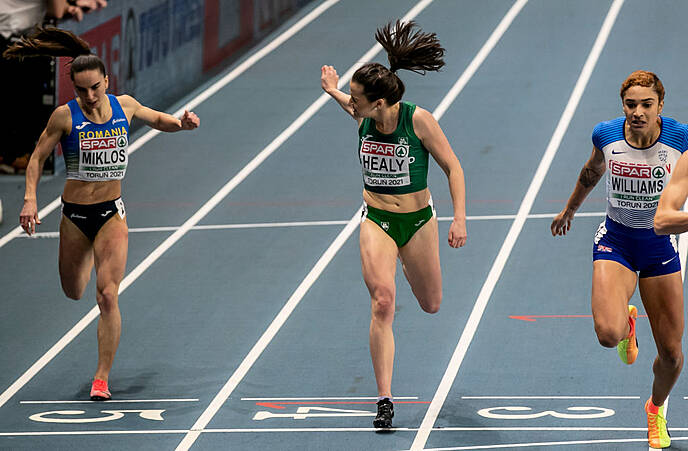 Phil Healy crosses the finish line in the Women's 400m final. Credit ©INPHO/Morgan Treacy
Phil Healy has run a personal best time in the women's 400m final at the European Indoor Athletics Championship in Poland this evening.
Healy finished just outside the medals in fourth, just behind GB's Jodie Williams.
The Cork woman had already put in two stellar performances in the 400m event, winning her first-round heat and semi-final.
Phil Healy runs the fastest 400m of her life in a European final 🤩🤩

4th in a top class field in a time of 51.94 on the back of two tough 400m heats/semis👏🏻👏🏻👏🏻

Roll on the outdoors 🇮🇪💪🏽 pic.twitter.com/seOKXlokL3

— Athletics Ireland (@irishathletics) March 6, 2021
Earlier, Sarah Lavin and Sean Tobin set lifetime bests, with potentially more to come in Torun.
Clonmel AC and Dublin Track Club star Tobin clocked a new mark of 7 minutes, 47.71 seconds in coming fifth in his 3000m semi-final, only being a second off winner Andrew Butchart of Britain (7:46.46) in a blanket finish.
Tobin had stayed close to the front throughout, looking very comfortable around fifth place and was never out of touch with the lead, with the first three qualifying automatically for tomorrow's final, along with the next three fastest losers.
But with two laps to go, Tobin had moved down to sixth, just behind Germany's Marcel Fehr, with the top four developing a slight gap.
The Clonmel athlete overtook Fehr on the penultimate lap, then had fourth-placed Hugo Hay in his sights, but could not overtake the Frenchman over the final 300m.
The main thing for me is that I'm looking at top eight.
Tobin did however hold Fehr off in the closing straight, beating his previous personal best of 7:48.01 from last month in Metz by just over half a second.
It meant an awkward wait, but as Tobin's heat was the fastest of the three, and the finish was so tight, he breezed through in a time that now puts him sixth on the all-time Irish indoor list.
Looking forward to the final, Tobin is looking for a solid result.
"The main thing for me is that I'm looking at top eight. If I can crack a top eight finish that would mean a bit more funding going forward, and hopefully that would be able to help."
Brian Fay and John Travers both finished seventh in their 3000m heats. Travers had been lapping well in fourth place for most of his semi-final, but got left behind when the pace quickened over the final two laps, coming home in 8:05.96, while Fay finished in 7:56.13.
Record chasing
In the women's 60m hurdles, Lavin's progress continued in Arena Torun, racing to a new personal best of 8.06 seconds, eclipsing the 8.13 and 8.14 back-to-back times she set in the final World Indoor Tour event in Madrid a fortnight ago.
The Emerald AC hurdler from Limerick was in the lane directly alongside Dutch defending champion Nadine Visser, and came through in third place behind Visser (7.92) and Britain's Cynthia Sember (7.99).
After a number of seasons ravaged by injury, Lavin has come back to be within a quarter-of-a-second of Derval O'Rourke's Irish record from her World Indoor title win in Moscow in 2006.
Lavin said her job now is to come back tomorrow refreshed and refocused: "To rock up to a Championship and produce a big PB is everyone's goal…At the end of the day, it's brilliant to qualify, but no job is done yet.
"I'm delighted obviously but just need to reset, refocus and go again."
Major Championship debutant
The men's 60m campaigns of major Championship debutant Israel Olatunde, Leon Reid and Dean Adams ended in the first-round heats, finishing fourth, fifth and seventh in their respective races.
Reid had the fastest time in 6.75 seconds, close to his PB of 6.68 set at the Abbotstown Micro-Meeting a fortnight back, and was five-hundredths off the top three, who all went through.
Having previously hit 6.73 seconds, Olatunde and Adams are the joint fourth-fastest Irish men indoors over the shortest Championship distance – Olatunde's time this morning of 6.79 was just shy of his U20 national record from two weeks ago, while Adams recorded 6.89 today.
18-year-old UCD sprinter Olatunde said he was delighted to rack up some experience: "I'm grateful to have qualified for this Championship, but I wasn't satisfied with just that.
"I was here to be competing, and I did that in the race. I left my all out there. Unfortunately it wasn't enough to move on but it's all positive."